You want to get close to nature, but the loud tourists want to get close to you. Here's how to get a slice of national park all to yourself.
Summer comes and you're dreaming of scaling Yosemite's Half Dome, whitewater rafting through the Grand Canyon and driving the Blue Ridge Parkway. Guess what? So is everyone else. The US National Parks see over 280 million visitors each year, with the biggest crowds descending upon the parks in summer.
Here's the good news. You don't have to plan a trip months in advance to secure a campsite under the stars, have a hiking trail and a summit peak all to yourself, or find out where the wild things are this summer. Take our advice - download our free planning PDF including tips from park rangers - and go!
Timing is everything
The best solution for dealing with summertime crowds at the USA's national parks is to avoid them: visit out of season. National Park Week in April (21-29 April, 2012) is a great time to go and enjoy free admission to every park. But if you really must travel between May and September, choose your dates carefully. A perfect time to visit is the week right before Memorial Day or the week after Labor Day. Likewise, the weekends before and after the July 4th holiday weekend also see remarkably reduced crowds. Whenever you go, try to visit mid-week instead of over a weekend. For weekend trips, arrive as early as possible on Friday and leave later on Sunday night to avoid the worst traffic jams.
Second best may be better
Your heart may be set on visiting a Top 10 national park like Yellowstone, but think about alternative parks that share some of the same natural features. Instead of fighting the crowds in Yosemite Valley, visit Kings Canyon. If spelunking is your thing, try Lava Beds or Great Basin instead of Carlsbad Caverns. If you do visit a superstar park, base yourself in a less-popular area - for example, the north rim of the Grand Canyon instead of the busy south rim.
A place to lay your head
The biggest challenge of visiting a national park during summer is finding a place to sleep. Park lodges often book up a year in advance, and reservation campgrounds fill almost as quickly.
If you want to stay at a top park lodge like the Grand Canyon's El Tovar Hotel, check the lodge's website to see what their cancellation policy is. If it's 48 hours, for example, start calling to check for last-minute vacancies three or four days before your trip. You might get lucky!
If you're roughing it, show up at first-come, first-served campgrounds (every park has 'em) between 10am and noon, just as last night's campers are vacating sites. Campgrounds in less-popular areas of the park, especially those accessible only by dirt roads, tend to fill up last and be more peaceful. If all else fails, camping may be allowed on national forest lands outside a few parks.
Jump the queue
Nothing kills enthusiasm for the great outdoors more quickly than nearing a park entrance and hitting a line of cars stretching a mile to the gate. How can you shorten the wait? The 'America the Beautiful' annual pass ($80) is valid for free admission to all national parks and federal recreational lands for one year from the month of purchase. At many of the USA's busiest parks, the pass lets you join a shorter line at the entrance station, or at least gets you waved through faster once you reach the gate. Purchase your pass in advance online at the USGS store.
Go against the flow, go slow
Travel against the grain by driving the park's popular scenic loops in reverse. Start your day early or late so that you miss most of the day-tripper crowds, which peak between 10am and 4pm. Remember that getting from place to place may take longer than you think, especially with summer road-construction delays. The biggest mistake you can make is to try and see an entire park in a day. Slow down and get to know a smaller piece of the park in depth, instead of trying to swallow the whole dang place in one big bite.
Ready, set, action!
The best thing about visiting national parks - especially in summer - is that many outdoor activities are free and don't require reservations. Ranger-led nature walks and campfire talks are scheduled daily. More unusual guided outings include boat trips, cycling tours, stargazing and snorkeling. Kids can pick up a Junior Ranger Program activity booklet.
It's a shame that many visitors treat national parks as drive-thru attractions, but that's good news for you. If you follow almost any hiking trail more than 15 minutes away from the nearest parking lot, you'll lose 90% of the crowds. If you want even more solitude, plan an overnight backpacking trip. A limited number of same-day wilderness permits may be available for walk-up visitors to the parks, even during the peak summer months.
Little tips to avoid big headaches
Ticket to ride: Fill up your gas tank before arriving in the parks, where gas stations are expensive, hard to find and sometimes completely sold out. Conserve fuel and avoid parking hassles by boarding the free, eco-friendly park shuttles wherever possible.
More moolah: Bring plenty of cash, as some in-park businesses won't accept credit cards and ATMs are rare. Exact change helps pay for campsites, wilderness permits and more.
The right stuff: Pack all the outdoor gear you'll need, because in-park stores don't always sell the right equipment and the rentals may all be taken by the time you arrive.
Hungry?: Skip long lines at in-park cafeterias and restaurants by packing a cooler and a few grocery bags of food. Make sure your cooler isn't so big that you can't store it safely in your vehicle or in the bear-proof lockers, if provided.
Sara Benson is a travel writer, digital media creator, all-seasons outdoor enthusiast and former national park ranger. When she's not roaming around Asia, the Pacific and the Americas, she makes her home in coastal California. Follow her on Twitter @indie_traveler.
This article was first published in June 2009 and was refreshed in July 2010, April 2012 and August 2012.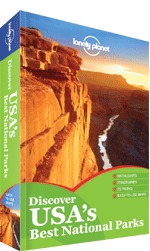 Plan the perfect trip to a national park - download our free planning PDF, an excerpt from Lonely Planet's Discover USA's Best National Parks.