Although a single day might not seem like much elsewhere, it's enough time to make a scene and make a difference in San Francisco. This boomtown knows how to get things done, from gay rights to social media startups, and in just one perfect day by the San Francisco bay, you can wax poetic in North Beach, start a food revolution at the Ferry Building, go wild in Golden Gate Park, let your freak flag fly in the Haight, and sing out loud in the Castro. Come as you are, leave your inhibitions behind, and you might find you won't be needing that return ticket home.
Dreamers' playground
Kickstart a San Francisco day in North Beach at Caffe Trieste, with the powerful espresso and jukebox arias that inspired a young Francis Ford Coppola, who drafted The Godfather here. Trawl neighborhood boutiques for Godfather-worthy fedoras at Goorin Brothers, rockabilly jackets and lindy-hopping skirts at Al's Custom Originals, and original pressings of perennial local favorites Tom Waits, Dave Brubeck and Dead Kennedys at 101 Music.
Wild parrots cheer on walkers who climb the Greenwich Steps to Coit Tower, lined with government-sponsored 1930s murals that subversively celebrate the city's radical politics, and capped with giddy 360-degree views of the Bay. Next, pause for a free-form reverie in the designated Poet's Chair upstairs at City Lights, the bookstore owned by Beat poet Lawrence Ferlinghetti, who won a landmark 1957 free-speech case over the publication of Allen Ginsberg's incendiary epic poem Howl.
Food and revolution
Mural-lined Jack Kerouac Alley leads to the pagoda-roofed storefronts of Chinatown, where Sun Yat-sen plotted the overthrow of China's last empire at 36 Spofford Alley and fortunes are still made fresh daily at Golden Gate Fortune Cookie Company. Once lined with Gold Rush bordellos, Commercial Street now does a bustling trade in ha gow dim sum (Chinese shrimp dumplings) at City View.
Wandering toward the Embarcadero, there's no mistaking the clock tower of the Ferry Building and the enticing aromas of a food revolution in progress. The former transit hub is now a gourmet destination, offering local alternatives to drive-through fast food with its bountiful year-round farmers market and indoor stalls featuring artisan-made foods.
Where imaginations run wild
At Embarcadero station, hop the N Judah line to Irving and 9th, one block from the 1017-acre stretch of the imagination that is Golden Gate Park. The Summer of Love kicked off here in Sharon Meadow, where free opera shows and drum circles take place. But San Francisco really shows its wild side at the California Academy of Sciences, where 38,000 animals are housed under Renzo Piano's ingenious, wildflower-capped living roof.  The de Young Museum puts California's artistic achievements into global perspective, with blockbuster Egyptian shows and a standout Oceanic art exhibit. Moments of zen are found next door between sips of genmaicha (Japanese toasted-rice tea) at the Japanese Tea Garden, while bison safely stampede in their paddock near Ocean Beach.
Over the rainbow
Flashbacks punctuate the stroll from Golden Gate Park down Haight Street, lined with vintage boutiques and candy-colored Victorians where the Grateful Dead, Janis Joplin, and Jimi Hendrix once crashed. The clock at the corner of Haight and Ashbury Streets is permanently set to 4:20, better known in local parlance as 'bong hit time', and there's a tell-tale aroma escaping medical marijuana clubs east of Divisidero – but a prescription and 30-day waiting period is required. Munchies are satisfied at Three Twins Organic Ice Cream, where Earl Grey is a standout amid a rainbow of flavors.
Save room and reserve ahead for Frances, the Castro neighborhood bistro that exemplifies Bay Area cuisine at its best: outstanding wines from small-scale local vineyards, dishes that highlight sustainable and organic ingredients, and casual yet well-informed service at chatty communal tables. But don't linger too long and miss showtime at the Castro Theatre when the crowd sings along to the Wurlitzer anthem that starts every show, and cancels many a return ticket: 'San Francisco, Open Your Golden Gate/You let no stranger wait outside your door…'
This article was originally published in July 2010 and thoroughly updated in January 2015.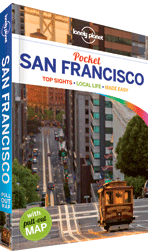 For more places to visit look in our San Francisco Pocket Guide