Parents can be such softies, but if you're plotting how to squeeze out a spring break trip on their dime this year, you might have to get creative. If the folks aren't going to voluntarily sponsor an all-party holiday, why not ask for an 'educational' trip where you can go somewhere and study a life-building skill and return all the wiser? That the trip happens to take you to some fabulous world destinations with fun nightlife scenes is really just a funny coincidence.
Study Spanish in Guatemala
Whether or not you're studying español in school, everyone benefits from knowing another language. And Antigua, a UNESCO World Heritage Site town of Spanish-colonial homes below the shadow of volcanoes (with a great Semana Santa celebration), is a language-school haven. For about $200 or $300 total, you can arrange a homestay including meals with a local family, study with a private tutor for four hours a day at a school that gives its profits to help local communities in need. One good one is Academia de Español Probigua. Again, that's $200 or $300 total. Side trips include volcano walks, Mayan markets and - for a bit more learning - a coffee bean-roasting course at San Miguel Escobar.
Don't worry. It's impossible to leave Antigua without making friends, including many international travelers in their 20s, at rooftop bars around town, or after parties at local homes that keep going once the bars close at 1am.
Dance a jig in Dublin
Particularly if you have Irish ancestry, try dangling the notion - at last! - of learning traditional Irish set-dancing. A trio of Dublin schools teach all the favorites (the Clare jig, the Connemara reel, and the Cork/Kerry polka step). You don't need to arrange in advance, just show up with 6 to 10 euro and begin. As the site SetDancing.com says, 'if you attend regularly you will know this set like the back of your hand.'
By night, well it's Dublin. There's a buzzing student scene at bars like Sin É north of the Liffey, and at Hartigan's, a med student hangout near University College Dublin. For a real old-time pub, Gravediggers, north of the Royal Canal, hasn't changed much since it opened - back in 1833. Thursday night, go clubbing at Spy/Wax, in the 18th-century Powerscourt complex on S William St, offers a grab-bag of experimental music, while a good central place for the traditional folk version of live tunes, get a pint at the central Palace Bar.
Learn to speak elephant in Thailand
Up the ante by getting a Thai spring break deal out of your week. In the north at Lampang Province, the Thai Elephant Conservation Centre offers three-day courses where you'll learn to feed, wash, ride and speak to elephants. Price includes room and board, and your own elephant, for 8500 baht (about US$280). On the same trip, in Bangkok, you can take a five-day course at the Wat Po Traditional Medical School, where you can learn (a legit) ancient Thai massage and herbal medicine -- maybe enough to earn extra party money once you're back home.
And despite what you, or your parents, have heard, Bangkok's nightlife isn't all X-rated. The River Bar Cafe in Thonburi is - get this - a bar and cafe on the river - sort of perfect. Residential Lollipop, at 1 Soi 1, Th Mahanop in Banglamphu, is an old wooden Thai house with local indie bands. The backpacker-centric Khao San area has grown more chic, and popular with locals in recent years. (Just be wary of some of the city's more famous scams.)
Thai Elephant Conservation Centre, by Benjamin Vander Steen. Creative Commons Attribution licence.
Clown school in New York City
If you're goofing your way through school, might as well make it professional. New York City's very serious NY Goofs' Clown School offers a three-day intensive course for $300, a nice fit for drama majors. Or stay on longer for the sketch and improv courses at the famous Upright Citizens Brigade.
If it's your first time in New York City, here's how to prepare yourself. As far as finding something to do at night, just go. It's New York, nothing could be easier.
Robert Reid, Lonely Planet's US Travel Editor, would never consider himself a clown or an elephant whisperer, but has been a Mountie.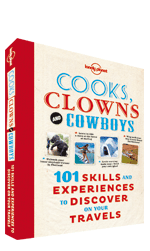 Want to acquire a new skill on your travels? For more ideas, get Lonely Planet's Cooks, Clowns & Cowboys: 101 skills and experiences to discover on your travels.