While thousands of racing fans are swigging the obligatory mint juleps at Churchill Downs and in bars across Louisville the first weekend in May during the Kentucky Derby, those in the know are enjoying more interesting variations on the tradition. Starting with the horses themselves, who skip the bourbon but consume mint in vast quantities. Who knew? Horses down on the farm may like sugar cubes, but thoroughbreds go crazy for bulk bags of peppermint candies, stomping their hooves and snorting when they hear their trainer open the bag.
Whiskey by the drink, Louisville. Photo by Dana McMahan.
Drinkers may not have such a Pavlovian response, but visitors still flock to the mint julep and bourbon experience that goes hand in hand with the Derby and Louisville. Ironically, most aren't even technically drinking a mint julep, which should be made with bourbon. The 'Official Drink of the Kentucky Derby' and the drink served at many bars across town is a mix containing Early Times Kentucky Whisky. (All bourbon is whiskey, but not all whiskey is bourbon, mind you, and we're talking an act of Congress that makes the difference – this spirit isn't aged in new barrels, as bourbon must be.)
Instead of chugging one of the 100,000 plus 'official' mint juleps, how about a far superior one-of-a-kind experience in the world capital of bourbon?
Old Forester mint julep at Feast BBQ. Photo by Dana McMahan.
If you insist on a mint julep, at least go to a bar that makes a proper version, and you won't find them on every corner. Feast BBQ serves up the real deal in their renovated saloon in nearby New Albany. They kick up the classic concoction of fresh mint, sugar, bourbon and ice by swapping out white sugar for brown, and employing a clever little hack to make an inexpensive bourbon boast a maturity like an aged one: they add a dash of barrel-aged bitters. This julep is a pleasure to drink. And if you're feeling flush from a big win at the track, know this— they'll think you're crazy for asking, but they will use any of their 115 bourbons. Starting at $7 for the Old Forester basic, perfectly fine version, you can run all the way up the spectrum of bourbons to $100 for a Willett single barrel 28 year, $110 for William Heavenhill, and a whopping $125 for Evan Williams 23 year. But, with a three ounce pour standard here, it's arguably a bargain.
To skip the fixings and sample some bourbon history before it's lost for good, head to the bar at MilkWood, the hot new restaurant from celebrity chef Edward Lee. It's not on the menu, but if you ask (and have deep enough pockets) you can sip a fine vintage bourbon from Lee's private collection. Just for Derby season he's putting his own personal stash on display at the bar.  We're talking Old Fitzgerald 1943, Glenmore KY Tavern 1942, and Ten Summers Whiskey circa 1950. They start at $40 a pour. Choose wisely – Lee is limiting it to one per person.
'Back in those days, Old Fitzgerald was made at the Stitzel Weller distillery, the famous distillery where Pappy Van Winkle got their start,' Lee says. 'It is highly regarded as having made the best bourbon ever. It is extremely rare to see any Old Fitzgerald from this era. Most of these bottles have been consumed and lost to history.  I have tasted bourbons from this era and there's nothing that comes close to touching it.'
Brown-Forman Distillery tasting. Photo by Dana McMahan.
If just a pour doesn't cut it you can get an entire barrel's worth of Old Forester, produced, distilled and bottled in Derby City. Beginning 1 May 2013 big spenders (we're talking around $7,500) get inside the usually off-limits warehouse at Brown-Forman Distillery for a private tasting with master distiller Chris Morris and select their personal barrel. No worries – you needn't lug it home – they'll bottle it and ship the barrel and your 240(!) bottles. Bonus: you can take a tour of the cooperage to see how the barrels are made.
Your own barrel not quite cool enough? Learn to make your own bourbon at Moonshine University, the education component of the Distilled Spirits Epicenter downtown. You could plan a trip around a five-day distiller course if you mean business. Or just for fun, try one of the two-hour, palate-expanding, knowledge-building enthusiast classes that include a tour of the on-site distillery and 'sensory evaluation' (they can't say 'tasting').
The tasting book at Bourbons Bistro. Photo by Dana McMahan.
If all this drinking is making you hungry, plan a dinner at Limestone restaurant. In addition to tucking into some Southern classics, if you call ahead you can request the chef's bourbon demonstration. From the comfort of your table and for $15, learn about the aging process complete with visual aids like barrel staves and bungs as you sample white dog, rye, and wheated bourbons. Or head to Bourbons Bistro. It's not advertised, but if you ask for the Tasting Book at the bar, they'll gladly let you page through it. This bourbon bible contains bourbon historian Mike Veach's handwritten tasting notes on every bourbon they could get their hands on when they opened eight years ago.
If you're not a budding bourbon expert when you leave Derby City, there's nobody to blame but yourself. And this is only the beginning. We can't give all our secrets away – some you have to discover for yourself.
Dana McMahan is a food, travel and fitness writer based in Louisville, Kentucky.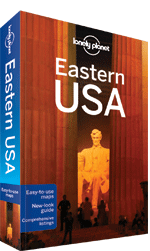 Lonely Planet's Eastern USA travel guide has you covered for all of your exploration east of the Mississippi.