San Francisco's Golden Gate Bridge opened on May 27 1937, instantly becoming a much-loved symbol of the city and an iconic piece of architecture around the world. Next time you see the world's most beautiful bridge - crossed by 10 million pedestrians a year - impress your friends with one of the following 14 things about the Golden Gate that you probably didn't know before today.
1. What's that color?
Some visitors wonder why the bridge isn't gold, like made from actual gold (or at least gold painted). Others, like me, have long mistaken it for red. The color is actually called 'international orange' - a variation on the color used now for many astronaut jumpsuits. It was a beautiful accident. The steel parts arrived in an orangey red primer, which was quickly recognized to meld best with the scenery.
2. Never let the US Navy pick your color scheme
Before engineers stumbled upon international orange, and the bridge color debate considered black and gray, the US Navy pushed for gold and black stripes, like a caution sign to help warn passing ships. Thankfully, the US Navy was ignored.
3. The 'Little Guy who Built the Big Bridge'
Joseph Strauss, a 5'3" failed college football player from Cincinnati, was a notoriously prickly mastermind for the project. His first proposal for bridge design in 1922 was so ugly, press likened it to an 'upside rat cage'. Fortunately Charles Ellis, a math genius, rescued the plan, and is most responsible for making it beautiful. Strauss fired him for it, and made sure he got no credit. A plaque honoring Ellis is set to appear in 2012 for the first time.
4. The Golden Gate has nothing to do with the Gold Rush
John C Fremont named the strait 'Chrysopylae', or 'Golden Gate', after Istanbul/Constantinople's Golden Horn, in 1846, just two years before gold was discovered at Sutter's Mill, California. By the way, Vladivostok also has a curving bay named after the Golden Horn. One wonders why Istanbul seems to hold the copyright on curving bays.
5. The bridge's biggest threat was from a party
Many never believed a bridge could cross the mile-wide strait, particularly considering the obstacles of tides, wind, corrosive fogs and the threat of earthquakes. The biggest threat it's faced in its over-75-year history, though, was its 50th birthday party, when 300,000 pedestrians crossed it (far more than expected, comprising some 30 million pounds of humanity). The bridge flattened, but was not stressed, engineers say, possibly due to the fact it was strengthened the previous year.
6. Spain, quick! Look east, look east!
The San Francisco Bay, reached via the Golden Gate Strait, was missed for 227 consecutive years by passing Spanish ships. It was finally discovered in 1769, when bored hunters passed overland and found the bay; three years later, at last, the strait was spotted from present-day Oakland.
7. Fort Point was saved by a bridge prequel
Built in 1861 to protect San Francisco's harbor, Fort Point still stands - at the point where Kim Novak jumps in the bay in Vertigo - because the engineers really wanted it to stay. To do so, they built a 'prequel to the bridge,' an arched frame that snugly towers over it.
8. A sad distinction

Though Strauss shrugged off concerns of the relatively low barrier on the pedestrian crossing lane, the bridge has unfortunately been a popular place for suicides since three months after it opened when H.B. Wobber said 'this is where I get off' and leapt. Over 1600 have jumped since - a few have survived. By most accounts, the Golden Gate Bridge is the most popular suicide spot in the world, but it's hoped that the addition of nets, a proposal approved in 2014, will help put an end to this sad claim to fame.
9. Relatively few died to build it
It's grisly to note that civil engineering projects tend to assume one worker death per US$1 million spent. The Golden Gate Bridge cost US$35 million, and 11 died to build it - less than many similar projects (even Melbourne's little Westgate Bridge saw 35 worker deaths). Nineteen others fell but landed in the safety nets; they're known as the 'Halfway to Hell Club.'
10. Workers got free hangover juice
Engineers handed out free sauerkraut juice in the mornings to help with hangovers. One of the reasons, some think, that productivity was so high.
11. The car toll is US$7, or false teeth
Toll collectors have let various cars pass without paying the toll, but collected some unusual things in its place, like canes, shoes and even false teeth. (Consider bringing Uncle Joe's spare set of teeth. Or just an extra US$7.)
12. The bridge's opening was marked by some bad Golden Gate Bridge poetry
Joseph Strauss, who was frequently not around during the construction of the bridge, read a poem to commemorate its opening. It's not very good.
13. The bridge is not the world's longest suspension bridge
It was from 1937 to 1964, when one of the bridge makers, Othmar Hermann Ammann (a man with more than his fair share of ms and ns), cheekily built the 60-foot longer Verrazano Narrows Suspension Bridge in New York City. The Golden Gate Bridge is now the world's ninth longest.
14. Art can't seem to capture its beauty
In his book Golden Gate, Keven Starr notes the the Golden Gate Bridge has 'not yet inspired any paintings comparable to Joseph Stella's freestanding Brooklyn Bridge,' nor has it inspired any poem in the 'league of Hart Crane's 'The Bridge'.
The rock band Journey wrote 'Lights' in 1979, with the lyric 'when the lights go down in the city, and the sun shines on the bay.' This can be contemplated easily from the bridge, but there's no certainty if you should show up at dusk (and see the sun glow fade) or dawn (and see the streetlights click off). (Singer Steve Perry has confessed the song was originally inspired by bay-less Los Angeles.) Meanwhile, stay well away from the band Train, who dares a blooper of a rhyme in the song 'Save Me San Francisco': 'Everyday so caffeinated, I wish they were Golden Gated.'
At least Vikram Seth made a 590-sonnet, novel-in-rhyme Golden Gate (although it's a story about yuppies).
Can you come up with a better poem?
This article was originally published in May 2012.
Capture the City
Do you have a guidebook-cover quality photo of the Golden Gate Bridge? How about another iconic city view from around the world? Enter our Capture the City photo competition for a chance to win a US$500 travel voucher, PLUS the winning photo may be featured on the cover of a Lonely Planet guidebook! Good luck!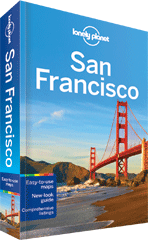 Look who's on the photo on the cover of Lonely Planet's San Francisco travel guide