Crisscrossed by centuries-old footpaths once trod by Hawaiian royalty, Kaua'i is an unbeatable choice for hikers, especially first-time visitors to Hawaii. Nowhere else in this Polynesian archipelago can you find such a variety of trails, from family-friendly walks to hardcore treks. Stand atop jagged sea cliffs and volcanic peaks swathed in misty cloud forests, or stroll across prehistoric sand dunes beside the ruins of ancient Hawaiian heiau (temples) built to honor the gods of the sea.
North Shore: the Na Pali Coast
If you've only heard of one hike on Kaua'i, it's probably the Kalalau Trail. It snakes for 11 miles along the Na Pali Coast (na pali simply means 'sea cliffs' in Hawaiian). Starting from Ke'e Beach, this narrow, but heavily trafficked trail scuttles around sheer drops into the Pacific and coasts up and down through waterfall valleys. At its end is paradisiacal Kalalau Beach, where you can pitch a tent by the surf. Day hikers without an overnight camping permit can don swimsuits underneath their clothes and hike the first 2 miles of the trail to Hanikapi'ai Beach, then bushwhack another 2 miles upstream to Hanikapi'ai Falls, a blissful cascade hidden deep in the forest.
West Kaua'i & Waimea Canyon
How do you get up on top of those sky-piercing sea cliffs? Drive all the way around the island to Koke'e State Park, where rooster-like moa (Polynesian red jungle fowl) run wild in the parking near the famed Kalalau Lookout. Lace up your hiking boots to tackle the muddy Awa'awapuhi Trail, which switchbacks and slides for just over three miles through shady forest to a dizzy lookout atop of the sea cliffs. Or leave the crowds behind as you tramp through the Alaka'i Swamp, where boardwalks traipse through stands of eerily dwarfed trees and spongy bogs in the shadow of Mt Wai'ale'ale – it's often made invisible by clouds, drenched by 450 inches of rainfall in an average year.
Driving back downhill toward the coast, Hwy 550 winds past roadside viewpoints where you can peek into Waimea Canyon, nicknamed the 'Grand Canyon of the Pacific.' In fact, on no other Hawaiian Island will you such a big river canyon, eroded by water, wind and time. Inside Koke'e State Park, take a 2-mile jaunt along the Cliff & Canyon Trails to Waipo'o Falls, which tumbles over the canyon's cliffs with awesome power, especially after recent rainstorms. If you're keen to hike all the way down to the river, the Kukui Trail in neighboring Waimea Canyon State Park is a real endurance test. Dropping over 2000ft in just 2.5 miles from the canyon rim, this is the kind of trail you do just for the bragging rights afterward. Stay up top to enjoy better panoramas from the Iliau Nature Loop, a quick, level leg-stretcher.
South Shore around Poipu Beach
After all that muddy hiking in West Kaua'i's mountains, dry yourself out on the island's sunny South Shore. Once you've lazed for a few hours on Poipu Beach, put your shoes back on and follow the 4-mile out-and-back Maha'ulepu Heritage Trail past coastal sand dunes, rocks inscribed with Hawaiian petroglyphs and the ruins of ancient heiau. Keep your eyes open for honu (green sea turtles) swimming off nearly deserted beaches. If you're lucky enough to spot an endangered Hawaiian monk seal hauled out on the sand, remember to stay back at least 150ft to let the animal rest.
Coconut Coast (East Kaua'i)
On Kaua'i's eastern shore, nicknamed the Coconut Coast, most day trippers rent a kayak or hop aboard a guided boat tour up the Wailua River, where hidden trails leads to waterfall pools. A more serene escape for landlubbers is a short drive farther up into the hills to the Keahua Arboretum and the next-door Kuilau Trail. A mile of ascent on loping switchbacks brings you to a grassy clearing with peekaboo views framed by ferns that stretch across pastoral farmlands to Mt Wai'ale'ale.
Want to summit one of Kaua'i's lushly carpeted mountains? Nicknamed the 'Sleeping Giant' for its profile view, Nounou Mountain is always a popular climb. The steep, exposed Nounou East Trail rises in 2 miles to a summit on the legendary giant's chest, granting almost 360-degree views of Kaua'i's ocean beaches, emerald valleys and knobby mountains. The Nounou West Trail gets you to the summit even faster on a steeper, more slippery path that's partly shaded.
When to go & what to bring
The most northwesterly of the main Hawaiian Islands, Kaua'i bears the brunt of many tropical weather systems. It's often wetter than the other islands, especially during the rainy season from October through May.
Be prepared for highly variable weather and bring outdoor clothes and shoes that you don't mind being permanently dyed by Kaua'i's (in)famous red dirt.
Hiking boots or trail-running shoes with good traction will help you safely navigate muddy trails and crumbly, unstable soil next to sheer drop-offs.
Bug spray, sunscreen, a hat and plenty of water are all Hawaii hiking essentials. Trekking poles, a map, compass and GPS device can be helpful.
Sara Benson is a travel writer, digital media creator, all-seasons outdoor enthusiast and former national park ranger. When she's not roaming around Asia, the Pacific and the Americas, she makes her home in coastal California. Follow her on Twitter @indie_traveler.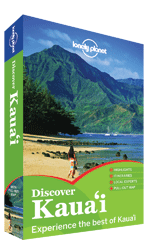 A place as stunning as Kaua'i deserves a full-colour guidebook. Find the very best that Kaua'i has to offer with Lonely Planet's Discover Kaua'i.