'They give me a piece of insulation so me feet don't freeze to the floor,' the bartender tells me cheerfully at the Iglu Village in Kühtai, Austria, roughly a 40-minute drive west of Innsbruck. It's cold in the Tyrolean Alps. Very cold. And after a long day of pushing powder around the slopes, sleeping in an igloo is a far cry from the rejuvenating sauna in the four-star hotel down the road.
One rarely gets the opportunity to sleep in a bona fide igloo though, when staying in a complex made entirely of snow and replete with a full dining room, ice bar and custom-cut ice sculptures. So I zip up my jacket to my eyeballs, sling my backpack over my shoulder and somberly follow my guide to my room.

Cold but beautiful - nighttime in the Tyrolean Alps. Photo by Grant Martin.
What's it like sleeping in an igloo high up in the Alps overnight? Much colder and much warmer than you think. After running around in subzero temperatures all day, the exhausted sleep in the plenty-warm igloo bed is not only welcome, it's comfortable. Everything outside of that, well, is outside. But it's definitely worth the trip. Here's how you can do it and survive in better shape than I did.
Bring the right gear
Most outfits provide visitors with the proper equipment for staying through the night. In Kühtai, each person is assigned a mummy sleeping bag rated for 0º F temperatures and a fleece liner, a schema that's similar for each village around the globe.
That sleeping bag alone will keep most cozy throughout the night with one caveat: only one layer of clothing should be worn inside of the bag. Too many layers can result in sweat, which can freeze and actually make a person colder. A base layer such as a Smartwool Mid 250 or a Patagonia Capilene will almost always do the trick.

Bedding down for the night in your comfy igloo room. Photo by Grant Martin.
Underneath the sleeping bags, a series of sublayers is typically used for improving comfort on the packed-snow floor. A wooden base covered with a foam mattress and several layers of sheep skin was the magic combination in Austria.
It's also important to remember that outside of your warm bed, the entire experience – from walking to the bathroom to eating in the dining room – is outdoors and extremely cold. Deep winter gear including a down coat, double socks, snow pants, gloves and a hat is strongly recommended.
Prepare your body and stay active
Did I mention that sleeping in an ice fort is freezing cold? Depending on the venue, everything from the dining hall to the bar to the late night journey to the bathroom is done in subzero temperatures, and keeping your heart rate up can be a drain. A good meal of warm, heavy food is recommended before starting your journey, and staying active during your visit is essential.
Most villages offer some sort of adventure activity to spruce up your evening. Usually booked for an additional fee, these could include a cross-country skiing trek, snow shoeing or dog sledding. Do yourself a favour and book that extra trip. In addition to the beautiful sights, your body temperature will thank you.
Have a drink - a warm drink
Most igloo hotels have an ice bar (if nothing but for the novelty), and though drinking alcohol in the freezing cold may not sound so grand, there is one great reason to partake: mulled wine.
If you've never had it before, mulled wine is red wine that's doctored up with a smattering of raisins and a whole host of spices. Oh, and it's hot. Deliciously, blood-boilingly hot. Paired up with the anesthetic value of alcohol, this is a great way to prepare for the cold outside. But remember, the more you drink at the ice bar, the more often you're going to have to sprint for the bathroom in the middle of the night.
It's also a good idea to bring a healthy stack of cash to pay for your evening. Though facilities vary, you can't necessarily predict that a building made of ice will have a working credit card machine.

Slide up to the ice bar for a piping hot mulled wine. Photo by Grant Martin.
Rent the right vehicle
Most igloo villages are nestled high in the mountains near ski resorts, which means you need the right equipment to get there. Renting a non-four-wheel-drive vehicle is simply not an option – there are far too many hills, snowy parking lots, winding alpine roads and blizzards for a lesser vehicle to manage. It's also not a bad idea to consider renting chains along with your vehicle. Most outlets are happy to include them for a modest fee of $20-$30.

Home sweet igloo. Photo by Grant Martin.
Find the igloo that's best for you
Igloo outlets vary in their amenity, quality and cost. Some offer the full-outdoor experience from an igloo-dining room to outdoor common areas while others have indoor lobbies and hot tubs.
In Kühtai's Iglu Village, the entirety of the facility is outdoors with a modular, indoor bathroom. It's possible to take a hot shower there, but the rest of the experience is very outdoors. Luckily, there's a neighboring hotel where the weary traveler can retire for a warmth break and stop in for the (included) breakfast. Prices start at US$149/night.
Sorrisniva, in Alta, Norway is slightly more lavish, with indoor facilities, two outdoor hot tubs and a sauna. Alta is a prime spot for viewing the northern lights and it should be – here, the sun never rises above the horizon between November and January. Prices start at US$395/night.

Hotel Kakslauttanen in northern Finland is perhaps the most famous igloo hotel, where a portion of their rooms have geodesic, glass ceilings perfect for viewing the northern lights. Those rooms are actually heated to room temperature, though Kakslauttanen also has a series of traditional igloo rooms and log cabins. Prices start at US$321/night.
Iglu-Dorf is the operation that puts together many of the other igloo villages around Europe. In addition to the Grandvalira village that they established in the tiny country of Andorra, there are also similar stations in Davos-Klosters, Engelberg-Titlis, Gstaad, Zermatt (all in Switzerland) and Zugspitze (Germany). Prices and appointments vary by location, but in general the villages are less developed than the above options.
Grant Martin is the Editor-in-Chief of Gadling.com. Specializing in consumer travel, the airline industry and logistics, his travels have taken him far and wide around the world, mostly to hotels not made of ice.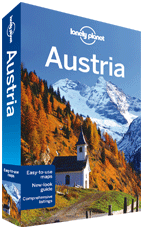 Need some bedtime reading for your igloo stay? Figure out where to head next with Lonely Planet's Austria travel guide.