The Guianas: Guyana, Suriname and French Guiana hide so well under their blanket of South American jungle that even geography nerds have a hard time pinpointing them on a map. Those intrepid enough to go are rewarded with virgin forests that are home to some of the continent's largest and most rare creatures, raw, unvarnished culture and a palpably bizarre mish-mash of history. Information is scarce, infrastructure scarcer, and chances are you'll meet no more than half a dozen other travellers when you visit. This is a mud-in-your-shoes, disconnect-from-the-modern-world destination that requires wads of cash instead of a bank card (ATMs are rare), a sturdy rear end (dirt roads plus worn shocks equal mega bumps) and an old-fashioned sense of adventure.
What you don't need is Spanish or Portuguese. Because of their colonial histories (or present in the case of French Guiana which is a department of France), Guyana speaks English, Suriname Dutch and French Guiana - predictably - French. The whole region is an ethnic grab bag of Amerindians, European colonists, the ancestors of escaped African slaves and descendents of Asian indentured laborers. The north coast geography means that the culture is more Caribbean than South American.

Crossing the Maroni River. Photo by Celeste Brash.
It's possible to visit all three countries overland or by small aircraft (try Suriname Airways at www.slm.firm.sr) and each nation offers unique experiences. If you've only got time for one or you're looking to prioritise, here's how to choose:
Of the three Guianas, Guyana has the least infrastructure and the worst reputation for safety and yet it's fantastic place to travel. Most people book all-inclusive tours to the interior involving at least one stay in an Amerindian village as well as animal viewing safaris where you can hope to spot giant anteaters, jaguars, harpy eagles, black caiman, giant river otters, arapaima (the world's largest scaled fresh water fish) and much more.
Alternatively, minibuses and regular flights (Trans Guyana Airways is the most reliable) run between Georgetown and Lethem at the Brazil border although getting to the jungle lodges independently requires patience, advance planning and possibly a lot of money if you end up having to charter a 4WD. Try to hitch rides with lodges on their supply runs or hire a local to take you on the back of their motorbike to cut costs. (Read more in Overland adventures in Guyana.)
All flights and buses go through dodgy yet charmingly colonial Georgetown. While you're there you shouldn't miss taking a day trip in a small plane to Kaieteur Falls, the largest single drop falls in the world and probably the only falls this magnificent that you'll ever get to visit without another tourist in sight.
Looking over the edge of Kaieteur Falls. Photo by a very brave Celeste Brash. Read more about this vertigo-inducing photo.
Paramaribo is the most vibrant of the colonial Guiana's capitals. While in town the thing to do is rent a bike for a DIY tour along the gigantic Commewijne River to visit old plantations and natural areas teeming with tropical birds. At sunset take a cruise on the river to look for pink river dolphins that usually come up and play alongside the boat. The nightlife here is on any day of the week with lots of locals and Dutch tourists going hot and heavy on the dance floor.
Then get out of town because like Guyana, most of Suriname's magic is in it's wild interior. The cultural draw to Suriname's jungles are the Maroons, the descendants of escaped slaves who re-created an African way of life deep in the forest and were essentially forgotten for centuries. Nowadays many villages have opened lodges that range from luxurious with swimming pools to basic shelters to hang a hammock. Most people book all-inclusive tours although it's possible to get to nearly all the lodges by public bus and boat, which is an ideal solution for brave, broke and intrepid backpackers.

View from the top of Voltzberg, Raleighvallen Nature Reserve. Photo by Celeste Brash.
Although French Guiana is doted with the highest standard of living in the region, it's the most difficult of the three Guianas to travel through. It's expensive thanks to the Euro, but even more of a hindrance is that local transport is limited and the interior can only be reached on infrequent tours that need to be organized well in advance and English is rarely spoken.
Independent travelers can still have a good time however. Enjoy the French-Caribbean chic of the capital Cayenne by hanging out with a cold beer or café au lait at a colonial-inspired sidewalk bar. Out of town head to Îles du Salut off-shore islands known for their creepy yet fascinating prison camps, such as the famed Île du Diable (Devil's Island in English). You can visit on a day trip or stay overnight at the quirky Auberge des Iles du Salut with some rooms located in the old guard's quarters.

The view across to Île du Diable (Devil's Island). Photo by Celeste Brash.
More prison camps are found in St Laurent du Maroni at the Suriname border and you can book tours to see these or take a river trip along the Maroni River to visit Amerindian and Maroon villages, at the town's excellent tourist office.
Celeste Brash spent five years on a remote Pacific atoll, 10 more on Tahiti, and has travelled extensively around the world for Lonely Planet. Read about one of Celeste's more memorable journeys in 'Shaking hands with pirates – Visiting Pitcairn Island'.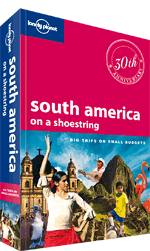 Make room in your pack for a copy of South America on a Shoestring, the definitive guide to independent and budget travel in South America.