Do tourism slogans like 'What happens in Vegas, stays in Vegas,' make you want to visit a place any more or less? Do they change your perception of one? Personally I'm fond of San Diego's slightly ridiculous 'Happy Happens,' launched a couple years ago to much of the city's chagrin.
But what about Europe? France, shockingly without one, recently held a vote to determine a new tourism logo. Meanwhile, we'd like to launch the Europe Travel Slogan Olympics. We've culled through every European country's official tourism slogan and narrowed it down nominees for these five key categories.
Please vote: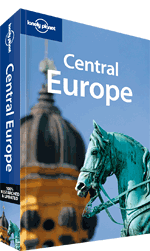 Do you like the crust or the middle of the pie? That's right, and that's why you should be heading to Central Europe for your next holiday, with the Lonely Planet Central Europe travel guide tucked under your arm. (We've got options for crust-lovers too).