Olympic debates may keep piazzas across Italy buzzing most summer nights, but only until the pizza arrives. Silence falls as diners rip into the hot crust, hastily blow on scorched fingers, then dig right in again. UNESCO is considering Italy's 2011 request to grant World Heritage status to pizza, but that would only confirm what eaters from the Italian Riviera to Sicily already know: pizza ranks among Italy's finest contributions to humanity, right up there with the Renaissance.
International pizza relations
But is pizza really Italian? Italy's neighbours around the Mediterranean have legitimate historic claims. The name 'pizza' may come from the ancient Greek word for pita bread, and traditional recipes on the islands of Sicily and Sardinia are the decadent, rich cousins of Arab, Armenian and Turkish flatbreads. Palermo still looks, smells and tastes like the Arab-Norman capital of Sicily it was in medieval times, with its glittering golden mosaics, fragrant spice markets and sfinciuni, a focaccia variation rich with olive oil, bread crumbs, onions, sheep's cheese and sun-dried tomatoes. Sardinian panada is a filled pizza stuffed with favourite Middle Eastern ingredients – eggplant, lamb, tomatoes – or a seafood version, loaded with fish or buttery local eel.
Flatbread fit for the gods: Roman pizza
But it took ancient Romans to elevate Mediterranean flatbread to a dish fit for the gods: offa, a spelt focaccia presented as an offering in Roman temples. Rome has since perfected its own signature streetwise, heavenly pizza, fit for popes and paparazzi alike. The dough is made with tougher wheat and more water, so that it can be stretched to the thickness of canvas without losing its toothsome chewiness. With its thin and crispy yet flexible crust, rustic Roman pizza can be loaded with hearty ingredients without collapsing and ruining ecclesiastical garments.
Modern Rome remains a wonder of white marble domes and white pizzas, equally dazzling with seasonal toppings like squash blossoms with anchovies or simply a drizzle of extra-virgin olive oil, rosemary and salt. Emperors would approve Roman pizza capricciosa, a debauched Roman feast in pizza form, piled with artichokes, prosciutto cotta (ham), mushrooms and a farm egg on top. Wander from ancient ruins into Rome's historic Jewish Ghetto to sample a culinary classic: white pizza with potato, rosemary and gooey taleggio cheese.
Pizza al taglio (by the slice), Trastevere, Rome. By Shoebill2, public domain, via Wikimedia Commons.
Before Columbus: Ligurian pizza
Tomato was a much later, Aztec addition to Mediterranean flatbreads, imported via trade routes established by Genovese explorer Cristoforo Colombo (aka Christopher Columbus). But legend has it that back when Columbus was still mapping alternate routes to India, Liguria's original 'pissa d'Andrea' was already a favourite of Genovese admiral Andrea Doria Genovese - which means that Ligurian pizza predates not only Naples' classic pizza margherita, but also the discovery of America. To this day, classic Ligurian recipes omit such new world ingredients such as tomatoes and potatoes, and proudly feature Liguria's small black taggiasca olives with onions, sea salt, and local anchovies or sardines.
Even silken goose-down pillows professionally plumped at Italian Riviera luxury resorts can't compare to the obscenely dreamy softness of Ligurian pizza, known elsewhere as focaccia. Culinary secrets are guarded as closely as pirate's booty on Italy's northwestern coast, but maximum fluffiness is achieved with exacting rising times adapted to the seaside air and optional milk in the dough. A bonus splash of Ligurian olive oil is added for extra decadence, ranging from a satiny touch in the dough to a thorough drenching for a golden edge that slips easily away from the pan.
Naples: flying the pizza flag
No matter where pizza originated, Naples has been making the definitive version since at least 1889, when Neapolitan chef Raffaele Esposito dressed his pizza margherita in green (basil), white (mozzarella) and red (tomato) to match the flag of newly independent Italy.  Today, Italians leave petty pie squabbles to New York slice zealots and Chicago deep-dish devotees: Italy's pizza is protected.  Since 2009, Italy's original hand-formed, wood-fired Neapolitan pizza has been recognized by the European Union as a Guaranteed Traditional Speciality (Specialità Tradizionale Garantita).
Why would so many people still live in the shadow of still-active Mt Vesuvius, some 2000 years after the volcano buried the entire town of Pompeii? If you have to ask, you haven't yet tried Neapolitan pizza. Start with the classic margherita: basil leaves bejewel bubbling slabs of local mozzarella, over a layer of potent tomatoes grown in volcanic soil drizzled with fruity extra-virgin olive oil, with a crust puffed to perfection in a forno a legna (wood-fired oven). Next, upgrade to the margherita extra, with local certified DOP (Protected Designation of Origin) mozzarella di bufala (buffalo-milk mozzarella), and DOP San Marzano plum tomatoes, which taste of concentrated sunshine.
The margherita is the diva of Italian pizzas, but don't overlook Naples' supporting players: red pizzas. Though it may seem crazy to forgo cheese in Italy's mozzarella capital, Naples' pizza marinara doesn't need it – garlic, oregano and extra virgin olive oil are the only condiments necessary to accent the earthy, spicy tomato sauce and the flaky-yet-chewy crust made with silky, extra-fine Neapolitan '00' flour. For dinner with a view of the ocean, pizza alla pescatora tops garlicky tomato sauce with the catch of the day from the Bay of Naples – usually tender shrimp, mussels, baby octopus – all atop a crust airy enough to double as a floatation device.

Pizza Margherita, Naples. By Valerio Capello Attribution-ShareAlike License
Milan's designer pocket pizza
Milan and Naples are rivals in Italian fashion – Naples is known for bespoke tailoring, Milan for global brands – but style is no excuse to skip lunch in either city. In Naples, fashionistas worried about staining their couture opt for calzone (literally, 'big stockings'), pizza is folded over and pinched closed before baking. But Milan has produced the supermodel version of Naples' design: mini pizza pockets called panzerotti, studded with enough Milanese salami to power you right through Fashion Week.
Pizza etiquette
Burned fingertips are a definite hazard, but there's no wrong way to enjoy pizza in Italy, give or take peperonicino rosso (red pepper flakes) and acciughe (anchovies). Sparkling white wine is the classic pizza pairing typically recommended by Italy's Slow Food over the popular tannic red Chianti, which tends to trump delicate seasonal toppings like squash blossoms. Though it may seem politically incorrect to enjoy the quintessential dish of independent Italy with the toast of the Austrian occupation, beer is acceptable.
Italian pizzerias usually make pizza to order in evenings only, allowing the dough 24-36 hours to rise and let wood-fired ovens heat to ideal temperatures - but bakeries often serve pizza al taglio (by the slice) at lunch. Diners who leave pizza crusts uneaten are regarded with puzzlement: as any dough-twirling Neapolitan pizzaiolo (pizza-maker) will insist, the cornicone (frame, or crust) is the best part. Come hungry, dive into Italy crust-first, and find your own slice of heaven.
Alison is a food writer and the author of Lonely Planet's Discover Italy 2. Between bites and flights from California to her home in Proceno, Italy, she shares discoveries at www.twitter.com/AlisonBing.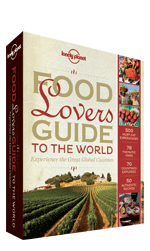 Does the thought of pizza and travel have you salivating for a trip? Pick up a copy of Lonely Planet's Food Lover's Guide to the World, guaranteed to whet your travel appetite for years to come.