You're staying in someone's home you don't know on a trip. Naturally that means you walk around in your underwear, fart, make a mess in the kitchen, throw used towels on the bathroom floor and hog the TV remote. Right?
Of course not. But this picture isn't as rare as it sounds. Now that more travelelrs are opting out of the lonely and often pricier hotels and checking into shared and social homestays found via booking sites like Airbnb, Tripping, HomeAway or Onefinestay, some travelers are bringing in hotel-like expectations - and bad behaviours - into homes.
You've paid for the room, but these are homes not dorms or hotels. Here's a handful of etiquette tips put together with help from real-life hosts and my numerous experiences as a homestay guest.

Welcome to your new home, photo by Alan Cleaver. Creative Commons attribution license.
1. Fill out your profile first
Some first-timers try to test out a site by contacting hosts first. But no one wants you to stay in their home if they have no idea who you are. 'You're trying to check us out, but we're checking you out too,' explains Rebecca, who rents out a spare bedroom in her red-brick St Louis townhouse.
Before contacting anyone, fill out your profile with a photo and accurate contact info. Treat first inquiries a bit like a job interview. Once you have a few good reviews – yes, on Airbnb hosts review guests too – it becomes more automatic to be accepted.
2. Read details and comments before contacting

Most hosts leave detailed descriptions about their home or apartment – that is, if the bed's a futon, the bathroom's private, if there's wi-fi or TV or a cat named Freddie, how much extra it will cost for additional people. Read the entries first, along with past guests' comments, before asking a potential host what could be redundant questions. It saves everyone time, and it can give the impression you'd be careless if you ask questions for things already answered.
3. But ask questions before reserving
If you do have questions, all hosts want to hear them before you click 'reserve' – no host or guest wants a wrong fit. If you're trying a homestay for the first time, be sure it's really what you want. One San Francisco host, who rents out a private floor of her Noe Valley home (and chose to remain anonymous) said 'some people really just want all the services a hotel offers – they should probably stay at a hotel then.'
4. Be friendly, but respect a host's privacy too
Most hosts see the social interaction with guests from around the world as the top reason they offer rooms for accommodation. But just because you're staying there doesn't mean you have to be best chums 24/7. Rebecca in St Louis says she always gauges what the guest wants, but finds even first-timers find they 'enjoy the interaction more than they expected.'
Being overly social can be a problem on occasion, says Sari, who rents a couple rooms out of a Philadelphia townhouse. 'Life still happens when you're in our homes. So if you see someone look stressed or busy, it's not the best time to start a 20-minute conversation about cheese steaks!'
5. Don't monopolize common areas
Generally it's up to a host to make it clear whether a kitchen or TV room is available for you to use or not; if you're not sure, ask first. But just because one is open, don't camp out in a living room all day, or take over a kitchen for hours either.
Shawn, who rents out a few rooms in his house in the Alberta Arts district in Portland, Oregon, calls such guests 'heavy house users.' He's pretty flexible about it though. 'It's fine as long as the guest is sensitive to the idea that sometimes it's nice to let others use on their own too, if only for an hour.'
Not everyone is a laid back as Shawn. So if you're hoping to watch Monday Night Football and need the telly for a few hours, it's polite to ask first.
Guest bedroom in Montreal rented through Airbnb, photo by Tri. Creative Commons attribution license.
6. Be open to personal differences
If you stay in a hotel, you don't have to worry about a concierge's political interests – or whether they eat raw meat, or insist that cats are smarter than dogs. But in someone's home, you have to expect not everyone thinks the way you do. I've stayed at a home with a Tea Party flag out front, another where I was hosted by a 60-something post-hippie in a Che Guevara shirt. Both turned out to be equally good experiences. 'Not everyone has the same beliefs, but it's never been an issue,' the San Francisco homeowner said.
7. Leave honest feedback
The whole trust between host and guest breaks down if we don't leave honest, constructive reviews. If you don't like a sofa pattern, ease up. But if you found a place dirty, or a shower without hot water, or the description didn't match the experience, it benefits everyone to give honest feedback - even if you are fond of the hosts.
I've stayed in a variety of places - a House Beautiful-worthy home north of San Francisco that required a car to get to, and a cramped, loud (but clean) Midtown apartment near Times Square. I liked both. Not everyone would. So I try to review them as I would for a Lonely Planet guidebook. The luxurious one is more remote, but great for someone with a car and an interest in the outdoors, while the central apartment is a real dose of urban life. There was no common space. Just a bed in a good place. Some people won't be comfortable there.
Also check out:
Robert Reid is Lonely Planet's US Travel Editor and frequently uses homestays around the world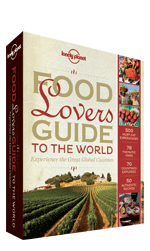 Take your taste buds on a tour around the world and cook up your next great adventure with Lonely Planet's Food Lover's Guide to the World.