San Francisco with children
Beaches, cable cars, carousels or penguins? We've narrowed down the best kid-friendly options in San Francisco so you can spend less time looking and more time enjoying.
Fisherman's Wharf, Pier 39 & Ghirardelli Square
Amid the waffle cones, overpriced seafood and 'I escaped Alcatraz' sweatshirts, there are a few stand-out attractions that will make you glad you brought the kids.
Taking a ride on a cable car is a quintessential experience for both parents and children on a visit to San Francisco. Image by Alfonso Jiminez / CC BY-SA 2.0
Not-so touristy sights & activities
Underwater wonders at the California Academy of Sciences. Image by Kevin Gong / CC BY 2.0
Local favorites
Sleeping
Some of the city's lodgings cater to families – including apartment rentals or shares – but the best all-around locations for kids are Fisherman's Wharf hotels and Marina motels, most of which have parking.
Restaurants
Fishman's Wharf is lined with kid-friendly restaurants, including popular chains like In-N-Out Burger. Adventurous little eaters will want to try dim sum and noodles in Chinatown, tacos in the Mission district, and sushi and mochi in Japantown. Right outside Golden Gate Park along the N Judah line, 9th Avenue offers quick bites for hungry kids at bakeries, sandwich joints and taquerias. If your kids can't agree on a restaurant, you'll find something for everyone at Ferry Plaza Farmers Market. Food trucks circle their wagons at Off the Grid, featuring free live music Thursdays in the Haight and Fridays at Fort Mason.
This article was originally written by Suki Gear and published in July 2009. It was thoroughly refreshed and updated in January 2015.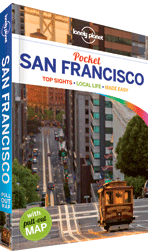 For any other tips you might need the San Francisco Pocket Guide could help