Atlantic Antic - world's best festivals
'Brooklyn Atlantic Antic 2009' by click wrrr. Creative Commons Attribution
Location: Brooklyn, New York City, USA
Dates: last weekend in September.
This street party is one of the Big Apple's best festivals, but remains a well-kept secret. There's oodles of food to sample and music to hear at the celebration of Brooklyn's multiculturalism, which transforms Atlantic Ave into a 2.5km bazaar. A five-minute walk might take in an R&B band in pastel suits, a banjo-plucking bluegrass band, a modish alt-rock act, and a Greek folk troupe complete with belly dancers. The west end of the festival is a temple of trash, with burlesque, punk and go-go dancing found in the Last Exit bar. East of the subcultural shenanigans, at the festival's midpoint, you can climb aboard buses dating back to 1917 at the New York Transit Museum's vintage bus display.
The venue is pleasantly leafy by any city's standards. Lined with Middle Eastern delis and restaurants (west of Court St) and antique shops and boutiques (around Hoyt St), Atlantic Ave divides Brooklyn Heights and 'BoCoCa' (Boerum Hill, Cobble Hill and Carroll Gardens). New York's oldest unchanged neighbourhood, Brooklyn Heights is also the city's first designated historic district.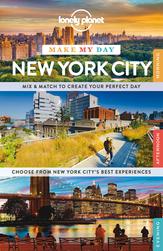 Local attractions: in the Brooklyn Heights historic district, the 19th-century brownstones are built in styles including Victorian Gothic, Romanesque, neo-Greco and Italianate.
More info: www.atlanticave.org
See other top festivals in September here.