New York's best food cultures
With over 8 million people in New York, you'd expect some great chow and some culinary diversity - and that's exactly what you get. New York manages to bring dishes from all over the world and make them their own. Taken from Lonely Planet's 1000 Ultimate Experiences, we bring you a rundown of New York's best tastes - and please, don't forget to tip your waiter.
Jewish delis
'You gotta eat more already!' These NYC institutions do Jewish comfort food so right. Most of the dishes have their roots in Eastern Europe, but today they seem to taste quintessentially New York. If you're eating in, have the matzo-ball soup or the heaving pastrami on rye, usually served with a crunchy pickle. In a hurry? Grab a bagel with cream cheese. Try the newly relocated 2nd Ave Deli (now on East 33rd) for Jewish classics.
Mexican
The taco truck, which has long been at the core of Los Angeles street food, has become a regular visitor to New York construction sites. Tacos are served either norteño (straight-up beef, best lashed with spicy salsa), with sesos (brains) or, for the New Age construction guy, with tofu. If you want to sit down to a meal, head to Brooklyn for some of the city's best taquerías.
Hot dogs
The classic dog was first brought to New York in the 1800s by German Charles Feltman, who ran the first pushcart along the Coney Island seashore. Today every neighbourhood has a vendor on the corner.  Get a dog slicked with mustard and ketchup for the perfect, if inelegant snack you can eat with one hand.  Try Nathan's Famous - it was opened by an employee from Feltman's original stall.
Soul food
Soul food was born in the Deep South and brought to New York by African Americans who created it.  Soul food joints can be found in Harlem and the Bronx; decor's usually low-key, but plates are piled high. Southern fried chicken, country fried steak and cracklin feature on many menus, with sides of collard greeds, mac cheese and corn bread. Head to Sylvia's in Harlem for a soul food taste.
Korean
Just off Herald Square, Little Korea is a small culinary enclave that brightens up 32nd Street with karaoke and all-night barbecue restaurants. New Yorkers love a bit of gogi gui (Korean barbecue) which involves a small grill in the middle of the table, ready to cook up marinated beef, thick-cut pork or vegetables with chilli paste. Try Madangsui on West 35th.
Chinese
More than 15,000 Chinese speakers call NYC home. Many hail from Fujian, so try a classic Fujian dish like 'Buddha jumps over the wall', which is a variation on shark fin soup with sea cucumber, abalone and rice. If that's not to your liking, there's plenty of options for bubble tea and kung po chicken in the winding streets south of Canal that are home to New York's Chinatown. Try Great New York Noodle Town on the Bowery.
Italian
You'll find Little Italy just next door to Chinatown. There's creamy cannoli and fresh ravioli in the traditional delis on Mulberry St, or you can plump down at one of the tables with red-chequered tablecloths and slurp down spaghetti bolognaise at Sinatra's old favourite, Mare Chiaro. Finish up with a jitterbugging espresso nearby.
Thin-crust pizza
Oh boy, does the pizza debate (thin-crust vs deep-dish) get the food-lovers going.  Chicago loves their deep pizza pies but in the Big Apple, the thinness of the crust is a source of civic pride. Plus a thinner base means speedier cooking for the city that never sleeps.  The preferred snack option is the long, triangular slice (you'll need to develop a certain dexterity to stop it flopping onto your chest like a relaxed bow-tie) topped with basics like mozzarella and pepperoni. Try Two Boots, where you can rent a video at the same time, John's (the small branch in the Village) or the ever-delicious Carmine's.
Cheesecake
The New York cheesecake began in 1921 with Leo Lindemann, whose Lindy's in Midtown first served a cake that blended cream cheese and regular cream with a splash of vanilla on a cookie crust. It be came a sensation. Variations use graham crackers for their crust, swirl in flavourings like mandarin or lemon, or replace cream cheese with cottage cheese. Today New York cheescake appears not on on menus across the city, but as a benchmark dessert around the world. Try a slice at Junior's - they're in three locations across the city so you can walk off a slice on your way to the next one.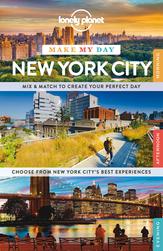 Spanish Harlem
One of the biggest ethnic communities in New York runs from Fifth Avenue to the East River just about 96th Street; the area that has come to be known as El Barrio or Spanish Harlem. Since WWII La Maquetta (the market) has been at the centre of the Puerto Rican community, though it's dwindled to less than 200 stalls selling everything from tropical fruits to religioun icons and perhaps a good serve of cocina criolla (Creole cuisine), which blends Mexican, Cuban and Puerto Rican influences. Look out for vendors serving crab empanadillas (half-circle pastries) or piraguas (cones of ice flavoured with tamarind or guava).
Eat up the rest of the Big Apple with our New York Encounter guide.