Climb aboard the food trend train: what's cool today will be passé tomorrow. New food trends arrive on the scene every year, whether you're ready for them or not. Some will be local foods cast into the spotlight by changing tastes, novel techniques or a hefty dose of whimsy, but most will be foreign imports – unexpected flavours arriving from distant locales to excite and befuddle your taste buds. These aren't new foods, in fact they're typically traditional foods but exported far enough away that the commonplace transforms into the exotic.
Food trends are easy enough to spot once they've become established, but is it possible to predict the next food trends before they happen? Could we have foreseen the popularity of gourmet tacos, tuna tartare, cooking everything sous-vide or matcha green tea before they burst onto the scene?
To answer this, we turned to travel writers, those resourceful researchers of remote reaches of the world who leave no stone unturned nor dumpling untasted in their search for the best experiences for travellers. Who better to spot the next food trends before they land on your plates back home? On every trip, travel writers uncover foods and techniques that for one reason or another have been overlooked by top Western chefs – look for the following foods from around the globe to be coming to a trendy restaurant or food truck near you.
Island delights
Food lovers have surfed the popularity waves of sashimi, tartare, crudo, ceviche and Hawaiian poke. Maybe today's top chefs aren't vacationing in Tahiti and French Polynesia, because the overlooked Tahitian poisson cru blows the others out of the water with one simple addition: coconut milk. Poisson cru (simply 'raw fish' in French) is a Polynesian twist on ceviche: fresh tuna, veggies (cucumber, onion, and tomato are typical), and, just before serving, marinated in lime juice and fresh creamy coconut milk.  'I have never met anyone who doesn't like poisson cru,' says travel writer and former Tahiti resident Celeste Brash (you can find Celeste's poisson cru recipe here). If you've been to French Polynesia, poisson cru is as ubiquitous as it is inexcusably delicious, but finding it outside the islands is next to impossible. For now.

Poisson cru. Photo by Sarah Bossert / E+ / Getty Images.
The next taco?
The taco will forever occupy a fond greasy corner of many foodies' hearts, but street food trends fly by faster than a taco truck fleeing a health inspector. What's next? Taco-loving travel writer Jill Robinson suggests a snack-sized cousin of the tostada: the panucho, a popular food from Mexico's Yucatan. 'The dish requires more of the corn tortilla than just sitting there as a platform for your food - in panuchos, the tortilla is puffed and filled with refried beans. You may never go back after a taste.'
Or perhaps we should look to the empanada, says travel and food writer Alison Bing, a well-established food that has yet to receive proper attention – or a gourmet makeover. 'Empanadas taste just like home from the first flaky, savoury bite. Spain named it (empanar is Spanish for wrap); Argentina's large Italian population proudly points out its resemblance to calzone (pizza pockets); English ex-colonials credit the influence of buttery Cornish pasty dough; and fillings with cumin, eggs and raisins reveal historical links to the Moroccan briouat.' Not a big deal where you live yet? 'Count the days before LA food trucks are serving Korean and Thai empanadas,' says Bing.
Super soups and liquid salads
If Myanmar (Burma) was the travel buzzword of the past year, it's quickly becoming the food buzzword of 2013. Alison Bing thinks mohinga might be the first Burmese food to strike it big abroad. 'Imagine Vietnamese pho noodle soup, only with more tangy sass. Slurping without staining is an acquired skill, but enjoying mohinga should be easy. The rich hot-and-sour broth is spiked with ginger, lime, chili and a savoury-salty hint of fish paste, and the rice vermicelli are surprisingly hearty when generously dusted with roast chickpeas, crispy onions and toasted rice.'
Brazil-based travel writer Kevin Raub nominates a stew from his adopted country. 'Peru has had a lock on the hip cuisine of South America for quite a while now, but Brazilian food is far more diverse and complex. It amazes me that the moqueca, a seafood stew based in coconut milk and dendê oil has yet to cause a culinary stir globally. For me, it's traditional Brazilian cuisine's finest moment, a perfect marriage of rich national resources (fresh fish and shrimp from a 7400km coastline) and cultural heritage (the dish is African in origin). It's an entire country's identity in your mouth.'
Moqueca, by Luca Nebuloni. Creative Commons Attribution license.
Would you like a leafy salad or a liquid salad? If liquid salad sounds odd, Lonely Planet's US Travel Editor Robert Reid recommends trying a bowl of Bulgarian tarator. Essentially a soup serving the cooling function of a salad, Reid says, 'Tarator is the perfect thing to have when it's hot. Cool yogurt with cucumber, dill and nuts - in Bulgaria it's popular on menus in the summer.' Other versions in the region are drier and more recognizable as a salad, but who said salad has to be a solid in the first place?
Pancakes & waffles
Food and travel writer Andrew Bender flips out for okonomiyaki, a specialty of Osaka. ''Okonomiyaki' means 'cook as you like,' and these thick, savory pancakes, might come packed with your choice of shredded cabbage, sliced green onion, corn, thin strips of pork belly, noodles, mushrooms, a fried egg or pretty much anything else you fancy. It's all cooked before you on a hot griddle in the table and topped with tangy brown sauce like Worcestershire, and mayonnaise artfully squeezed, Spin-Art-style, from a bottle.'

Preparing okonomiyaki. Photo by Oliver Strewe / Lonely Planet Images / Getty Images.
On the sweeter side, watch for Vietnamese pandan waffles (banh kep la dua) to be heading your way soon. A coconut-milk-based waffle batter flavoured with pandan extract, which has an earthy, toasty vanilla-like scent, and often dyed bright green (unnecessarily - pandan extract is clear unless food coloring is added), the flavour is as immediately familiar as it is intriguing. Normally eaten plain, but add some lemongrass chicken, and - calling all hipster food trucks - you've got Vietnamese chicken and waffles.
New World truffles
Mexico's huitlacoche is quite a mouthful, and the English term 'corn smut' doesn't make it sound any better. Andrew Bender descries this fungus that grows on ears of corn as 'delicious, versatile and perfect for vegetarian diets. It imparts a hearty, mushroomy flavour and texture to stews, tacos and egg dishes. If I call it 'Mexican truffle,' will that entice you to give it a shot?'
Out of Africa
Can you name a food from Djibouti? Travel writer Jean-Bernard Carillet thinks it's about time you could. 'Mukbasa (also mukbassa or mokbasa) is a belt-bustingly good sweet dish served in Yemeni restaurants in Djibouti. It consists of a purée of honey and either dates or banana. It's quite thick but super sweet and melts in the mouth – very addictive. It's usually served as an accompaniment to spicy Yemeni fish, which is high on proteins, which makes for a perfectly balanced meal. It could well feature on any Western menu in such a combination. Desserts served after fish dishes are usually low-key but mukbasa would really be a perfect coda.'
Hot cookies and hot coffee
What would you rather wait for: an individually brewed cup of drip coffee that is almost imperceptibly better than a standard cup, or a hot-from-the-oven cookie that tastes like concentrated happiness? Alison Bing doesn't understand the waiting for coffee fad, 'I'm an espresso devotee, and that never takes 10 minutes. If it does, the barista would be shamed by the international order of baristas.'
Fergus Henderson has made waves in the food world for years, notably for his 'nose-to-tail' philosophy featured at his London restaurants. One small but significant innovation at Henderson's St John Bar & Restaurant and St John Bread & Wine has been largely unheralded: baked-to-order madeleines (these take 15 minutes, but it's worth the wait). Coffee shops and restaurants of the world take heed: if you want to make diners happy, a baked-to-order cookie as close to a guarantee as you'll find.
Egg coffees, Hanoi, Vietnam, by fabulousfabs. Creative Commons Attribution license.
Speaking of coffee, caffeine-loving travel writer Leif Pettersen is dismayed that the world has yet to clue into one of the best and most distinctive coffee cultures. 'Vietnamese coffee can't possibly linger in relative obscurity for much longer. Indeed, I'm mystified as to why there isn't a Vietnambucks on every trendy corner in the US already. The enduring genius of condensed milk-sweetened coffee notwithstanding, brain revving items like coconut milk coffee and Hanoi's signature egg coffee are the kind of sweet indulgences that American coffee drinkers have been inadequately trying to achieve with elaborate sugar and syrup concoctions for years.'
Andy Murdock is Lonely Planet's US Digital Editor and can't believe the whole world isn't eating poisson cru.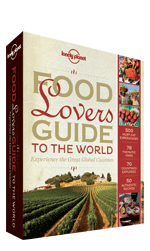 Love travel and food? You're not alone. Dig into Lonely Planet's Food Lover's Guide to the World and get inspired for your next culinary adventure.