21 free things to do in Tokyo
Exploring the Big Sushi is a mind-blowing experience, but it can also blow your budget. Don't despair – there's an abundance of things to do and see in Tokyo that don't cost a single yen. From gardens and temples to contemporary art, sumo practice and a world-famous fish market, you can experience some of the best of Tokyo for free.
1. Jog or pedal around the Imperial Palace
Slip on your sneakers and join the joggers following the broad moats and park paths that surround the Imperial Palace. On Sundays there are also 150 free bikes offered for pedalling along the Palace Cycling Course (jbpi.or.jp).
Imperial Palace East Gardens, Tokyo. Image by Toshihiro Gamo / CC BY 2.0
2. Cast your bid for Tsukiji
Want to witness the famous tuna auctions of Tsukiji Market? Then set your alarm for well before 5am when registration for the maximum of 120 daily viewing places starts. If you arrive later in the morning there is still a lot to see. Check the website (tsukiji-market.or.jp) before setting off as the market doesn't operate every day. Note also that the market is moving to a new location late 2016.
3. Visit Sensō-ji
Follow in the footsteps of countless pilgrims by approaching Sensō-ji, Tokyo's most famous Buddhist temple, in Asakusa, along Nakamise-dōri. The way is lined with colourful stalls selling all manner of souvenirs, from giant rice crackers to exquisitely decorated battledores.
Sensō-ji, Tokyo. Image by Mr Hicks46 / CC BY-SA 2.0
4. Explore Harajuku
The neighbourhood of Harajuku is also great eye candy. Stroll ginko-tree-lined Omote-sandō, a glam boulevard of up-scale boutiques housed in contemporary architecture; check out the arty explosion at funky Design Festa gallery; or pose and dance along with the youth subcultures around Yoyogi-kōen (Yoyogi Park).
5. Chill out in Meiji-jingū
When Harajuku threatens sensory overload, escape to the densely wooded grounds that envelope the capital's premier Shintō shrine, Meiji-jingū. Come on festival days to spot guys and gals in gorgeous kimonos.
6. Oh my, Odaiba!
This island of reclaimed land in Tokyo Bay is linked to the city by the Rainbow Bridge. Walk over the 918m-long single-span suspension bridge to or from Odaiba where, weather permitting, you can sunbathe on an artificial beach and view an 11m replica of the Statue of Liberty.
Statue of Liberty replica and Rainbow Bridge, Odaiba. Image by Ludovic Lubeigt / CC BY-SA 2.0
7. Watch washi making
Lessons in the art of paper folding are offered for a fee at the Origami Kaikan, but you can view artisans making washi (Japanese paper) in the workshop here, and peruse the gallery, for nix.
8. Do the Shibuya scramble
Every few minutes a wave of humanity flows across Shibuya Crossing. Join the masses or stand back and watch. An ideal vantage point is the bridge corridor linking Shibuya Station with the Shibuya Mark City complex. Here you can also view Myth of Tomorrow, a monumental piece of modern art by Okamoto Tarō.
Shibuya Crossing, Tokyo. Image by Joshua Damasio / CC BY 2.0
9. Advertising Museum Tokyo
One of the Tokyo's most interesting free museums is the Advertising Museum Tokyo (ADMT). The montage displays of old ads provide an illuminating visual history of commerce in Japan over the last century or so.
10. Geek culture in Akihabara
Die-hard fans of Atom Boy, Evangelion and Gundam will want to swing by the Tokyo Anime Center as part of their explorations of Akihabara (aka 'Akiba'), geek central for electronic goods emporiums, 'maid cafes' and all things anime and manga.
Tokyo Anime Center, Akihabara. Image by Simon Richmond / Lonely Planet
11. Contemporary art crawl
Based in a former junior high school, near Akihabara, is 3331 Arts Chiyoda, hosting a score of free contemporary art galleries offering a mix of exhibitions and interactive installations. Also worth searching out are the galleries of the Bakuchoro area, several of which, including Taro Nasu Gallery (taronasugallery.com), are gathered in the Agata-Takezawa Building.
12. Political junkie tour
Art and anime not your thing? Then how about a free tour of Japan's seat of governance, the National Diet, to view the wood-panelled, leather-bound and gilded interiors and the gardens planted with species from across the country.
13. Green spaces
Beautiful foliage and horticultural skills can be admired in Tokyo's traditional gardens. Free-to-enter gardens include those attached to the Hotel New Ōtani in Akasaka and the Hotel Chinzanso, as well as the lush grounds of Happō-en, near Shirokanedai Station, and the Imperial Palace East Garden. Tokyo also has excellent public parks, from the central Yoyogi-kōen, to Inokashira-kōen in west Tokyo (near the Ghibli Museum).
Gardens at Hotel Chinzanso, Tokyo. Image by Guilhem Vellut / CC BY 2.0
14. Attend a festival
Almost every week there's a matsuri (festival) of some kind on somewhere in Tokyo – from cherry-blossom-viewing parties to fire walking and grand parades of costumed participants holding aloft mikoshi (portable shrines). For details of upcoming events see gotokyo.org.
Hiwatarisai fire festival, Yakuo-in temple, Takao. Image by Simon Richmond / Lonely Planet
15. Amble around Yanesen
The streets of Yanaka, Nezu and Sendagi – three areas collectively known as Yanesen – provide an idea of what pre-WWII Tokyo was like. Here you'll find small temples and shrines, craft shops, galleries and cafes, and Yanaka-reien, one of the city's oldest graveyards. Interesting galleries include SCAI the Bathhouse, in a 200-year-old public bath.
16. Watch sumo practice
Even if you can't make a sumo tournament, you can see sumo wrestlers going through their training drills at a sumo 'stable', such as Arashio Stable, where visitors watch the morning practice session (asa-keiko) through windows on the street.
Sumo squat practice at Arashio Stable, Tokyo. Image by amanderson2 / CC BY 2.0
17. Graze a depachika
The nickname for department store basement food halls is depachika. They're mouthwatering places to explore and you can sate your appetite with the free samples on offer. Good ones to target include Isetan in Shinjuku, Mitsukoshi in Ginza and Takashimaya in Nihombashi.
18. Play with tomorrow's technology
No need to resort to industrial espionage: Sony  and Toyota have public showrooms displaying their latest gadgets and technology. Sony's showroom occupies a prominent corner in Ginza, while Toyota is on Odaiba. And for the latest in plumbing, check out the showcase at Toto, creators of the 'Washlet' automated toilet seat/bidet.
19. Public art and architecture in Roppongi
This fabled nightlife 'hood is also a treat to explore in daylight. There's plenty of public art scattered around the glitzy commercial complexes of Roppongi Hills and Tokyo Midtown, as well as dazzling contemporary architecture at the National Art Center Tokyo.
National Art Center Tokyo. Image by Charles Nadeau / CC BY 2.0
20. Feel squeamish
Need an excuse to get cosy with a loved (or potential loved) one? Then follow a Tokyo trend by escorting your squeamish partner on a date to the creepy Meguro Parasitological Museum, displaying record-breaking tapeworms and gruesome photos of their victims.
21. Get high on an observation deck

Survey the city 202m above ground from the observation deck of the Tokyo Metropolitan Government Building – on a clear day you may catch a glimpse of Mt Fuji. Come at dusk to catch spectacular sunsets and the city burst into neon-lit action.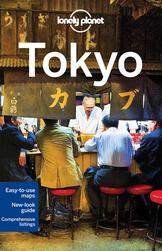 Amazing experiences don't have to cost the earth. Visit our Best Things in Life are Free hub for more budget-friendly travel tips.
This article was first published in April 2013 and updated in August 2015.