Top 20 free things to do in Dublin
Dublin isn't the cheapest destination in Europe, but there's plenty of great stuff to see and do that you don't need to pull out your wallet or purse for.
Trinity College, Dublin. Image by Brian Lawrence / Photographer's Choice / Getty Images.
Trinity College Dublin
It costs nothing to amble about the cobbled grounds of Trinity College, Ireland's foremost university, founded in 1592 as the country's answer to Oxford or Cambridge.
Chester Beatty Library
Alfred Chester Beatty was a bibliophile who was both rich and blessed with exceedingly good taste. The fruit of his extensive labours (ancient books, scrolls and other objets d'art) are gathered across two floors of the Chester Beatty Library in Dublin Castle.
Chester Beatty Library 06, by Shadowgate. CC BY 2.0
National Gallery
The highlights at Ireland's foremost collection of classical and modern art, the National Gallery, include a terrific Caravaggio and a series of paintings by Jack B Yeats, brother of William Butler and one of the country's best-known artists.
National Museum of Ireland: Archaeology
Every Irish schoolchild has taken a field trip to see the collection of Celtic and medieval treasures housed in the National Museum. These include its most famous artefacts: the Tara Brooch and the Ardagh Chalice, as fine an example of Celtic metalwork ever made.
National Museum of Ireland: Natural History
Dr Livingstone (of 'I presume' fame) cut the ribbon at this branch of the National Museum in 1857 and little has changed since then, which is why this dusty, weird and utterly compelling 'dead zoo' is still such a hit with visitors.
South Wall Walk
For a unique perspective on Dublin, the 1km walk out to the Poolbeg Lighthouse along the South Wall that stretches into Dublin Bay is unbeatable, especially on a summer's evening as the sun is getting ready to set.
Poolbeg Lighthouse, by Daniel Dudek-Corrigan. CC BY 2.0
Dublin City Gallery: The Hugh Lane
The Hugh Lane's fine collection of modern and contemporary art is all well and good, but its faithfully reconstructed studio of hell-raising painter Francis Bacon (who was born in Dublin) turns this gallery from good to outstanding.
Aras an Uachtaráin
Get a first-hand peek at how the President of Ireland lives on a free tour of the official residence in the Phoenix Park. Tours of Aras an Uachtaráin depart the Phoenix Park Visitor Centre every Saturday from 10.30am.
Dolls Store
At the back of this wonderful doll store on the 2nd floor of the Powerscourt Shopping Centre is the Doll Hospital, where dolls and teddies who have fallen ill are restored to full health with TLC (and perhaps a little stitch or two) - see www.dollstore.ie.
St Stephen's Green
Stretch out on the manicured lawns of Dublin's favourite city park. St Stephen's Green is the preferred sunshine resting spot for lovers, loafers and workers on a lunch break. Whatever you do, don't pick the flowers!
Flower garden in St Stephen's Green, by Joe Anderson. CC BY-SA 2.0
Irish Museum of Modern Art
Modelled on the Invalides in Paris, this former 18th-century hospital for wounded soldiers is now the country's foremost modern art gallery. As good as the art is, the real distraction is the building itself and the beautiful gardens around it.
Irish Museum of Modern Art, by William Murphy. CC BY-SA 2.0
The Science Gallery
Hands-on, interactive and compellingly relevant is the two-storey Science Gallery devoted to explaining the intricacies of science and how it applies to everyday life, a must for those of us who snoozed through science class in school.
National Museum of Ireland: Decorative Arts & History
The other branch of the National Museum, located in the simply magnificent Collins Barracks building on the north side of the Liffey (as good an example of 18th-century architecture as there is in Dublin), is full of historic memorabilia and domestic artefacts.
Glasnevin Cemetery Tour
Glasnevin Cemetery, Ireland's most important – it's the final resting place of many of the big names in Irish history – hosts three daily tours (11.30am, 12.30pm and 2.30pm) that will bring the stories of its residents to fascinating (ahem) life.
Glasnevin Cemetery, by William Murphy. CC BY-SA 2.0
Pat Liddy's iWalks
Visit Dublin with renowned Dublin historian Pat Liddy as your personal guide with this series of downloadable audio walking tours, which cover a range of themes from Georgian Dublin to the story of the 1916 Rising (see their website www.visitdublin.com/iwalks).
Gallery of Photography
It's small, but the exhibitions at the Gallery of Photography are generally excellent, featuring the work of both local and international photographers.
Irish-Jewish Museum
Housed in a former synagogue, the Irish-Jewish Museum tells the story of Ireland's small but prolific Jewish community (including former Israeli president Chaim Herzog, whose father was the rabbi here) through photographs and other artefacts.
Dublinbikes
With 40 locations throughout the city and 450 bikes on demand, the trick is to rent and return the bike within 30 minutes to nab it for free. If you need it for longer, release another one and off you go. All the details are on their website: www.dublinbikes.ie.
Sandeman's New Dublin Tour
This free, three-hour walking tour of the city departs Dame St every day at 11am. The guides at Sandeman's are informed, energetic and lots of fun – you can tip them if you like, but it's strictly optional.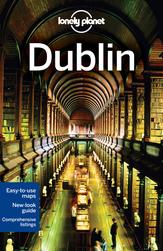 Henrietta Street
Dublin's perfect Georgian Henrietta St is lined with the most complete set of red-brick Georgian mansions built for the great and the good of the 18th century.
Law library of King's Inns, Henrietta Street, by William Murphy. CC BY-SA 2.0