We love bikes: there's a certain sense of freedom to be had from jumping onto a saddle and moving by the sheer strength of your own two feet. There's also a certain romance in settling into the rhythm of pedalling, the drive train propelling you along the road ahead. Aside from the bike, there's a host of other gear worth picking up to make that ride smoother and more efficient. Here are some we like. (Ride safe, now!)
Brooks everything else: many riders have a soft spot for this UK-based company. Their handsome leather saddles have a lineage that goes back to 1866. Today, the company also makes equally handsome panniers, bags, leather grips and more. Pimp up your bike at www.brooksengland.com.
Lycra: for the lycra-wearing set, shell out for something that is light, breathable and dries quickly. But don't forget to get a top with a zip pocket or two so you don't lose your keys or iPhone when you're mashing up a hill.
Other clothing: the saying 'clothes maketh the man' (or woman) certainly holds true when you're wearing a kit from Rapha (www.rapha.cc). They make a range of stylish clothing catering to both road bikers (windproof shells, jerseys, base layers, gilets) and city riders (slim trousers with zip pockets, cycling caps, windproof shirts).
Lock: there's no such thing as an indestructible lock, but having a quality one makes for a good deterrent against theft. D- or U-locks have been proven to be stronger than chain/cable locks – some brands, such as Kryptonite, are so confident about the theft-resistant quality of their locks that they offer to pay you if your bike gets stolen. Check out their New York Fahgettaboudit Mini (www.kryptonitelock.com). If you're really paranoid about having your seat stolen, get one with a quick release, and ditto for your wheels. Alternatively, some cyclists pair a U-lock (lock the frame and front tire to the bike rack) with a cable lock looped through the frame, rear tire, seat and bike rack.
Lights: this product is a real a case of 'why didn't I think of that?': a Korean company has invented Lightskin (www.lightskin.co.kr), a seat post with five built-in LED lights (one's also a button to turn it on and off) embedded inside the post. Elegant and very well designed.
Storage: for longer rides, weight becomes more of an issue. That messenger bag you're slinging will start biting into your shoulder after a while. Balance the load with a backpack on both shoulders or consider getting a basket or a rack to strap stuff onto. Some commuters also opt for removable panniers to keep the weight off their back. Roll-up panniers like the Linus Market Bag (shop.linusbike.com) are portable and light.
Touring gear: if you're planning an epic trip, you'll need to consider a rack and panniers for stashing your clothes, camping equipment and other belongings in – if you really want to max out your carrying capacity, your bike can tote as many as two rear panniers, two front panniers and a bar bag. Make sure to pick up something that's waterproof and hardy; bright colours might seem flashy but they help keep you visible to motorists. Ortleib (www.ortleib.com) is a popular brand manufactured with a wide range of panniers.
Tool kit: we're sure MacGyver could probably rig up a spare bicycle tube with bubble gum and twigs, but for the rest of us, it's a good idea to pack a basic tool kit. Don't bother with tube-repair kits unless you're absolutely concerned about weight. Instead, carry a spare tube or two, along with a set of tyre levers. Some cyclists swear by the self-healing tubes by Slime (www.slime.com). For inflation, you can opt for a hand pump or a CO2 inflator, or a hybrid like the Topeak Two Timer (www.topeak.com). Multi-tools are popular, but if you're only going for a short ride, opt for quick-release levers on your seat and tyres, and make sure to adjust and tighten your handlebars and everything else you might need a tool for. If you're going to chuck one in the tool kit, several really lightweight ones are made by Knog (www.knog.com.au); Park Tool (www.parktool.com) and Pedro's (www.pedros.com).
Other 'nice to have' cycling accessories:
Cycle computer and GPS: basic cycle computers only track your ride times and distances. If you want more functionality, get something like the Garmin Edge (buy.garmin.com). These computers have built-in GPS chips to track your route and location, and they also pair with a heart-rate monitor. If you expect some rough terrain, get a handlebar mount such as the K-Edge Garmin Computer Mount (www.acecosportgroup.com).
Use your smartphone: if you already own a smartphone, consider using it in lieu of a cycle computer. There are quite a few apps to use while cycling (ipod.about.com/od/bestiphoneapps). If you're feeling too cheap to splash out for paid cycling-specific apps, try one of the free apps out there, such as Sports Tracker, available for Android (play.google.com) and iPhone (itunes.apple.com)
Helmet or bike mounts: if you'd like to make a video of your ride, splash out for a helmet or bike mount for your GoPro camera (www.gopro.com) or your smartphone. If you're using the latter, be sure to buy a shockproof casing by companies such as Lifeproof (www.lifeproof.com) or Otterbox (www.otterbox.com).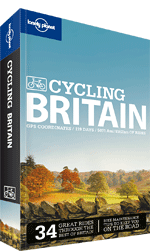 Ready to hit the road? Check out one of Lonely Planet's cycling activity guides.