With clear desert nights, fresh mountain air and a sweet lack of city crowds, the Southwest USA is an ideal place for a restorative outdoor dip in a hot spring. When the air is cool-to-cold, before spring gives way to summer in the Southwest, it's the perfect time to hunt down a hot spring and spend time immersed in that lovely mineral-rich water, but if you know where to go, you can find springs that are fabulous year-round. From riverside spas to hidden mountain pools, these destination hot springs are perfect places to soak your cares away.
Pagosa Springs, Colorado
Set along the mountain-lined San Juan River, Pagosa Springs gets its name from the natural sulfur hot springs that bubble up here. The deepest geothermal hot spring on earth, the Springs Resort & Spa (www.pagosahotsprings.com) has converted it into a gorgeous set of 18 spring-fed pools overlooking the river. The spa is open year-round and boasts spiffy changing facilities and lounge chairs, and if you stay overnight at the resort you can use the pools for free... all night.
When to go: Pagosa Springs is a year-round destination, but a wintry soak in the steaming springs after a long day of powder carving at Wolf Creek Ski Area is a particular treat.
The Springs Resort, Pagosa Springs. Photo by Megan Eaves / Lonely Planet.
Truth or Consequences, New Mexico
Plans for the world's first civilian spaceport to be located here put Truth or Consequences on the map. Before World War II, this strangely named town (known to locals as just 'T or C') was a hopping spa destination, but today it's a peaceful little town with a few remaining hot springs resorts. By far the best is Riverbend, a quirky lodge with several leafy, private pools overlooking the Rio Grande.
When to go: Now, so you can experience the beauty and peacefulness of T or C before space travel turns it into an intergalactic metropolis.
Hot spring pools at Riverbend, Truth or Consequences. Photo by Megan Eaves / Lonely Planet.
Yampah Hot Springs Vapor Caves, Colorado
In a rare departure from the typical soaking-pool model, Yampah Spa (www.yampahspa.com/caves) has harnessed steam from local geothermal springs to create a sauna in a series of natural caves. This one wins huge points for atmosphere as well as value: a day pass to the caves is just $9. Yampah also offers a menu of traditional day spa services like facials and wraps.
When to go: Anytime - Yampah Hot Springs is an 'indoor' affair!
Verde River Hot Springs, Arizona
If soaking solitude is what you're after, make for the remote but very scenic Verde River hot springs, with concrete pools overlooking the Verde River. Getting here requires a 2-mile hike from the tiny mountain town of Strawberry, including a sometimes tricky river crossing. The springs themselves lack facilities, so hikers should carry in plenty of water. Also note that, although nudity is technically prohibited here, alfresco bathing is not unheard of.
When to go: Late spring and early autumn are best. Avoid early spring when the river is high, as well as the rainy season from June to September, when thunderstorms and flash floods are a danger.
Verde River Hot Springs, by Greg Walters. Creative Commons Attribution license.
Desert Hot Springs, California
Imagine an actual oasis in the desert, add in natural mineral springs and looming snow-capped mountain peaks, and you've got this California town. Situated just north of better-known Palm Springs, here you can take your pick from dozens of private resorts that make use of a hot aquifer that springs up here. Try the kitschy 1950s Desert Hot Springs Spa Hotel, where a day pass will get you unlimited soakage in palm-lined pools.
When to go: This is a great place to catch some late winter sun and warm the bones in the oasis waters. Alternately, you could stop over in April on the way to Coachella, which is just up the road.
Ojo Caliente, New Mexico
The granddaddy of all Southwestern soaking spots, Ojo Caliente wins for ambiance, hands down. Set amongst the dusky hills of northern New Mexico, the resort comprises several adobe pools fueled by a natural aquifer. Locals might complain it's a bit yuppie, but once you're submerged in steamy water overlooking a rust-colored cliff side, you really won't care. Book a stay in one of the suites and you can spend a couple of days availing of nearby hiking trails.
When to go: Autumn, when the air is crisp and the cottonwood trees are flaming yellow.
Ojo Caliente as the sun sets. Photo courtesy of Ojo Caliente Mineral Springs Resort & Spa.
Crystal Hot Springs, Utah
Here's a hot spring destination with a bit of history: Native Americans originally used this as a winter camp and Transcontinental railroad workers built cedarwood tubs here in the 1860s. Today, Crystal Hot Springs has three hot tubs, an Olympic-sized soaking pool and a waterslide. Understandably, this is a great hot springs spot if you have kids.
When to go: Summers are beautiful, with cool evenings and bright, warm days – and if you aren't too chicken, there's a cold-water plunge to try.
Born and raised in New Mexico, Megan Eaves is a Southwest girl at heart and often pines for sun and green chile from her rainy London flat. She's penned two travel guidebooks, as well as numerous print and web articles about her world travels and now works as Online Content Producer for Lonely Planet. You can find her on Google+ or on Twitter @megoizzy.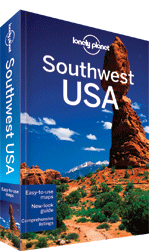 Once you've gotten your soak on, hit the road with a copy of Lonely Planet's Southwest USA travel guide by your side.