Whether firing up artisanal distilleries, cooking Appalachian comfort foods or eco-rehabbing old neighborhoods, Louisville (LOO-uh-vul) is getting its groove on. There's lots to do and drink that's distinct to this picturesque city on the Ohio River. No wonder it's Lonely Planet's top US destination for 2013.
Bourbon with a side of bourbon
Most of the world's bourbon is produced within 100 miles of Louisville. Walk into a downtown watering hole, and at least 50 types of nectar glow in bottles behind the bar. Groupies make the pilgrimage to Bourbon's Bistro to swirl and sniff a flight. The city's lengthiest menu offers 130 Kentucky whiskeys, plus dishes like bourbon-braised pork belly and bourbon bread pudding to soak it up. The gilt-and-marble Old Seelbach Bar is another moody favorite, where F Scott Fitzgerald took notes for The Great Gatsby in a bourbon-and-champagne haze. These saloons and 18 others - many in a walkable stretch of historic buildings near Main Street - form Louisville's Urban Bourbon Trail.
Bourbon cocktail at the Seelbach Bar, by Amy C Evans, Southern Foodways Alliance.  Creative Commons BY license.
Distillers come to town

You can drink until your liver's content in town, but to tour a bourbon distillery you have to road trip into the surrounding countryside. Big-name booze-makers such as Jim Beam and Maker's Mark tuck among the massive green horse farms, and provide heady jaunts past gleaming copper tanks and burbling vats of mash.
Soon though, you'll be able to see the process right in Louisville. Microdistilleries are popping up like mushrooms downtown and in the Louisville suburbs. Michter's - the brand George Washington poured to fortify his men at Valley Forge - plans to open a production facility with tours in the next year or so. Same with Angel's Envy, a port-cask-finished small-batch newcomer known for its hint of sweet. And for those who aspire to make their own hooch, the Distilled Spirits Epicenter recently opened in an old auto garage and hosts five-day DIY courses.
The Greatest Museum
Many say Louisville's best showplace is the Slugger Museum & Factory, chock full of baseball bats and memorabilia. Others point to the Derby Museum, whose exhibits make you swear you're on the racetrack, horses thundering by. Our vote goes to the Muhammad Ali Center, which tells the complex tale of the local boxer nicknamed the Louisville Lip or, simply, The Greatest. His fight videos and street poetry captivate ('I done wrestled with an alligator, I done tussled with a whale; Handcuffed lightning, thrown thunder in jail'). But it's the way they're put in context with civil rights and Vietnam War exhibits that gives the place its power.
Muhammad Ali Center, by Stephen Cox. Creative Commons BY license.
Gothic & hipster 'hoods
In buzzy NuLu - aka New Louisville or the East Market District - galleries, bakeries, antique shops and cool-cat restaurants inhabit century-old warehouses along Market Street, at downtown's edge. Renovation is being done sustainably, to the extent the neighborhood as a whole is applying for LEED certification.
A bit farther east, the Highlands unfurls a strip of coffee shops, thrift stores, funky bars and 'Keep Louisville Weird' stickers along Bardstown Road.
For atmospherics, Victorian-era Old Louisville wins the prize. Enormous Gothic homes with turrets and gargoyles rise up for blocks. Walking tours take in hidden courtyards and famous homes, such as Thomas Edison's shotgun cottage.
The Highlands mural, by Seth Werkheiser. Creative Commons BY-SA license.
Big breakfast
Something has to soak up last night's bourbon, which explains why the city overflows with breakfast joints. Grab a table at Lynn's Paradise Cafe in the Highlands to carve into thick-cut bacon, cornmeal pancakes and feathery biscuits with sorghum butter. The neon colors and tacky lamp collection either entertain or hurt the head, depending on one's hangover status. Stick around until lunchtime and Louisville's signature sandwich, the open-faced, turkey-bacon-mornay-sauced Hot Brown appears. In NuLu, cavernous Toast on Market stacks plates with lemon soufflé pancakes and the breakfast Manhattan (pot roast and gravy atop flapjacks). Nearby Hillbilly Tea spins old-school Appalachian favorites into organic and often veggie-friendly fare. Slide into a wood booth, hoist a mason jar of sweet tea and fork into smoked tofu scrambled with herbs. If you feel the need for a little hair of the dog, just ask.
'Bruncheon' at Hillbilly Tea, pulled pork and corn pone, by Matt Feifarek. Creative Commons BY-SA license.
Louisville abides
Yes, the Kentucky Derby grabs headlines the first Saturday in May for its mint juleps, flamboyant hats, two minutes of horse racing, yadda yadda. But Louisville's less-heralded events impress just as much. Each July fans of the cult film The Big Lebowski pay homage during raucous Lebowski Fest. Costumed Dudes and Walters converge to bowl, drink white Russians, hear alt bands and, of course, view the movie for the 38th time. While other cities hold similar fests, Louisville's Lebowski bash is the original and longest running (11 years and counting).
The Actors Theater of Louisville stages the Humana Festival of New American Plays for five weeks around March. It's the nation's premier incubator for fresh works and has sent several eventual Pulitzer winners to Broadway.
Get more in-depth American travel know-how with Lonely Planet's top-selling USA travel guid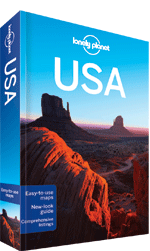 e and check out the rest of our top US destination picks for 2013.