Perang Topat (Rice Cake War): tips for Lombok's multicultural food fight
DSC_3835.JPG.jpg by Nicolas Lannuzel. Creative Commons Attribution licence (CC BY 2.0)
Location: Lingsar, Lombok, Indonesia
Date: Sixth full moon in the Sasak calendar (November/December)
Level of participation: 2 – unity through rice adversity
At this quirky harvest festival, the Hindu and Muslim residents of Lombok, east of Bali, unite to pelt each other with boiled rice.
The food fight takes a week of preparation. On the big day, the Sasak Wektu Telu community joins its Hindu neighbours at a singularly appropriately location, the Pura Lingsar. This 18th-century temple was built by Hindus, but the temple compound also contains the Kemaliq, a Muslim shrine.
On different sides of the temple, separated by a courtyard, the two groups perform a Pujawali ritual, which commemorates the temple's anniversary and gives thanks for the harvest. The next stage of the day is Rorok Kembang Waru: the wilting of the Waru flowers, which bloom and die in a day. When the first flower falls, at about 4pm, the groups begin to shower each other with ketupat (sticky rice wrapped in coconut leaves).
After the good-natured fight, some of the leftover ammo is distributed among the participants and spectators. The rest is buried in the fields, to ensure another season of healthy crops.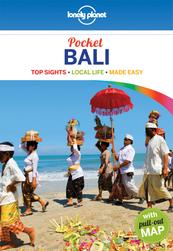 Essentials: Bring an umbrella, in case there are any really poor marksmen.
Local attractions: Swot up on Lombok and neighbouring Sumbawa among the masks, daggers, basketware and cloth in Museum Negeri Nusa Tenggara Barat.
More info: Mataram Tourist office (+62 370 632723)
See a list of other festivals in November here.