Paris is a very compact city, so no matter where you decide to stay you'll be able to get around the rest of town without too much trouble.
The rive gauche or left bank generally refers to the Paris south of the Seine. Some of its most famous streets are the Boulevard Saint-Germain, the Boulevard Saint-Michel and the Rue de Rennes. The left bank is associated with Bohemia and creativity.
North of the Seine, the rive droit or right bank is associated with elegance and sophistication. The right bank's most famous street is the Champs-Élysées, but there are others of prominence, such as Rue de la Paix, Rue de Rivoli and Avenue Montaigne.
Starting at Kilometre Zero in front of Notre Dame, Paris is divided into 20 arondissements (districts). The numbering spirals from 1 to 20 in a clockwise direction from the front of the cathedral. The usual French notation is 1er for premier (1st), 2e for deuxieme (2nd), 3e for troisieme (3rd) and so on.
Each arondissement has a distinct personality. The 1er is full of sights but few residents; the 5th is studenty; the 7e full of ministries and embassies; the 10e was traditionally working-class but has succumbed to gentrification; the 16th is the bastion of the well-heeled.
Louvre & Les Halles (1er and 2e) is the district for museum lovers and the very heart of Paris. Île de la Cité (4e and 1er) is the site of the first settlement in Paris (c 3rd century BC) and home to Notre Dame. Île de St-Louis (4e) is an oasis of calm away from the din of the city.
The Latin Quarter (5e) is known for its literary heritage (being favoured by Hemingway, Fitzgerald and other members of the creative community) and continues to provide a lively backdrop to city life. St-Germain (6e) & Invalides (7e) oozes panache and is the best district for those that have shopping at the top of their list of things to do in Paris.
Once you've climbed the Eiffel Tower (16e), you might like to get away from the crowds by taking a stroll through the gardens nearby at the Bois de Boulogne (or go rowing on the lakes). To get a view of the Champs-Élysées (8e) & Grand Boulevards (8e and 9e) climb to the top of the Arc de Triomphe.
For picture postcard Paris, where everyone paints, wears a beret and sings to accordion music, head up to Montmartre (18e). Head to the Marais (4e) & Ménilmontant for the city's hip drinking scene and fun for night owls. The area around the Bastille (11e) & Gare de Lyon used to be notorious for its high crime rate, but today you can spend time browsing the flea markets and people watching.
Avoid Montparnasse (14e) with its pricey eating establishments. Head eastwards to Chinatown (13e) for a colourful, multiracial taste of Paris today.
The table below will guide you through the sights, shopping, museum and galleries on offer in each distinct district of Paris.
Area
Sights
Museums & galleries
Shopping
Louvre & Les Halles
Centre Pompidou
Église St-Eustache
Passages Couverts
Musée du Louvre
Les Art Décoratifs
Musée de l'Orangerie
L'Ecritoire
E Dehillerin
Boîtes à Musique Anna Joliet
Latin Quarter
Panthéon
Mosquée de Paris
Sorbonne
Institut du Monde Arabe
Musée National d'Histoire Naturelle
Musée National du Moyen Age
Shakespeare & Company
Magie
St-Germain & Invalides
Église St-Sulpice
Église St-Germain des Pres
Institute de France
Foundation Dubuffet
Musée National Eugene Delacroix
Pièce Unique Variations
Pâtisserie Sadaharu Aoki
Bonton Bazat
La Dernière Goutte
Le Dépôt-Vente de Buci
Eiffel Tower &16e
Eiffel Tower
Bois de Boulogne
CinéAqua
Musée du Quai Branly
Musée Marmotta-Monet
Cite de l'Architecture et du Patrimoine
Champs-Elysees & Grands Boulevards
Arc de Triomphe
Av des Champs-Élysées
Palais Garnier
Grand Palais
Musée National Gustave Moreau
La Pinacothèque
Galeries Lafayette
Place de la Madeleine
Guerlain
Montmartre, Pigalle & 17e
Basilique du Sacre Cœur
Place du Tertre
Cimetière de Montmartre
Musée de la Vie Romantique
Musée Jacquemart-André
Musée Nissim de Camondo
Ets Lion
La Citadelle
Marais & Ménilmontant
Place des Vosges
Pletzl
Cimetière du Père Lachaise
Musée Carnavalet
Musée des Arts et Métiers
Maison de Victor Hugo
Sic Amor
CSAO Boutique & Gallery
Red Wheelbarrow Bookstore
Bastille & Gare de Lyon
Cinémathèque Française
Viaduc des Arts
Passerelle Simone de Beauvoir
Maison Rouge
Cite Nationale de l'Histoire de l'Immigration
Maison de Jardinage
Marche aux Puce d'Aligre
La Maison du Cerf-Volant
Fermob
Want a mite more detail on the City of Light? Look no further: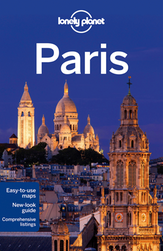 Jane Atkin is part of Lonely Planet's online editorial team.
This article was first published in February 2012 and was updated in July 2012.