Strutting down the pavement, the remnants of that classic disco beat by the Bee Gees stuck in your head, you're walking down the same street as John Travolta (aka Tony Manero) in the opening scene of Saturday Night Fever (1977). 35 years later, you can still recognize the neighbourhood: teenagers chat on stoops, Italian deli owners greet passersby, and mothers call from windows for their children to return home for dinner.
Nestled in the heart of Brooklyn, at the foot of the sprawling Verrazano Bridge, lies an oasis amidst the clutter and chaos of New York City that just falls off the bottom of the map of most travel guides: Bay Ridge. Brimming with hometown pride, it's a small neighbourhood within the fourth largest city in the world. Most people from Bay Ridge are born there and live there until the day they die - commuting to Manhattan for work but always returning to the block they call home. Ask people here where they're from and they don't say Brooklyn, they say Bay Ridge.

Stormy sunset on the waterfront, Bay Ridge. Photo by Steve Kelley / Getty Images.
Bay Ridge officially stretches from 65th St to 101st St, and from 7th Ave west to Shore Rd. It's a welcome change from the mind-numbing traffic of Manhattan and an easy day trip for travelers. From Manhattan take the N or D train downtown to 36th St in Brooklyn. Take the R train across the platform to 86th St and 4th Ave. Walking up and down its tree lined streets you'll still find street football games, elderly ladies chatting in front of their houses, and multicultural gatherings on top many stoops.
It's a classic Brooklyn neighbourhood; originally settled by Dutch immigrants, now home to dozens of nationalities. Its residents haven't been run out by gentrification, rather the opposite seems to be happening – an influx of cultures from around the world. While Williamsburg and Bushwick grow increasingly expensive with the arrival of twenty-somethings eager to be next to Manhattan, Bay Ridge's seven-mile commute is just too far from the city for it to become untouchably overpriced.
Aerial of Bay Ridge (right) and Staten Island (left), by Doc Searls. Creative Commons Attribution license.
To relive a little Hollywood history start off on 79th St between Ridge Blvd and 3rd Ave and walk down John Travolta's famous Saturday Night Fever Block with 'Stayin' Alive' running through your head as the soundtrack. From there head north to the shopping district on 86th street to find everything from perfume, to top hats, to tennis shoes. Brunch on the outdoor veranda at Paneantico Bakery is plenty relaxing (try a cappuccino paired with an apple turnover, and you won't be disappointed).
For lunch, it's impossible to go wrong if you choose Middle Eastern or Italian. For fine Middle Eastern cuisine in the neighborhood often referred to as 'Beirut', stop by Sally and George's, established in 1974 and boasting the same two waiters for the past twenty years. The kibbeh nayyeh (raw minced lamb) or the Syrian melted cheese sandwich will stop you in your tracks. A quicker option is Nino's Pizzeria on 91st and 3rd, serving up slices for over 50 years. Owner, Peter Benny, works tirelessly to make the best pie in Bay Ridge. Grab a slice of the Gran Mama, a thin-crusted pizza with fresh basil and thick tomato sauce, and you might just find yourself eating the entire pie.

Baseball diamond and waterfront, Shore Road Park, Bay Ridge, Brooklyn.  Photo by Barry Winiker / Getty Images.
If it's a gorgeous day, stop by Verrazano Bicycle Shop on 5th avenue to pick up some wheels for the afternoon. Roll down to Shore Road Park, a lush green park stretching over 30 blocks with a beautiful view of the Narrows waterway. For a classic New York City game of pickup basketball go to the courts on 79th Street where you can watch from a distance or join a game if you're up for the challenge. There you'll find a frenzy of seven year-olds to 70-year-olds from all over the world, all competing on common ground. Unless you're a solid player, stay off the courts closest to the water.
When the sun sets it's a perfect time to relive a little more Saturday Night Fever nostalgia, snuggling up with your partner on the same bench as Tony Manero along the Shore Road bicycle path. Take the overpass just past the basketball courts and ride to the nearest open bench. If you're lucky, you might just catch a glowing sun setting next to one of the longest suspension bridges in the world. As twilight hits you could ride two miles south to the 69th street pier, where you'll find an uninterrupted view of the New York City skyline. The lure of the city lights might be too bright for you to ignore and like Travolta, you may leave your Bay Ridge oasis for the mystery of Manhattan.
Chris Bashinelli (The Sopranos, HBO) was born and raised in Brooklyn, New York. As host of  Bridge the Gap (PBS) he travels the world to walk in someone else's shoes for one day. He is a United Nations Moderator, an International Speaker (TEDx) and is the recipient of a National Geographic Young Explorers grant. Follow Chris on Twitter.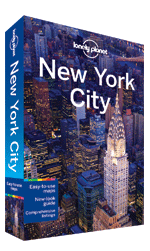 New York City: it's not just about Manhattan. Get the full take for travellers that want to go beyond the usual sights with Lonely Planet's New York City travel guide.