St Patrick's Festival: tips for celebrating the patron saint of Ireland in Dublin
'St. Patrick's Day, Dublin' by LenDog64. Creative Commons Attribution-NoDerivs
This is an excerpt from Lonely Planet's A Year of Festivals.
Location: Dublin, Ireland. The parade starts on Parnell Sq and heads down O'Connell St, through College Green to an appropriate end at St Patrick's Cathedral.
Dates: Five days around 17 March
Level of participation: 3 - take a spin on the festival ferris wheel and drink the green beer, but you'll only be watching at the parade.
Wherever in the world there's a Plastic Paddy, there's a St Patrick's Day festival with green beer, blarney and craic, but the most authentic way to celebrate Ireland's patron saint is in the country's capital, Dublin. The mother of all Irish festivals, it sees hundreds of thousands gather on city streets and in venues throughout the centre to 'honour' the saint who apocryphally drove out Ireland's snakes. You'll find street theatre, a fairground and a music festival, with the famous St Patrick's Day street parade on 17 March to round out the festivities. The parade begins at midday. If you can't make it to Ireland on St Patrick's Day, think about heading for Chicago instead, where the Chicago River is dyed green to mark the occasion.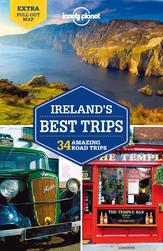 Essentials: Your beer should be drunk green on St Patrick's Day. For the best parade view, you can purchase grandstand seating through the Festival Shop link at the festival website.
Local attractions: Spend a day among Temple Bar eateries and drinking holes, an equally traditional way to spend a St Pat's Day. Go to the source of much of the merriment with a tour of the Guinness Brewery.
More info: www.stpatricksfestival.ie
See more festivals in March here.
This is an excerpt from Lonely Planet's A Year of Festivals.