Mexicans love food, especially their own. Visit Mexico and you will soon get a sense of how important food is in their lives: ask where to find, say, the best carnitas (braised pork) in Mexico City, or the best mole (a type of chilli sauce) in Oaxaca, and you're up for a passionate, lengthy and well-informed debate. (However, if you ask who the best cook they know is, they all will be in agreement: mi madre – 'my mother'.)
Read on for a brief (but mouth-watering) introduction to Mexican cuisine from the latest edition of Lonely Planet's Mexico guide book.
What's on the menu?
Mexican cuisine has little to do with what's served in Mexican restaurants outside the country. For many visitors their first experience with real Mexican food is a surprise – there are no big hats, no flavoured margaritas or cheese nachos on the menu. Authentic Mexican food is fresh, simple and, frequently, locally grown – and most likely, somebody's mother will be running the kitchen.
Mexican menus vary by region, but in most cases you can find food made with a few staples: corn, an array of dry and fresh chillies, and beans.
Contrary to popular belief, not all food in Mexico is spicy, at least not for the regular palate. Chillies are used as flavouring ingredients and to provide intensity in sauces, moles and pipiáns, and many appreciate their depth over their piquancy. But beware: many dishes do indeed have a kick, reaching daredevil levels in some cases. A good rule of thumb is that when chillies are cooked into dishes as sauces they tend to be on the mild side, but when they are prepared as salsas or relishes used as condiments, they can be really hot.
Other staples that give Mexican food its classic flavoring are spices like cinnamon, clove and cumin, and herbs such as thyme, oregano, and most importantly, cilantro (coriander) and epazote.
Epazote may be the unsung hero of Mexican cooking. This pungent-smelling herb (called pigweed or Jerusalem oak in the US) is used for flavouring beans, soups, stews and certain moles.
Eating on a whim
Antojitos are at the centre of Mexican cooking. The word antojo translates as 'a whim, a sudden craving,' but it's not just a snack – you can have them as an entire meal, or a couple as appetizers (or yes, just one as a tentempíe, or 'quick bite'). There are eight types of antojitos, all with the central component of corn masa (dough):
Tacos: the quintessential culinary fare in Mexico can be made of any cooked meat, fish or vegetable wrapped in a tortilla, with a dash of salsa and garnished with onion and cilantro.
Quesadillas: fold a tortilla with cheese, heat it on a griddle and you have a quesadilla. (Queso means cheese.) In restaurants and street stalls they're stuffed pockets made with raw corn masa that is lightly fried or griddled until crisp. They can be stuffed with chorizo (spicy sausage) and cheese, squash blossoms, mushrooms with garlic, chicharrón (fried pork fat), beans, stewed chicken or meat.
Enchiladas: a group of three or four lightly fried tortillas filled with chicken, cheese or eggs and covered with a cooked salsa; usually a main dish.
Tostadas: tortillas that have been baked or fried until they get crisp and are then cooled to hold a variety of toppings. Tostadas de pollo are a beautiful layering of beans, chicken, cream, shredded lettuce, onion, avocado and queso fresco (a fresh cheese).
Sopes: small masa shells, two or three inches in diameter, that are shaped by hand and cooked on a griddle with a thin layer of beans, salsa and cheese; chorizo is also a common topping.
Gorditas: round masa cakes that are baked until they puff. Sometimes gorditas are filled with a thin layer of fried black or pinto beans, or even fava beans.
Chilaquiles: corn tortillas are cut in triangles and fried until crispy, then cooked in a tomatillo (chilaquiles verdes) or tomato salsa (chilaquiles rojos) to become soft, then topped with shredded cheese, sliced onions and Mexican crema. Typically served as breakfast.
Tamales: made with masa mixed with lard, stuffed with stewed meat, fish or vegetables, wrapped and steamed. Every region in the country has its own, the most famous being the Oaxacan-style tamales with mole and wrapped in banana leaves and the Mexico City tamales with chicken and green tomatillo sauce wrapped in corn husks.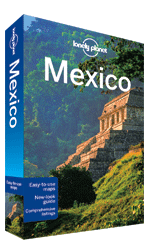 Feeling hungry yet? There's much more on Mexican food and drink in Lonely Planet's brand-new Mexico guide book.
Don't need the whole book? Pick and choose your favourite PDF chapters for your next trip.