Naghol: how to witness Vanuatu's land diving festival
'The Tower' by PaulSteinJC. Creative Commons Attribution-ShareAlike
Location: Pentecost Island, Vanuatu
Dates: diving ceremonies usually take place each Saturday through April and May
Level of participation: 1 - watch the brave islanders take the plunge
When the first yam crop emerges in early April on the Vanuatu island of Pentecost, the southern islanders begin to build high wooden towers. Once completed, and through until about the end of May, village men and boys dive from these rickety structures with only two vines attached to their ankles to break their fall (yes, naghol was the inspiration for bungee jumping).
To do it right, the vines should pull the divers up so near to the ground that their hair touches the soil. This is said to fertilise the ground, guaranteeing a bountiful yam harvest. Today, tourism as much as tradition drives the naghol ceremonies, with dives taking place mainly for show, though the local people still have to adhere to traditional taboos in order to participate - failure to do so will have cultural implications for naghol divers.
Essentials: plan ahead as visitor numbers to Pentecost are limited by the small number of guesthouses and the availability of seats on the few chartered flights. Air Vanuatu has two weekly flights to Pentecost from Port Vila, but planes hold only about 20 passengers.
Local attractions: Most visitors travel to Pentecost simply for the naghol ceremonies, but around the villages of Melsisi and Vanu there are good walks to gorges and waterfalls. The volcanic landscape of neighbouring Ambrym island is extraordinary.
More info: Vanuatu Tourism (www.vanuatutourism.com)
See other top festivals in May here.
This is an excerpt from Lonely Planet's A Year of Festivals.
This article was first published in December 2010 and was refreshed in April 2013.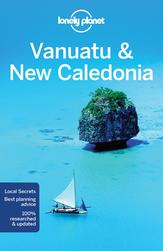 Get to know every country in the world — with Lonely Planet's The Travel Book.