Roadtripping USA: the ultimate how-to
Maybe it's the economy, maybe it's the weather, or maybe retro travel is in vogue - whatever the reason, 2010 has been a strong year for the classic American travel experience: the long distance road trip.
Here at Lonely Planet, the US road trip has been very much on our mind this year as well, so we've pulled together some of the best articles from throughout the year for planning and inspiring your next American road adventure: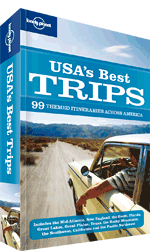 Summer may be winding down, but there are road trips for every season. Check out the new release USA's Best Trips: 99 Themed Itineraries Across America for the best of the US from classic trips to offbeat adventures.