Road trip rules for Labor Day weekend
Labor Day in the US signals two major things - the last-bash of summer travel when, the AAA estimates, over 31 million people hit the road, AND the start of college football season (yay!).
Whether you're joining the hordes over Labor Day weekend (this year, September 1-3) or - hear hear! - waiting for crowds to thin and (in some cases) prices to fall throughout September, here are my 3 favorite road trip tips picked up while researching the Great Plains for Lonely Planet a few years ago:
1. Make your own attractions. Grain elevators are the skyscrapers of the plains, each marking another corn or wheat town. Realizing I'd never seen their insides, I finally stopped at one - and asked for a tour. A Texan expat in a jumpsuit named Glen offered me a half-hour inspection, stuffing us both into a 'one-man elevator' to show off rusting equipment and empty silos waiting for harvest. I'll never see a grain elevator the same way again - or pass chances for makeshift tours.
2. Turn to short horizons. The expression 'are we there yet?' probably was first uttered on the Santa Fe Trail in the 19th century in western Kansas. But those flatlands were once prehistoric seafloors - and home to some surprising landscapes. From the interstate watch for short horizons - say one mile distant instead of the usual 10. Often they mark out-of-sight sweeping falls out on the range - drive to them and get a mountain-top view, without the altitude sickness.
3. Ask for curators. Small, out-of-the-way museums - ones collecting fossils or focusing on forgotten forts - get little attention, particularly off the interstates. Go to at least one anywhere you go, and ask to speak to the curator or director. Often they're charmed by the attention and give personal tours. At one dinosaur museum in North Dakota, the fossil-finder himself told how he dug up the pieces behind the glass. And I've found myself liking fossils a lot more than I used to.
This article was first published in September 2010 and was refreshed in August 2012.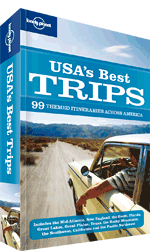 We've got 99 trips to inspire your next journey in USA's Best Trips: 99 Themed Itineraries Across America including a Pacific Northwest Grand Tour, 60 Lighthouses in 60 Hours in Maine, and a Green Chile Adventure through New Mexico.