America's best craft breweries
It wasn't long ago when the American beer market was dominated by a handful of acrid, factory-produced brews that bore only a passing resemblance to what those in other climes called 'beer'. Thankfully, those days of choking down foul-tasting swill are long gone, with an explosion of microbreweries in recent years - some 2000 craft breweries at last count. Here's a short list of some of our favorite producers.
Mountain Sun Pub & Brewery by Numinosity. Creative Commons Attribution-Sharealike Licence
Mountain Sun Pub & Brewery, Boulder, Colorado
Boulder's favorite brewery (www.mountainsunpub.com) is a great spot for kicking back after a day of mountain biking, hiking or rock climbing in America's most outdoorsy little town. Mountain Sun boasts a fun, free-spirited vibe that draws in all types, and the menu features satisfying pub grub. Of course, the beer is the star attraction: rich creamy porters, golden ales and unusual combinations like blackberry wheat. Catch live music – bluegrass, folk and the like – from 10pm on Sunday or Monday nights.
Bridgeport Brewpub, Portland, Oregon
In a city famous for its microbreweries, Bridgeport looms above all others (www.bridgeportbrew.com). It's the state's oldest craft brewery – opened way back in 1984 in a century-old rope-making factory – and has garnered dozens of awards over the years. It sits on the edge of the Pearl District, a once gritty industrial area with a growing assortment of art galleries, boutiques, restaurants and other drinking dens. If you're around on the first Thursday of the month, you can go gallery-hopping then stop in for a bite and refreshing brew or two (www.firstthursdayportland.com).
Pike Pub & Brewery, Seattle, Washington
Portland's bigger, wealthier rival to the north has its own share of microbreweries, including the historic Pike Pub & Brewery (www.pikebrewing.com), set in the bountiful shopping extravaganza of Pike Place Market. Wood-aged stout goes nicely with fish and chips, corned beef and cabbage, crab chowder and other bites. And it makes a warm retreat when the skies turn drizzly. Our favorite: the Scotch-style Pike Kilt lifter, with a malty taste and a smoky finish.
Goose Island Brewery by Bernt Rostad. Creative Commons Attribution Licence
Goose Island Brewery, Chicago, Illinois
Goose Island (www.gooseisland.com) produces an excellent variety of seasonal brews, with around 20 on draft each day. It has two locations: the original (Clybourn) in Lincoln Park and the other in Wrigleyville – a perfect spot for a pre- or post-game libation after watching the Cubs play valiantly. Try the famous stilton burger (pepper-crusted burger with roasted garlic cloves and slathered with the deliciously fragrant cheese). Goose Island takes its beers seriously: the Pere Jacques is a Belgian-style abbey ale with caramel notes, while hop-lovers should sample the Revolution Double Fist, a faintly pine-scented pale ale with a hefty 8% alcohol content.
Sierra Nevada Brewery, Chico, California
When road-tripping through Northern California, this little town is well worth a visit for a look at one of America's most sustainable breweries. Sierra Nevada (www.sierranevada.com) prides itself on its earth-friendly ethos (with solar panels and hydrogen fuel cells drastically diminishing its carbon footprint), and also produces first-rate quaffs. Following an eye-opening tour through the high-tech facilities, you can sample more than a half-dozen of the beers made here. The restaurant is also tip-top, serving vegetarian dishes that highlight the season's best produce and choice aged beef from locally raised cattle (fed a special diet that includes brewer's yeast with beer and nutritious spent grains taken from the brewery). Nearby is a massive and much-loved municipal park that makes a great spot for hiking, swimming and biking, with trails that grow wilder as you head into the Sierra Nevada foothills.
Magic Hat Brewery, Burlington, Vermont
Vermonters have a soft spot for beer. How else to explain the frothy abundance – there are more craft breweries per capita here than in any other state. Whether you've come for leaf-peeping (watching the dramatic fall foliage flare up across the state), hiking the rugged Long Trail (which indeed runs the length of the state) or simply taking in a bit of backroads rambling in lovely rural countryside, Burlington makes a fine stop. Magic Hat (www.magichat.net) is probably the state's most famous brewery, with free tours (and free samples) showcasing the goods. Their most famous beer is the No. 9, with its slight hint of apricot, though purists might prefer the Circus Boy, a refreshing unfiltered hefeweizen.
Draughthouse, Austin, Texas
Austin has a lot going for it, from its scintillating music scene and multi-culti festivals to its great barbecue joints (though you'll need to head to nearby Lockhart for the best of the best). Its beer scene is no less celebrated. Draught House (www.draughthouse.com) is a festive and feel-good spot that serves up a changing array of their own inspired seasonal brews, as well as scores of great microbrews on draught from across the country. It's a sprawling place to while a way an afternoon, with an outdoor patio, a food truck and a seemingly infinite beer selection. Tuesday is the night to come, when every draught in the house costs just $2.75.
Dogfish Head, Rehoboth, Delaware
In the ocean-loving town of Rehoboth, Delaware, Dogfish Head (www.dogfish.com) serves delectably innovative brews – 'Off-centered ales for off-centered people' as they describe it – using unusual ingredients in daring combinations, often with winning results. Try the Raison d'Etre (a Belgian-style brown ale brewed with beet sugar and raisins), or perhaps the oak-aged Burton Barton, a surprising blend of English-style old ale and imperial IPA. After basking on the beaches a short stroll away, their brews (and beer-basted pub fare) make a fine cap to the day.
Brooklyn Brewery by Bernt Rostad. Creative Commons Attribution Licence
Brooklyn Brewery, Williamsburg, Brooklyn, New York
Just across the turgid East River from Manhattan, this brewery is yet another reason why Brooklyners are feeling so smug these days. BB (www.brooklynbrewery.com) makes finely crafted pilsner, pale ale and other classic brews as well as fine seasonal libations like the summer ale, perfect for warm days watching the Yankees – or better yet the Cyclones (Brooklyn's minor league baseball team) – at the bat. You can head over for a free tour on the weekend or just pop over for happy hour on Friday, when $20 gets you five different brews. There isn't much ambience, but you need only take a short stroll to find a vertiginous array of shops, bars, restaurants and other amusements in this hipster-loving enclave in north Brooklyn.
Boston Beer Company, Boston, Massachusetts
Created in 1984, the Boston Beer Company (better known as Samuel Adams brewery) launched to international stardom on the merits of its beautifully balanced Boston Lager – which made other American beers at the time taste like poorly filtered water. Come for the free tour (and free beer), plus a free lift (by trolley) that takes you to Doyle's Cafe, an historic 1882 watering hole that serves up great pizza and even better clam chowder, plus yet more Samuel Adams choices. Not a company to rest on its laurels, SA (www.samueladams.com) is constantly coming up with new selections – over two dozen seasonal as well as artisanal brews (the Brewmasters Collection). A recent warm-weather hit includes a brew dubbed '26.2' in honour of the Boston Marathon.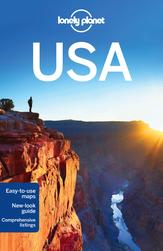 Worked up a thirst for more gastronomic adventures? Tuck into Lonely Planet's The World's Best Street Food.