What to do in San Francisco: tips for every taste
If you're going to San Francisco, you don't actually need to wear flowers in your hair – that's so 1967 ( www.youtube.com/watch?v=ENrmULWKbeM) – just come as you are, do your thing, and bliss out. Whether you're a freak, geek, diva, or dandy, there's a niche here with your name on it. At the local subculture hotspots we list below, you'll find your scene and fresh inspiration waiting for you. You might not end up wearing flowers in San Francisco, but you could sport a pirate patch, or learn a whole new way to rock a sock.
If you like free shows...
If you like saloons...
If you like local hangouts...
Macondray Lane is a beautiful alley offering tree-lined walkways and views across the city. Image by John Leszczynski / CC BY-SA 2.0
If you like offbeat shopping...
If you like hidden alleyways...
If you like being as naked as possible without getting arrested...
The northern section of Baker Beach is perfect for getting that all-over tan - fog permitting. Image by David McSpadden / CC BY 2.0
If you like classic movie locations...
Fort Point: Hitchcock was right: swirling noir-movie fog and giddy Golden Gate views make for a thrilling case of Vertigo.
Nob Hill: What a ride - Steve McQueen's muscle car goes flying over the summit in Bullit and somehow it lands in SoMa.
Sutro Baths: San Francisco's splendid, dandified ruin made a suitable setting for the May-December romance in Harold and Maude.
Human Rights Campaign Action Center & Store: Harvey Milk's camera shop in the Oscar-winning movie Milkwas the actual Castro location, now home to the GLBT civil rights organization.
Bay Bridge: Oops! When Dustin Hoffman sets out for Berkeley in The Graduate, he heads across the Bay Bridge - the wrong way. You should see it the right way – at night, when the mesmerizing Bay Lights installation shimmers all the way to Treasure Island.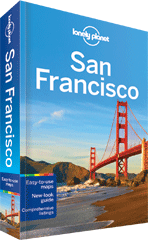 What? That's not enough? For any other tips that you may need, our San Francisco City guide can definitely fill in the gaps.