Top 10 highlights of San Francisco
You may think you know San Francisco from social media (Twitter, Instagram, YouTube and Pinterest all began here, after all) but for the real thing – the mouth-watering cuisine, ear-tingling performances and truly joyous celebrations of individuality – you have to be here. But where do you start your urban exploration? With Lonely Planet's list of the city's top 10 highlights of course.
The Golden Gate Bridge and San Francisco skyline © Noah Clayton / Tetra Images / Getty Images
Golden Gate Park
You might have heard that San Francisco has a wild streak a mile wide, but it also happens to be 4.5 miles long. Golden Gate Park lets San Franciscans tap-dance with penguins at California Academy of Sciences, pull Oceanic mask faces at MH de Young Museum, and squeal over the teensy bonsai forest in the Japanese Tea Garden. It's hard to believe these 1017 acres of lush terrain were once just scrubby sand dunes, and that San Franciscans have successfully preserved this stretch of green since 1866, ousting casinos and a theme-park igloo village. Today, everything San Francisco really needs is here: inspiration, nature and microbrewed beer at the Beach Chalet.
The Japanese Garden in Golden Gate Park © Geri Lavrov / Photolibrary / Getty Images
Alcatraz
From its 19th century founding to hold Civil War deserters and Native American dissidents until its closure by Bobby Kennedy in 1963, Alcatraz was America's most notorious prison. No prisoner is known to have escaped alive but after spending even a minute in D-Block solitary, listening enviously to the sounds of city life across the Bay, the 1.25-mile swim through riptides may seem worth a shot. Take the spooky sunset Alcatraz cellhouse tour. On the return ferry to San Francisco, freedom never felt so good.
Prison cells in Alcatraz © David Clapp / Photolibrary / Getty Images
Mission murals
Never underestimate a San Francisco love affair. When modern-art power couple Diego Rivera and Frida Kahlo rekindled their romance in San Francisco during the 1930s, an inspired Rivera created his San Francisco mural masterpieces. The city's inhabitants have been in love with and influenced by the Mexican muralist's bold colors and fearless social commentary ever since – today the Mission district has more than 400 murals. Balmy Alley has some of the oldest, while entire alleys along 24th Street and multi-story landmarks like the San Francisco Women's Building are covered with glorious portrayals of community pride and political dissent.
Golden Gate Bridge
Other suspension bridges impress with engineering, but none can touch Golden Gate Bridge for showmanship. On sunny days it transfixes crowds at Crissy Field with a radiant glow – a feat pulled off by 25 daredevil painters who maintain the bridge's luminous complexion with 1000 gallons of International Orange paint every week. To inspect their work, duck under the bridge into Fort Point, make your way to the roof, and look up: you'll notice that even on the underbelly of the bridge not a single rivet is allowed to get rusty. Head to the Marin County end of the bridge as the late afternoon fog rolls in, and you'll witness the ultimate magic show: now you see the Golden Gate Bridge, now you don't.
The Golden Gate Bridge's amazing © disappearing act WIN-Initiative / Getty Images
California cuisine
San Francisco is a dream dining destination for adventurous eaters and obsessive food Instagrammers, with more restaurants per capita than any city in America (sorry, New York). All that competition keeps San Francisco chefs vying to be more inventive, more sustainable, and more delicious – and when you eat here, you're the lucky winner. Every SF chef has a signature local ingredient: you'll spot edible nasturtium patches atop restaurant roofs and professional seaweed foragers credited in menu footnotes. To see what's next on the menu, head to the Ferry Building, San Francisco's monument to local food. Don't miss the Saturday farmers market here, where star chefs troll stalls for rare heirloom varietals and foodie babies blissfully teethe on organic California peaches.
Gourmet cheese seller in the Ferry Building. Image by Annie C. Dowie / Lonely Planet Images / Getty Images
Showtime in Civic Center
Jazz, classical, opera, standup, ballet, Broadway – no matter what you call entertainment, you'll be shouting encore within a block or two of San Francisco City Hall. The cool new kid on the block is SFJAZZ Center, America's biggest jazz center and global magnet for extraordinary talent. The multi-Grammy-award-winning San Francisco Symphony sets new standards for edge-of-your-seat classical music, while arias, the original soundtrack of Gold Rush San Francisco, are still being belted out by divas at the San Francisco Opera. The Nutcracker premiered at San Francisco Ballet, and today America's oldest ballet company combines strikingly modern sets with its signature soaring elegance.
City Hall sits at the heart of San Francisco's cultural hub © Shanna Baker / Moment / Getty Images
The Castro
Somewhere over the rainbow crosswalk, you'll realize you've officially arrived in the Castro district. For more than 50 years this has been the most out and proud neighborhood on the planet, as you'll discover strolling along Castro Street's GLBT history walk of fame. Today Twin Peaks Tavern is celebrating its 80th year in business, a local street is named for the late Jose Sarria, a WWII vet who ran for city office in drag, and the former home of Harvey Milk, Castro store owner and the nation's first openly gay official, is now the Human Rights Campaign Action Center & Store. Learn more at America's first GLBT History Museum, and join history in the making every June at San Francisco's month-long, million-strong Pride celebrations. Between parades and political campaigns, Castro residents turn out in fierce force for drag versions of cult classic movies at the Castro Theatre.
The Castro has been the center of gay life in San Francisco for decades © oversnap / Getty Images
Cable Cars
White-knuckle grips on worn wooden benches give away San Francisco novices as your cable car lurches uphill. You'll notice the entire car seems to breathe a sigh of relief when the bell finally signals the summit. But what goes up all 338ft of San Francisco's Nob Hill must come down. Maybe now is not the best time to mention that the brakes are still hand-operated, or that its Victorian steampunk mechanisms have hardly changed since 1873. Once you reach the terminus, you're ready to take the next giddy ride standing, with nothing between you and eternity but a creaky hand-strap.
Cable cars are an icon of San Francisco and a must for visitors © fotoVoyager / Getty Images
Hilltop vistas
Gravity seems unkind as you scale SF's steepest hills with calf muscles straining, but all grumbling ends once you hit the summit. With wind-sculpted trees, Victorian turrets and the world at your feet atop Corona Heights, Buena Vista Park or any of the city's 41 other peaks, one word comes to mind: Wheeeeee! Hilltop green spaces like George Sterling Park and Ina Coolbrith Park are San Francisco's crowning glories. Wild parrots may mock your progress up Telegraph Hill to see the newly restored murals in Coit Tower, but really, they can't expect to keep views like this to themselves.
The position of Coit Tower on top of one of San Francisco's hills means the steep climb up is rewarded with great views © Richard Price / The Image Bank / Getty Images
Barbary Coast nights
Friendly bartenders were once highly suspect in San Francisco. Circa 1849, a night that began with smiles and a 10-cent whiskey could end two days later, waking from a drugged sleep on a vessel bound for Patagonia. Now that double-crossing barkeep Shanghai Kelly is no longer a danger to drinkers, San Franciscans can relax over historically correct cocktails at North Beach's revived Barbary Coast saloons, including Comstock Saloon, 15 Romolo, and the just-opened (but already well-scuffed) Devil's Acre (www.thedevilsacre.com). Today's saloon scene is a fitting homage to drunken sailors of yore, with iron stools, absinthe fountains and lighting dim enough to put a bordello madam at ease – plus reassuring barkeep banter.
Originally published August 2012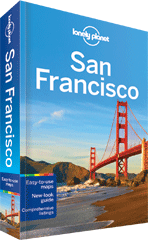 For everything else that you can possibly do in this city check out our San Francisco City Guide