Hidden treasures of San Francisco: travel expertise from Wenzani
For retro shopping and eclectic nights out, sunny San Francisco can't be beaten. But with the hip nightspots changing with the seasons and new boutiques sprouting on untouristed streets, how do you keep your finger on the pulse? Wenzani, the new app launched by Lonely Planet, is a worthy addition to your travel arsenal, beaming tips from travel experts and locals straight into your iPhone. Contribute to the Wenzani community by uploading your own tips and tailor the content you want by your current location, dream destination or the travel brains you want to follow. Here are some of the hot picks on San Francisco from Wenzani.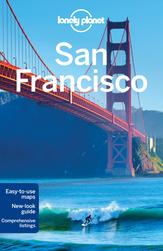 Michelle Ticknor, founder of 18machine.com, recommends…
18 Reasons. The founders of Bi-Rite Market created 18 Reasons, a not for profit space in the Mission, to give back to the community that supports the market. 18 Reasons hosts events, lectures, art exhibits and workshops that promote local chefs, writers, educators and designers.
The Ark. The Ark toystore is the perfect place for grandma and grandpa to blow their medicare checks. The toys are a throwback to yesteryear, with mechanical rather than battery-operated toys that focus on making rather than destroying. You won't find PS2 and Wii games here, but you will find whimsical mobiles, paper airplane kits and games to inspire wonder.
Ekua Impraim, blogger at Girl, Unstoppable, recommends…
Haight Street. You may not be able to find the hippies you're looking for on Haight Street, but what you will come across is a great shopping district. There you can find a nice variety of second hand clothing shops, local boutiques and the famous Amoeba Music stores.
Dosa. Take a break from the typical northern Indian fare and sample some specialties from the southern part of the country. In addition to the crepe-like dosas, you might want to try some of this restaurant's excellent seafood dishes.
Martin Engstrom, founder of Seat of Our Pants, recommends…
Gold Dust Lounge. You're forgiven for thinking that no local people frequent Union Square after sunset. Well, wrong - they're probably chilling out with a beverage at the Gold Dust. Stay for a late night or for just a quick drink – the décor is intensely eclectic, the crowd diverse, and the funky band will probably take requests (if you buy them drinks). The place is ageless, in the way that you can't quite gauge what decade it is in there; especially after a few. I mean that as a compliment.
Discount Camera San Francisco. Do you long for the long lost days when buying a camera didn't involve comparing reviews on 15 different websites? Discount Camera is a throwback to an era when you could go to a store and ask an expert for their honest advice. These guys will set you up with what you need, whether it's an UV filter or the latest digital Hasselblad.

Wenzani is available for iPhone, iPad and iPod touch. Download it for free from the iTunes store.