San Francisco with children
Beaches, cable cars, carousels or penguins? We've narrowed down the best kid-friendly options in San Francisco so you can spend less time looking and more time enjoying.
Fisherman's Wharf, Pier 39 & Ghirardelli Square
Amid the waffle cones, overpriced seafood and 'I escaped Alcatraz' sweatshirts, there are a few stand-out attractions that will make you glad you brought the kids.
Sea lions bark, canoodle and belly-flop off the docks at Pier 39 – all part of the free show these marine mammals have put on for more than two decades, ever since the shameless show-offs took over the city's fanciest yacht marina.
Curious sharks circle and mesmerizing jellyfish flit past as you stroll through glass tubes at the Aquarium of the Bay. Don't miss the touch tanks, where you can pet bat rays and sea stars.
Take a spin through the city on the vintage San Francisco Carousel, featuring hand-painted San Francisco landmarks, wheezing carnival tunes, and toddlers clinging on to their horses while parents angle for holiday photos.
Pack a century of fun into an hour at the Musée Mécanique, a vintage arcade featuring wily Ms. PacMan, coin-operated saloon brawls, eerily lifelike wooden fortune-tellers and Laffing Sal, terrifying tots with her maniacal guffaw since the 1920s.
Book at least a week ahead to visit the notorious prison island of Alcatraz – especially the spooky night tour, best for older kids who don't scare easily. Alcatraz cellhouse rules make the strictest parents seem lenient – prisoners who failed to finish dinner could end up in solitary. Scheduled Alcatraz ferries depart from Pier 33.
Jump aboard a cable car at the Powell St Turnaround and rattle over steep Nob Hill towards Fisherman's Wharf. There are no child seats or safety belts on these vintage Victorian contraptions so you'll need to hold on tight to little ones.
Hop a ferry to Angel Island to explore ruined old forts, a creepy quarantine hospital and California's original immigration station. Known as "the Ellis Island of the West," Angel Island was the main detainment facility for immigrants from Asia from 1910-1940 – as you can see from poetry and protests carved into bunkhouse walls by detainees. Pick up the ferry to grab a bite in nearby Tiburon, or head back to San Francisco.
Ice cream and chocolate await intrepid cable car riders, Angel Island adventurers and Alcatraz escapees near the Friedel Klussmann Cable Car Turnaround at Ghirardelli Square.
Taking a ride on a cable car is a quintessential experience for both parents and children on a visit to San Francisco. Image by Alfonso Jiminez / CC BY-SA 2.0
Not-so touristy sights & activities
Underwater wonders at the California Academy of Sciences. Image by Kevin Gong / CC BY 2.0
Local favorites
Sleeping
Some of the city's lodgings cater to families – including apartment rentals or shares – but the best all-around locations for kids are Fisherman's Wharf hotels and Marina motels, most of which have parking.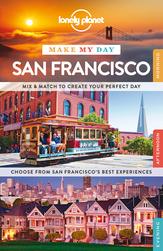 Restaurants
Fishman's Wharf is lined with kid-friendly restaurants, including popular chains like In-N-Out Burger. Adventurous little eaters will want to try dim sum and noodles in Chinatown, tacos in the Mission district, and sushi and mochi in Japantown. Right outside Golden Gate Park along the N Judah line, 9th Avenue offers quick bites for hungry kids at bakeries, sandwich joints and taquerias. If your kids can't agree on a restaurant, you'll find something for everyone at Ferry Plaza Farmers Market. Food trucks circle their wagons at Off the Grid, featuring free live music Thursdays in the Haight and Fridays at Fort Mason.
This article was originally written by Suki Gear and published in July 2009. It was thoroughly refreshed and updated in January 2015.