San Francisco with children
Beaches, cable cars, carousels or penguins? We've narrowed down the best kid-friendly options in San Francisco so you can spend less time looking and more time enjoying.
Fisherman's Wharf, Pier 39 & Ghirardelli Square
Amid the waffle cones, overpriced seafood and 'I escaped Alcatraz' sweatshirts, there are a few stand-out attractions that will make you glad you brought the kids.
Taking a ride on a cable car is a quintessential experience for both parents and children on a visit to San Francisco. Image by Alfonso Jiminez / CC BY-SA 2.0
Not-so touristy sights & activities
Science blows minds and leaves hair standing on end with static electricity at the Exploratorium, where the award-winning exhibits are all hands-on science experiments. Here you can star in your own psychedelic fractal music video, trust your sense of touch to guide you through the pitch-black Tactile Dome, and disappear in a mysterious San Francisco fog.
Fly kites on the former Army airstrip at Crissy Field or build sand castles along the beach where generals once paced. On blustery days stop at Crissy Field's Warming Hut for hot cocoa on your way to Fort Point, for a glimpse of Civil War history and a close-up view of the orange underbelly of the Golden Gate Bridge.
At the Children's Creativity Museum every kid is a child prodigy capable of making stop-motion animations, inventing video games and recording garage band music tracks. Outside you can ride the newly restored 1906 LeRoy King carousel, and just across the street, Yerba Buena Gardens is a prime spot for a picnic. Come for children's gardening workshops on Saturdays and free lunch concerts in summer.
Penguins wave hello, blue butterflies land on your shoulders, and an albino alligator eyes you hungrily at the California Academy of Sciences, where the exhibits come to life in the four-storey Rainforest Dome and double-decker Aquarium. Check ahead for Planetarium shows and special Academy Sleepovers, when kids get to stay up past the penguins' bedtime and sing lullabies to the starfish.
Let restless kids loose in Golden Gate Park playground, where they can tackle the climbing wall, 1970s concrete slides and vintage 1912 carousel. If they still have energy to spare, try a pedal-boat ride on Stow Lake or head to Ocean Beach at the western edge of the park – it's not safe for swimming, but it's great for beachcombing.
There's something sad about tropical animals in fog, but the San Francisco Zoo has some standout attractions, including the Lemur Forest and miniature steam train.
Underwater wonders at the California Academy of Sciences. Image by Kevin Gong / CC BY 2.0
Local favorites
Sleeping
Some of the city's lodgings cater to families – including apartment rentals or shares – but the best all-around locations for kids are Fisherman's Wharf hotels and Marina motels, most of which have parking.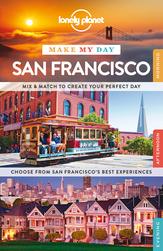 Restaurants
Fishman's Wharf is lined with kid-friendly restaurants, including popular chains like In-N-Out Burger. Adventurous little eaters will want to try dim sum and noodles in Chinatown, tacos in the Mission district, and sushi and mochi in Japantown. Right outside Golden Gate Park along the N Judah line, 9th Avenue offers quick bites for hungry kids at bakeries, sandwich joints and taquerias. If your kids can't agree on a restaurant, you'll find something for everyone at Ferry Plaza Farmers Market. Food trucks circle their wagons at Off the Grid, featuring free live music Thursdays in the Haight and Fridays at Fort Mason.
This article was originally written by Suki Gear and published in July 2009. It was thoroughly refreshed and updated in January 2015.