Colorado's best scenic drives
Colorado has 25 nationally designated Scenic & Historic Byways, and a number of mind-blowing drives that didn't make the list, but should definitely make yours. Some will take all day and have you discussing the blows of history and time; others are short hops to lonely mountain passes that are sure to leave you speechless and smiling.
Top of the Rockies – 115 miles
You'll cross three mountain passes, drop into four watersheds and glimpse Colorado's tallest peaks, as well as the headwaters of the Arkansas River. Not bad for a day's drive.
Historic Leadville, the highest incorporated city in the US, is the hub of this drive, which can be done in two phases. After a wander through the National Historic District and a stop at the Burrito Bus, where you can find authentic Mexican food for a change, head north from town on Hwy 91 over Fremont Pass before meeting up with I-70 west of Frisco.
Take the Interstate past Vail to Hwy 24, where if you time it right you can have a stroll through a terrific farmers market in downtown Minturn, drive through tiny Red Cliff, and perhaps get some stellar rock climbing in at Camp Hale, before swerving up and over Tennessee Pass where Mt Massive looms supreme as you drive south through Leadville.
Further south, Mt Elbert dominates the horizon. Hang a right on Hwy 82 and head up to Twin Lakes, a historic mining town with some ruins on the lake shore, three inns, spectacular mountain and lake views and countless stars. Bed down here or drive up and over Independence Pass and into Aspen.
Take a detour: Trailheads to Mt Ebert are easily accessible from this route. Image by Greg Willis / CC BY-SA 2.0
Independence Pass – 27 miles
If you don't have time to drive the entire Top of the Rockies route, this stretch of Hwy 82 from Twin Lakes through Aspen's back gate will do just fine. Twin Lakes is a worthy destination in its own right. This 'town' (and to call it a town is a bit of a stretch) started life as a mining camp fed by steady stagecoach lines plying the trail between Leadville and Aspen. You'll see plenty of old mining ruins.
Although the pass is closed in the winter time, you should be able to get up to the vast Twin Lakes, where the cross-country skiing, snowshoeing and ice-skating is magnificent. And if the pass is open, drive up a narrow ribbon of road above tree line where the views are cinematic and spectacular – swatches of glacier are visible along the ridges of Twin Peaks. And tundra blooms at the top of the pass, where at 12,095ft you'll be on the edge of the Continental Divide. This, friends, is your own IMAX film.
As Hwy 82 continues over the pass the views are just as marvelous, and multimillion-dollar properties (one of them belongs to Kevin Costner) begin to dot the landscape as you edge toward Aspen. If you have time, there's a terrific trail to the Interlaken, an old abandoned hotel fashionable in the 1890s. The trail leaves from the lower of the Twin Lakes.
Trail Ridge Rd – 47 miles
The signature drive in Rocky Mountain National Park, Trail Ridge Rd (US 34) over the Continental Divide was once a highway of a different sort – a trade route used by generations of Ute, Arapaho and Apache people to traverse Milner Pass. Of course, even the 19th century seems modern when you consider that archaeological evidence collected here suggests that humans have been traversing this pass for 6000 years.
Originally surveyed in 1927 and not completed until 1932, Trail Ridge Rd opens in late May and is closed at Many Parks Curve on the east side by mid-October. This is the highest continuously paved through road in North America, so expect outrageous views.
On the drive from Estes Park to Grand Lake, you'll see snowcapped peaks, meandering streams, high-country meadows dotted with wildflowers in midsummer, and, with luck, some wildlife too. It's a well-traveled route, so consider including a backcountry hike along the way. You're more likely to see dramatic snowy scenery in May, when the pass first opens.
On your way out of Estes Park, stop by the Stanley Hotel, the building that inspired Stephen King's The Shining. Image by Frank Kovalchek / CC BY 2.0
Peak to Peak Hwy – 55 miles
The particular magic of driving the Peak to Peak Hwy – one of Colorado's most scenic drives and an excellent option for the trip between Rocky Mountain National Park and Denver – depends largely on the time of year you hit the road. In summer wind the windows down and watch big cumulus clouds rolling lazily over the green and granite peaks. In fall, the aspens set the hills afire with a show of gold, orange and red, while winter brings a stark landscape and pristine white-snow plains.
Stretching some 40 miles between Nederland and Estes Park, this north–south route takes you past a series of breath taking mountains, including the 14,255ft Longs Peak, alpine valleys and open meadows, passing a number of one-horse towns along the way. These include Ward, a former boom town and bohemian magnet that has settled into an artfully ramshackle state of disrepair; Peaceful Valley, notable for its little onion-domed church perched on a hillside; and several other tiny towns with expansive mountain vistas.
The snowy face of Longs Peak, Colorado. Image by David Parsons / Getty
At the southern end of the trip, the Peak to Peak Hwy starts from Nederland, which has a couple of great dining options. Although most of the route – everything north of Allenspark – follows Hwy 7, at Nederland it follows Hwy 72.
Highway of Legends – 110 miles
This brief but epic detour liberates you from the Interstate and escorts you through some of Colorado's most glorious countryside as you head north toward Pueblo, Colorado Springs or Denver on I-25.
Your trip begins in Trinidad, where present-day Main St was once an important limb of the Santa Fe Trail. The Trinidad History Museum offers a primer, and while you're in town drop into Danielson Dry Goods for some road sustenance. Coal mining was also an important part of Trinidad's history. You'll see a 'canary in the coal mine' statue on Main St, which is where Mother Jones once marched with miners during the strike that led to the Ludlow Massacre, a turning point in US labor relations.
Highway out of Trinidad, Colorado. Image by Scrubhiker (USCdyer) / CC BY 2.0
From Trinidad take Hwy 12 through Cokedale, where you'll see 350 coal ovens on the roadside (they look almost Roman), then head up and over majestic Cucharas Pass and into Cuchara.
You'll need to take a deep breath, because this place is magic. It's dominated by extinct volcanoes, the Spanish Peaks, and defined by the Great Dikes that jut and sprawl across meadows and onto the shoulders of the great mountains. The rambling Cucharas River has terrific fishing, the Dog Bar & Grill serves tasty pizza and occasional live music, and the hiking in the Spanish Peaks Wilderness is some of the best in the state. You can extend the nature bliss by veering east on a recently added extension to the byway.
County Rd 46 weaves through the San Isabel National Forest for 35 miles to Aguilar on the I-25, but we suggest staying on Hwy 12, which continues down the valley and into exceptionally cute La Veta, where there are more churches than paved roads, and the Spanish Peaks make for a spectacular backdrop as you check into historic 1899 Inn.
Santa Fe Trail – 188 miles (each way)
History buffs will love this day-long spin through southeastern Colorado. Although the official byway follows the original trail for 188 miles from the Kansas border into Trinidad, you can cut the route down to its best bits and make it a fun four-hour journey.
An endless prairie unfurls on both sides of the open two-lane highway as you take Hwy 350 northeast of Trinidad to La Junta. The scenery is all grasslands and wheat fields, sugar-beet farms, horse corrals and railroad yards. One of the best parts of driving the Santa Fe trail is this countryside.
The signature sight is Bent's Old Fort National Historic Site. Set just north of the Arkansas River – the natural and official border between the US and Old Mexico until 1846 – it was once a cultural crossroads. From 1833 to 1849 Native Americans, Mexicans and Americans with goldrush dreams met, mingled, traded, danced and clashed here. The well-restored adobe fort has a blacksmith's shop, wood shop and fully stocked general store. The knowledgeable staff in period clothing lead tours, and a roughly 1-mile trail runs around the fort to the edge of the Arkansas River and back to the parking lot. Kit Carson is probably the most famous of the Old West characters who frequented the fort, but his last base of operations and final resting place is about 16 miles east of here in Boggsville.
Bent's Old Fort National Historic Site. Image by Education Images / UIG / Getty
You'll want to stop at Iron Spring, where you can see authentic Santa Fe Trail wagon ruts and, if daylight is on your side and you've made an advance reservation, you can drive to the famed Picketwire Dinosaur Tracksite, where dinosaur footprints are frozen in time. Both sites are in the Comanche National Grassland.
This article was originally published in February 2012.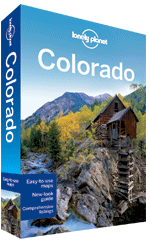 Find even more scenic drives, detours and Colorado travel tips in the new Lonely Planet Colorado travel guide