Hudson River Valley's top experiences
New York City is New York City only because of the Hudson, an unusually deep river that runs 315 miles from the Adirondacks to the Statue of Liberty. The heart of it makes up the Hudson River Valley, for our purposes a narrow 80-mile long region of historic towns and big-time views that begins around Deacon, 65 miles north of New York City. The country's first art and literature movement were born here, and it has offered the best breather from city exhaustion for New Yorkers ever since New York was a city.
With 80 miles of riverfront to explore, there's a lot of ground (and water) to cover. Here are our picks for the best things to do, ordered south to north by each side of the river.
Hudson Highlands, Garrison, New York, photo by Jake Rajs / Getty.
East of the Hudson
The East side is a bit flashier than the west, with historic homes (and even gas) going for more than the rootsier, more mountainous west side.
Dia Beacon
It's hard seeing much of the valley without your own wheels, with a few exceptions. Best is Dia:Beacon (www.diabeacon.org), 75 minutes via the Metro-North Railroad (www.mta.info/mnr) from Grand Central. Dia:Beacon is an unreal modern art collection housed in a 240,000-sq-foot former boxing plant for Nabisco. Its mammoth industrial rooms are particularly evocative for biggest installations like Bruce Nauman's videos and Richard Serra's giant rolled-steel plates you can walk through.
Poughkeepsie's Walkway Over the Hudson
Scrappy Poughkeepsie is chiefly a valley hub, but near the train station and downtown, it's worth saving a couple hours for the longest pedestrian bridge in the world. The non-profit Walkway Over the Hudson (www.walkway.org) transformed a 1.28-mile abandoned railroad bridge into a pedestrian park in 2009. It hosts several walks, and is a great spot for the July 4th fireworks show.
Poughkeepsie waterfront and the Walkway Over the Hudson. Photo by Danny T, Creative Commons Attribution license.
FDR's (mom's) house
Franklin D Roosevelt's riverside home (www.nps.gov/hofr) – a household run at the time by his mother – is a worthwhile national park stop in Hyde Park. The house, which was the setting of the events in the 2012 Bill Murray film Hyde Park on Hudson, can be toured with guides. My recent visit was led by a British woman who remembers hearing FDR's voice on the radio in WWII and connecting it with security from German bombs.
Eleanor Roosevelt's house
For many visitors, the emerging star of a Hyde Park visit is FDR's wife, Eleanor, who snuck away and created her own home, the cozier Val-Kill (www.nps.gov/elro), a few miles inland, which can be toured on a separate ticket.
Hyde Park Drive-In Theater
Whee! Across the road from FDR's mansion, this drive-in classic (www.hydeparkdrivein.com) has been around since 1950, with summer showings that bring big crowds. The screen is 82 feet wide, and the sound is delivered via FM radio. Got to do it.
Vanderbilt Mansion, Hyde Park
The Hudson River Valley is sort of the American Dowton Abbey District, with all sorts of mogul and millionaire mansions from the 19th century you can visit. One of the more famous is the Vanderbilt Mansion National Historic Site (www.nps.gov/vama), on a riverside bluff on the north end of Hyde Park.
Rhinebeck's Sinterklass Parade
Word around the valley is that Rhinebeck, a cute historic town with Dutch links, is something of the Hamptons of the valley. In other words, a bit snobby. It's not true. It's nice to come for a burger and beer at the Liberty Public House, and a gander at shops in the center. The best time to come is the first Saturday in December when the folksy Dutch tradition of Sinterklass (www.sinterklaasrhinebeck.com) fills the main street, along with candy-giving grumpuses. It looks practically pagan compared to your typical Christmas event.
Red Hook diner
The official name is the 'Historic' Village Diner (www.historic-village-diner.com), but everyone around here just calls it the Red Hook diner, five miles north of Rhinebeck. And it's a classic. Built in the 1920s, and run with love by a local family, the Red Hook fills fast any day of the week. Good for usual diner fare, best at breakfast.
Olana
Painter Frederic Church, one of the mid 19th-century landscape-as-art pioneers of the Hudson River School, picked a spot he called the center of the world to build the most unique home of the valley. Set atop a 500-foot hilltop in the 1870s, Olana is a Persian-styled home (www.olana.org) overlooking a wide stretch of the Hudson, backed to the west with the wall of Catskill mountains. You can't help but want to paint.
Hudson's shopping
A few miles north of the Rip Van Winkle Bridge from Olana, the town of Hudson has the best shopping of the valley – that is if you're looking for Sotheby's-quality (and -priced) antiques from past centuries. It's more than just that. Central Warren Street is lined with all sorts of 19th-century townhouses you'll want to buy, plus Brooklynesque cafes, good book shops and at least a half-dozen places to suit your lunch needs.
Wallkill Valley Railroad Bridge near New Paltz. Photo by Katy Silberger, Creative Commons Attribution license.
West of the Hudson
These towns and sites, again from south to north, are embedded in the hills themselves, and tend to be more… um, what's the polite word for higher ratio of marijuana use again?
Bear Mountain
Jack Kerouac tries, and fails, to begin his On the Road journeys from Bear Mountain Bridge at Hwy 6 before heading back to New York to catch a bus. Oh well. It's a lovely park (http://nysparks.com/parks/13), though gets busy on summer weekends due to its proximity to the city. Take the Perkins Memorial Drive, or hiking trails, up to the top of the mountain, where there's a lookout tower and fun spots to sit with a sandwich on cliff tops. There's lake, a zoo, a café and nice hotel made from a 98-year-old lodge (www.visitbearmountain.com).
New Paltz's Huguenot Street
A short walk from the Main Street buzz is the 'oldest street in America,' and apparently it's true. Huguenot Street has six houses, open for visits, which date from the late 17th-century. The town was first settled by the historically French Protestant group in 1678 and the street reached its current state by 1792.
Mohonk Mountain House, Eric Bean / Getty Images.
Named for a rain-filled 'sky lake,' 1200 feet above the valley, Mohonk Mountain House is a 19th-century lodge survivor that feels like a real time transport to take in. An expensive one. Founded in 1870, the highlight is the hiking trails and swimming spots on the 7500-acre grounds. If you don't want to pay for the rooms – way upwards of $300 – get a day pass to explore the grounds, and grab the views from the hilltop tower. It's worth it.
Kingston the capital
Scrappy at its edges, Kingston, New York's first state capital, has a couple fun historic areas. The most interesting is Stockade District, up the hill from the water, where there are buildings from Dutch times, several eateries and a famed local butcher, plus the Senate House State Historic Site. Down at Rondout Creek, where there's a smattering of 19th-century townhouses and restaurants, the family-run Rip Van Winkle (www.hudsonrivercruises.com) offers river cruises May through October.
Woodstock's godfather
First things first. 'Woodstock,' the three-day festival in 1969, didn't happen here but in Bethel, about a 75-minute drive west. But it happened because of Woodstock. And 'Woodstock the town' happened largely because of the outrageous folk-music promoter Albert Grossman, who sort of created the frenzy. After putting together Peter, Paul & Mary and luring Bob Dylan away from Manhattan, Grossman drafted plans for the creekside Bearsville Theater (www.bearsvilletheater.com), a 250-capacity venue that hosts concerts a few miles west of Woodstock. Grossman is buried out back.
Woodstock & The Band
The tie-dye paraphernalia only goes so far, and Woodstock as a lone destination is quaint enough, but a bit underwhelming on its own. Levon Helm and Rick Danko of The Band – who immortalized the area by recording with Dylan and on their own at the 'Big Pink' house (now a private studio, at 56 Parnassus Lane, nearby) – are buried side by side at the Woodstock Cemetery. Watch for Levon Helm's still-going 'Midnight Ramble' (www.levonhelm.com), a night of Americana folk/rock at his Helm's 'Barn' theater/studio. It's alcohol free, and you're invited to bring food to set out at the community table.
Tubing!
The best part of being in Woodstock is exploring the back roads. A good detour west reaches Phoenicia, where there's a serious breakfast scene at Sweet Sue's (49 Main St) and tubing trips down the chilly, swift-flowing Esopus Creek for $35.
Catskill Mountain House hotel site
Simply put, this spot is one of the world's most arresting sites. Atop a steep cliff wall, 2500 feet above the valley floor, stands the former site of one of the USA's most famous 19th-century hotels, the Catskill Mountain House. Everyone came back in the day, in its operating years between 1823 and 1942 (the hotel was demolished a couple decades later). It's still like standing on the edge of a world. Views extend 50 miles across the river valley, all the way north to the Vermont mountains. Explore the rocky ledge to see engravings marked by dates in the mid 19th century, the naughty vandals.
According to legend, Rip Van Winkle picked a slumber spot a short walk north along the rocky cliffs (a recent 76-Second Travel Show episode visited). From Haines Falls, Rte 18 leads to North and South Lake of the park, where a short trail goes to the site, and longer ones reach waterfalls.
Robert Reid has written over two dozen Lonely Planet guidebooks, and recently went in search of the top 40 rock 'n' roll travel sites around the world. Follow Robert's latest travels on Twitter @reidontravel.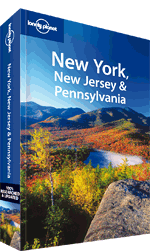 There's so much to explore outside of New York City. Hit the backroads with Lonely Planet's New York, New Jersey & Pennsylvania travel guide.