Exploring New York City's Midtown West: a Javits Center survival guide
The Jacob Javits Center, New York City's trade-fair go-to, is as famous for its beastly monolithic ugliness (a five-block monster created by IM Pei 25 years ago) as its remote setting, several long blocks from the nearest subway station. If you attend conferences in New York, chances are that you'll end up at the Javits Center, and, like thousands of others, you'll find yourself wondering what to do and how to have fun nearby.
But you don't have to follow the horde of trade-show goers (and their brigade of roller suitcases) out of the neighborhood for post-show drinks or food elsewhere in Manhattan. The area, dubbed by various names (including 'Hell's Kitchen', 'Midtown West', 'Clinton', and – best of all – 'Hudson Yards') is generating its buzz of late and many more options have sprung up in the surrounding area.
Here are a handful of the best things to do to break from the Javits scene, all reached within a five- or 10-minutes' walk.
If you can't handle the pre-made sandwiches at Javits one more time, the best place for a bite (or a beer) is Hudson Yards Cafe, a slick spot with lots of natural light, a full eating area, and a bar filled with locals watching a muted Yankees game. Pub grub is far better than average. It's one quick block east, via W 35th St on Tenth Avenue.
Best riverside drinks: Frying Pan
Pier 66, at 26th St (eight blocks south of the center), transforms into a fun, lively open-air bar on a former 'lightship' anchored to an old railroad barge. It's usually standing room only on nice afternoons. There's some food, but the focus is on drinks. It's open May to October only.
By far the best space shuttle in the neighborhood is the Enterprise, the newest resident of the Intrepid Sea, Air & Space Museum on Pier 86 (46th St.) Floating by barge up the Hudson in mid-June, the shuttle exhibition is planned to open to the public on 19 July 2012.
Best place to clear your head: High Line Park
More praised than any urban park in recent memory, the elevated and artsy High Line is a must-walk experience for anyone visiting the west side of Manhattan. Two of the three planned sections of the elevated train tracks turned modern park are now complete, and will eventually reach very near the southern side of the Javits Center. Cutouts frame the streets below like moving urban artscapes, vendors provide much high-end coffee and gelato, and art installations and creative neighbors turn the walk into one of New Yorks most inspiring galleries.
If the weather's nice, the best way to recharge yourself amidst (or after) a day at a trade show, is an hour or two loop by bike. This bike shop rents bikes for an hour ($10) or by hour ($8). You could ride up and take the Central Park loop in a leisurely 90 minutes, or head west to the Hudson River, and ride up, past sculpture parks and tucked-away basketball courts, to the surprise under the George Washington Bridge: the little red lighthouse that inspired a classic children's book. (Sound good? More in my writeup about a bike trip up the Hudson.) Enoch's Bicycles is one block east of Javits Center via W 37th St.
The New York icon, B&H Photo & Video, is where where any electronic junkie local goes to for a new digital camera or tote bag. Run by observant Hasidic Jews, B&H is closed on Saturdays and Jewish holidays – otherwise it's worth a look to talk with specialists about purchases and to take in the surreal, highly efficient scene of conveyor belts transporting items to customers past the cashier line. It's at the corner of W 34th St and Ninth Avenue.
On weekends all year, W 39th St between Ninth and Tenth Avenues transforms into one of the city's best (remaining) open-air flea markets. It's held 9am to 5pm Saturday and Sunday, and is only a five- to 10-minute walk away.
Around since 1982, Exit Art is an experimental local gallery with an ambitious, frequently political, lineup of exhibits.
Had it with brochures and stuffy panels? Bowl, dammit, bowl! A few blocks north, at the corner of W 42nd St and 12th Avenue, Lucky Strike Lanes is a Midtown classic bowling alley/bar. It offers a half-off happy hour on cocktails from 5pm to 7pm on weekdays, and an all-you-can-bowl deal is $22 on Mondays (8pm to 2am).
Best view: Yes, New Jersey!
Honestly, there's something empowering about skipping the taxi line at the end of a Javits day and just going to Jersey. More specifically, to Hoboken by boat (the short trip to Hoboken is $9.00 one way) and grants you one of New York's greatest views few locals know about.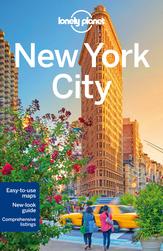 Hoboken, Frank Sinatra's hometown, gets a broader look at the long Manhattan skyline (mainly from Midtown south) than any vantage point in New York's outer boroughs. The waterfront is gorgeous, with piers, grassy island parks, and eating spots with outside seats off the shady promenade. And a weird cave linked to Edgar Allen Poe.
Afterwards, you can take a PATH train back into Manhattan from Hoboken's historic train station, or boat back to Javits or points in southern Manhattan. NY Waterway ferries leave from the pier at 39th St for Hoboken's 14th Street stop (don't get out at Weehawken by mistake) every 20 minutes through the day. Check schedules here. The pier is a block northwest of Javits.