New Orleans Mardi Gras: a guide to carnival time in Nola
This is an excerpt from Lonely Planet's A Year of Festivals.
Location: St Charles Avenue, New Orleans, Louisiana, USA
Date: Mardi Gras is French for 'Fat Tuesday', also known as Shrove Tuesday
Level of participation: 1 – if you stick to the sidelines…but the spirit of Carnival may catch you, seduce you, and push the participatometer to 5 as you clamber to prime position in the parade.
'Golden Star Hunters' by dsb nola. Creative Commons Attribution
In the North Americas, Carnival emanates a different sound, feel and flavour than their southern counterparts. Early generations of Creoles had a passion for dancing and a penchant for masks. On Mardi Gras, coloured Creoles would hold balls, sometimes inviting slaves. The Spanish, fearing that elite white gatherings would be infiltrated and that the social order would be destroyed through the anonymity of disguise, banned blacks from wearing masks.
Creoles continued to hold lavish parades for years after the city became a part of the United States, but by the mid-19th century, New Orleans was felt to have become 'too American' to appreciate the outlandishness of Creole Carnival. And then, one spooky night in 1857, Carnival was resurrected.
A clandestine group of wealthy men calling themselves the 'Mistick Krewe of Comus' appeared after dark on spectacularly illuminated horse-drawn floats. In following years, other secret societies staged more torchlit theatrics. This secret world of the New Orleans elite had set the stage for Mardi Gras, creating traditions that remain today.
The legendary Mardi Gras Indians first appeared in 1885. The black Krewe of Zulu appeared in 1909, with outrageous floats spoofing the pomposity of elite white Krewes. The Zulus evolved to include some of the city's most prominent citizens – Louis Armstrong reigned as King Zulu in 1949. New Krewes and Super Krewes, such as Harry Connick Jnr's Orpheas, the uncouth Tucks, the satirical Krewe u Vieux or gay-proud Petronius, have since fallen in beside the likes of the time-tried Zulus. In 2006, the Zulus were supported for the first time by dancers from South Africa. A testament to the city's resilience, the 2006 Mardi Gras was held just six months after the devastation of hurricane Katrina. No matter what battles it has to fight, New Orleans will be New Orleans on Mardi Gras.
Essentials: in New Orleans, there are special accommodation rates for the French Quarter, often requiring a minimum stay of four to five days.
More info: www.mardigrasneworleans.com
See more festivals in February here.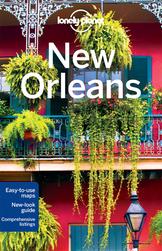 Get to know every country in the world — with Lonely Planet's The Travel Book.