New Orleans late-night eats
New Orleans' bars can stay open round the clock, which makes it possible to completely rearrange your schedule to whatever suits your night-owl soul. And if you're partying down during Mardi Gras, you're more than likely to need some grub at unusual hours. Only problem is, while the drinks keep flowing, most restaurants close at 10pm. If you're likely to experience an undeniable hunger sometime past midnight, it's a good idea to commit the following late-night eateries to memory.
Angeli on Decatur - Lower Quarter - 1141 Decatur St; mains $6-18; 11am-2am Sun-Thu, to 4am Fri & Sat
Great philosophers have long debated one of the most pressing of human questions: what makes a late-night place great? We humbly submit: the food tastes as good sober as when you're trashed at 3am. Enter Angeli: decked out with hipster art and patrons, the food here is wonderful no matter your state of mind/inebriation/etc. It serves burger, pasta and pizza fare, but it's top-of-the-line stuff, especially if you need to layer your tummy after a long night out. Early music sets by solid live acts are a good way to launch your evening, but bring cash – credit cards are not accepted. Good range of vegetarian dishes.
Coop's Place - Lower Quarter - 1109 Decatur St; mains $8-17.50; to 3am
Coop's gets all credit for maintaining high standards in the midst of the Quarter, where restaurants know they can get away with serving tourists pap. This could almost be an authentic Cajun dive, but more rocked out. Make no mistake: it's a grotty chaotic place, and the layout is annoying. But it's worth it for the food: rabbit jambalaya, chicken with shrimp and tasso (in a cream sauce – there's no such thing as 'too heavy' in New Orleans). This is rural, rustic and rich food served at an honest price.
Clover Grill - Lower Quarter - 900 Bourbon St; dishes $3-8; 24hr
You don't have to be gay to eat here – much of the clientele base is loyal straight folk who live around the corner – but there is a big gay customer base thanks to nearby gay bars. It's all slightly surreal, given this place otherwise resembles a '50s diner, but nothing adds to the Americana like a prima donna–ish argument between an out-of-makeup drag queen and a drunk club kid, all likely set to blaring disco music. The food isn't anything special, but it's dependable diner fare and good for a hangover, or those who can see the hangover approaching.
Alibi - Upper Quarter - 811 Iberville St; mains $5-10; 24hr
Alibi is more bar than restaurant, but we're including it here because it's one of the better 24-hour joints in the Quarter. The grub (definitely 'grub') is decidedly greasy, unhealthy and perfect after a long night of doing whatever it was you were doing on Bourbon St a few minutes ago – yes you, bleary eyes. Alibi does burgers and po'boys and fried stuff, largely, although salads are on the menu and, rumor has it, occasionally emerge from the kitchen.
Trolley Stop - Lower Garden - 1923 St Charles Ave; meals $5-12; 24hr
When last we stopped in at this 24-hour diner – in the wee hours, of course – we were called about every variation of 'baby,' 'darling,' 'sweetie,' 'honeychile' and 'sugar' out there. We only regret we didn't propose to that waiter after our meal, which was a very hefty mushroom and Swiss burger. This sort of food isn't particularly original (although it is very good), but hey sweetie-honeychile-sugarplum-darlin'-gooeycheeks, who's complaining when the service is this friendly?
Cooter Brown's Tavern & Oyster Bar - Riverbend - 509 S Carrollton Ave; mains $5-13; to 1am
Cooter's is open late, does mean cheese fries, whips out a killer chili cheese dog and has one of the best beer selections in the city. But our long, lingering romance with Mr C Brown is attributable to his oyster bar. The boys are shucked to order here, plump and cold, and at $8 for a dozen are an absolute steal.
Camellia Grill - Riverbend - 626 S Carrollton Ave; mains $3-8; to 1am Sun-Thu, to 3am Fri & Sat

One of our favorite New Orleans stories: apparently a woman walked into Camellia and asked if it served low-fat dessert. The line cook's response? Dip a slice of pecan pie in melted butter and throw it on the grill. That's what you get! The other great thing about this spot, besides its great diner burger-chili-Reuben fare, is it's the sort of place where the staff look like 50 Cent or The Ramones, and they all call each other – and you – 'baby.' All the time. Plus, they dress in tux shirts and black bow-ties, as if this place couldn't be any wonderfully weirder.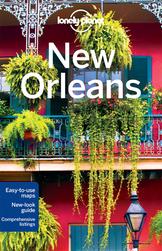 Delachaise - Uptown - 3442 St Charles Ave; small plates $7-18; 5pm-late Mon-Sat, 6pm-late Sun
The winner of the wine-and-cheese war in New Orleans comes down to this spot versus the Bywater's Bacchanal. We won't declare a victor, but we will say Delachaise is a lot more suave and open a fair bit later. Plus, you gotta love its cheese menu – the pictograms that explain 'stinky,' 'strong' etc are very cute. The small plates are all wonderful in their own indulgent way, especially the ridiculously over-the-top grilled cheese sandwich. If it's late at night, you're hungry and you need something a little more refined than a burger, head here.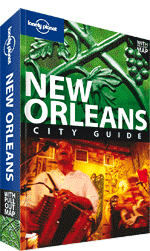 New Orleans is a foodie heaven - for more than just the small taste offered here, see the Lonely Planet New Orleans city guide for locals' top picks and the history behind the unique regional specialties.