New Orleans Jazz & Heritage Festival: a guide to NOLA's second-biggest party
'Gregg Stafford' by dsb nola. Creative Commons Attribution
In an excerpt from Lonely Planet's A Year of Festivals we look at the wild musical party that is the New Orleans Jazz & Heritage Festival.
Location: Fair Grounds, New Orleans, USA
Dates: Last weekend of April and first weekend of May
Level of participation: 5 – all the jazz a cat can handle
Where else would you want your jazz than in the city that spawned it? After Mardi Gras, 'Jazz Fest' is New Orleans' second-biggest reason to party, a feel-good musical smorgasbord served up on more than 10 stages across two weekends. Jazz Fest began as a celebration of the city's 250th birthday in 1968, an event that attracted musicians such as Louis Armstrong, Duke Ellington and Dave Brubeck.
After struggling with poor attendance, it moved to the Fair Grounds in 1972 and began showcasing different musical forms in addition to its staple jazz. The event boomed and continues to do so, with acts including Billy Joel, Ben Harper, The Black Keys, Jimmy Cliff and Maroon 5 on the list for 2013. The Fair Grounds are open from 11am to 7pm, but Jazz Fest continues well into the wee hours in bars and clubs throughout the city.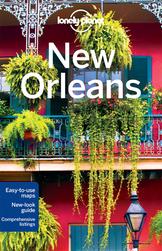 Essentials: The festival schedule comes out in January, and it's wise to make reservations early – entry is by daily tickets. Bring comfortable shoes, sunscreen, a hat, some water and a blanket for chilling out between concerts.
Local attractions: Jazz up your day further by visiting the New Orleans Jazz National Historical Park in the French Quarter, recounting the history and culture of the music.
More info: New Orleans Jazz & Heritage Festival (+1 504 522 4786; www.nojazzfest.com)
See more festivals in April here.
This article was first published in December 2010 and was refreshed in March 2013.