Calle Ocho (Eighth Street): a guide to Miami's huge street party
This is an excerpt from Lonely Planet's A Year of Festivals.
Location: Calle Ocho, Miami, USA
Dates: Early to mid-March
Level of participation: 5 – eat, drink and be feliz (merry)
Billed as the largest street party in the world, Calle Ocho is the grand finale to Miami's Carnaval celebration. Started in 1978, it sees the closure for a day of more than 20 blocks along Calle Ocho through Little Havana, the Cuban pulse of Miami, for a party attended by around one million people. Ostensibly a celebration of Latin and Caribbean culture, the sounds of salsa and merengue fill the street from 30 stages. Along the length of Calle Ocho you'll find hundreds of food stalls and kiosks offering a Caribbean Sea of tastes. If you have kids in tow, head for the special KidzZone, bounded by SW 8th Ave and SW 4th Ave, featuring a host of activities and all the sickly sweet stuff kids adore. Immediately west of this is Parranda, where four blocks are given over to wandering musicians and dancers and a great carnival-style atmosphere.
Essentials: Calle Ocho will be very crowded, so allow plenty of time and patience to enjoy the day.
Local attractions: Transport yourself back to the Jazz Age as you overdose on Art Deco styling in Miami Beach. Journey south from the city to explore the wonderful Everglades National Park or the two-ply-thin string of islands known as the Florida Keys.
More info: www.carnavalmiami.com
See more festivals in March on lonelyplanet.com.
This is an excerpt from Lonely Planet's A Year of Festivals.
This article was first published in December 2010 and was refreshed in February 2013.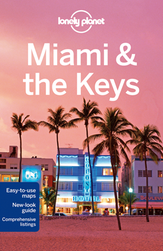 Get to know every country in the world — with Lonely Planet's The Travel Book.