Finding your center on Lana'i
The Hawaiian island that seems furthest from the rest is also the most central. From little Lana'i you can see five other islands on a typically clear day, but turn inwards and you might forget you're in Hawaii at all. Otherworldly Norfolk Island pines evoke the mood of the remote South Pacific island from whence they were imported. The vast rolling red landscape is rippled with faint geometric patterns that are a legacy of when almost the entire island was a private pineapple plantation. The one and only town, Lana'i City, comprises solid and uniformly old wooden buildings facing a vast central square, all a legacy of the time this was a company town built purely for the benefit of the plantation workers. (Today there are a few simple and delicious cafes plus a couple galleries.)
The island is undeniably quiet – the last pineapple harvest was in 1992. Except for the rustle of the wind in the ubiquitous pines and the occasional dull roar of the distant surf, it defines serenity. The two resorts are low-key, as is the vintage and utterly charming hotel just off the central square. But for regular visitors who return every year – and indeed for the locals – Lana'i's solitude is intoxicating. It's a place of exploration, whether you are wandering rural roads looking for the old Luahiwa Petroglyphs, the fantastic geologic shapes of the Garden of the Gods or lazing away the day on the idyllic little crescent of sand fronting Hulopo'e Bay.
In the same way you can turn your back on the rest of the islands to make surprising discoveries, you can also turn your back on outside life and make your own inner discoveries. One of the best places to do this on Lana'i's little-visited Keomuku Road, which hugs the wilds of the northeast coast. A day-long adventure here begins with a short drive up and over the sheltering hills outside Lana'i City. Starting down the sinuous yet short eight-mile drive down to the shore, Maui and Moloka'i are arrayed before you cinematically. Fortunately there are many pullouts so you can contemplate this volcanically created majesty.
The paved road ends at the ocean and you'll see why it's hard to rent anything to drive on Lana'i that isn't a jeep. Follow the sandy track to the north and you reach a thin strip of sand, where the road – such as it is – ends. Leave your car and start walking. Other than a local fisher or two, it will be you and nothing but contemplative sandy emptiness for about a half-mile until you plainly see the reason this part of the island is called Shipwreck Beach: an old WWII tanker grounded offshore. You can continue along the sand for another nine miles passing the scattered remains of many more ships and boats along the way.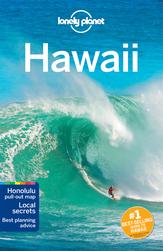 Back at your jeep, drive south along the shore passing the paved road up the hill to Lana'i City. The dirt track meanders southeast for roughly 13 miles, never straying far from the normally calm waters of the Pacific, passing a sugar plantation that was built the 1890s. Part of a sacred ancient Hawaiian stone temple (heiau) was plundered to build a railroad to haul sugar cane, but misfortune followed misfortune and the entire scheme collapsed. Stop at the old church (which has been plucked from the jaws of nature by a preservation project) and try to sense the ancient energies. Wander out to the ocean and forget about time entirely, letting your focus turn inward. Let Lana'i be the catalyst for an exploration of yourself.
Article updated 21 June 2012