Hemingway Days Festival: a guide to Florida's Hemingway look-alike contest
'Key West' by Stig Nygaard. Creative Commons Attribution
Location: 201 Duval St, Key West, Florida, USA
Dates: 16–21 July 2013.
Level of participation: 3 - try to keep up with the swashbuckling Papas
Storms are not unknown in subtropical Key West, the southernmost island in the Florida Keys chain, but this week it experiences a surreal deluge of white beards. The Hemingway Look-Alike Contest attracts 150 hopefuls, complete with beards, barrel chests and booming voices, to Sloppy Joe's Bar, where 'Papa' spent most of the 1930s slamming back daiquiris.
Fans of Men Without Women and Hemingway's other macho masterpieces have come from as far afield as Kazakhstan. The contestant in question, one Vladimir Malikov, sold property to fund the trip and became an audience favourite in 2004.
Other activities include the 'Running of the Bulls' (the animals are fake cousins of the beasts at Hemingway's beloved Fiesta de San Fermin) and a competition devoted to his favourite sport in Key West. The blue marlin tournament sees catches that weigh in at 160kg and cash prizes total more than $250,000. On a more serious note, there's a one-man play about Papa, tours of his home and writing studio, a short story competition...and a wrestling contest.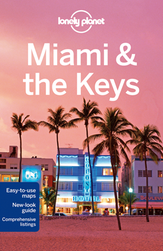 Essentials: bring a knowledge of Hemingway's greatest hits - most of which he penned in Key West - and a tolerance for rum cocktails spiced with machismo.
Local attractions: the Museum of Art & History has an exhibit on the literary legend's years in the Florida Keys, featuring rare family photos, documents and memorabilia.
More info: www.fla-keys.com/hemingwaymedia
See other top festivals in July here.