Chicago's top 10 peculiar museums
Sure, your friends will listen politely as you describe your trip to the Art Institute to see paint on the walls. But you'll stop them mid-yawn when you let loose with stories of visiting the Red Spanking Bench and world's largest jug collection. Here are 10 beyond-the-norm museums in Chicago that give new meaning to niche. As a bonus: most are free.
International Museum of Surgical Science
The International Museum of Surgical Science verges on creepy with its amputation saws, iron lungs and other early tools of the trade strewn throughout a creaky, Gold Coast mansion. The ancient Roman vaginal speculum leaves a lasting impression, while the pointy-ended hemorrhoid surgery instruments serve as a reminder to eat lots of fiber. Medical art gets its due here, too, from a life-size, toga-clad sculpture of Hippocrates to a roomful of cadaver murals (available as postcards in the gift shop). The museum is free on Tuesdays; it costs $15 otherwise.
American Toby Jug Museum
In case you're wondering, a Toby jug is a ceramic pitcher shaped like a chubby old guy wearing a tri-cornered hat and 18th-century garb. Or at least that's how they looked originally. Over the centuries the jugs took on other personas, say John F Kennedy, Joseph Stalin or a sad-eyed puppy. Some 8000 jugs - the world's largest collection, born of one man's passion - hide in a basement in Evanston at the American Toby Jug Museum (tobyjugmuseum.com). Staff give tours that'll blow your mind (and stoke your thirst).
A collection of Toby jugs. Image by Cory Doctorow / CC BY-SA 2.0
Busy Beaver Button Museum
Even George Washington had flair, though in his era campaign buttons were the sew-on kind. Pin-back buttons came along in 1896. Badge-making company Busy Beaver chronicles their history in displays holding thousands of the little round mementos. The Busy Beaver Button Museum (buttonmuseum.org) touts everything from Dale Bozzio to Bozo the clown, Cabbage Patch Kids to Big Rock Point Nuclear Plant. They're fascinating to browse, and the hipster office staff is totally gracious about letting you gawk over their desks where the framed cases hang.
Leather Archives and Museum
The Leather Archives and Museum has scholarly displays about leather, fetish and S&M subcultures packed in a re-purposed synagogue. There's the Red Spanking Bench, designed to be 'all things to all bottoms.' There's art, such as the painting Last Supper in a Leather Bar with Judas Giving Christ the Finger. And there are short films preserving interviews with quotes such as, 'Crisco as a lubricant is fabulous.' The museum is free Thursdays from 3pm to 7pm. Regular admission is $10.
Welcome to the dungeon, Leather Archives and Museum. Photo by Karla Zimmerman.
Money Museum
Pop into the small gallery inside Federal Reserve Bank of Chicago, and you'll emerge richer than when you entered. Literally, since the Money Museum provides a bag of moolah to take home (if only it wasn't shredded), and figuratively, as displays impart knowledge such as who's on the $10,000 bill (answer: Salmon P Chase, Lincoln's treasury secretary). Snap a photo clutching the million-dollar briefcase, stuffed with Benjamins, for the ultimate money shot.
Logan Hardware Vintage Arcade Museum
Logan Hardware (logan-hardware.com) is a used record store sporting a bonus '80s arcade in its back room. So after flicking through bins of rock, funk and Chicago band LPs – and scoring, say, a Chess Records 45 of Pigmeat Markham – you celebrate with a knockdown game of Donkey Kong. Ms Pac-Man, Frogger, Dolly Parton pinball and 30 other games whir, beep and speak in robot voices in the gallery. And they're all free to play, as long as you buy a bit of vinyl first.
Twiddle Dolly's knobs at Logan Hardware Vintage Arcade Museum. Photo by Karla Zimmerman.
Newberry Library
The Newberry Library is perfect for the bibliophiles: those who swoon over First Folios of Shakespeare and postcards Jack Kerouac wrote, or get weak-kneed seeing 14th-century Aztec almanacs printed on bark. Exhibits rotate yellowed manuscripts and tattered first editions from the library's extensive collection. The shop continues the theme, with Jane Austen action dolls and Mark Twain-scented candles among its stock.
Oriental Institute
The University of Chicago's famed archaeologists – Indiana Jones supposedly was based on one – cram their headquarters with antiquities they've unearthed from Egypt, Nubia, Persia and Mesopotamia. King Tut is the star, standing 17 feet tall, weighing six tons and lording over more mummies, clay tablets and canopic jars than you can shake a papyrus scroll at. Check out the Oriental Institute to see what treasures are on display.
King Tut is larger than he appears, Oriental Institute. Photo by Karla Zimmerman.
Chicago Sports Museum
To understand Chicago's tortured sports psyche, check out the memorabilia-filled cases beside Harry Caray's 7th Inning Stretch atop Water Tower Place mall at the Chicago Sports Museum (harrycarays.com/chicago-sports-museum). Shake your head in sadness at the last-out ball from 1945 World Series (the last time the Cubs were in the baseball championship). Examine Sammy Sosa's corked bat and the infamous Bartman ball. The museum also enshrines relics for Da Bears, Bulls, Blackhawks and White Sox. Admission costs $6, but it's free if you eat or drink at the attached restaurant.
National Museum of Mexican Art
It's a special institution that has docents roaming the galleries ready and willing to explain the semen-acrylic style of painting (that's, um, bodily fluids mixed with pigments). The National Museum of Mexican Art is the nation's largest Latino arts center loads up on skeleton-rich folk art, psychedelic op art canvases and groovy beadwork to boot.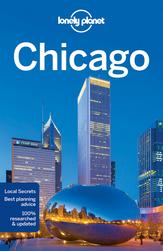 Article originally published in April 2013, and updated October 2015.