The perfect California trip, part 2: Yosemite National Park
So now you're on the road and in to your Californian trip. You started in San Francisco, now you're motoring towards the magical Yosemite in part two of this tailored roadtrip, taken from Lonely Planet Magazine (July 2010.) Lonely Planet author and California resident John Vlahides leads the way.
Miles into your trip: 190
Out on a spur from your coastal journey, Yosemite is 190 miles east of San Francisco, four hours by car.
Understanding California requires an appreciation for the vastness of its landscapes: Yosemite is your crash course. Two-mile-high peaks surround Yosemite Valley, a river meadow sprawling between granite walls rising 900m – over twice the height of the Empire State Building.
You need a day or so to take in the scale. And then there's the waterfalls. Come April, when snowmelt is at its peak, the thunder of Yosemite Falls resonates through the valley in a constant, crashing hum. But, for all its hugeness, the seven-by-one-mile valley constitutes a mere five per cent of the park's total size. To grasp just how big Yosemite really is, hit the trail.
The most ambitious ascend Half Dome before dawn, but this demands peak fitness. Instead, head for the lower part of John Muir Trail, which meanders along the Merced River through oak and pine forests. Grandparents and kids usually turn back after the first mile, once they've glimpsed Vernal Fall from a rustic footbridge. The better target: the 2.7-mile hike to the top of Nevada Fall, where the cascade roars like a jet engine. 'You're assured a spectacular rainbow as you ascend the granite steps to Vernal Fall,' says park ranger Scott Gediman. 'As water cascades down the walls, it conjures the glaciers that cut through the Merced River Canyon 1.2 million years ago to form Yosemite Valley.'
If you had two months spare, you could continue 209 more miles to Mt Whitney (4,418m), the highest peak in the lower 48 states. To learn just how big California really is takes time – and a good pair of boots.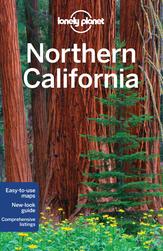 Track back to part one of this roadtrip.
Like what you've read? There's plenty more where that came from - subscribe to Lonely Planet Magazine for more inspiring travel ideas, advice and tips (available for delivery to UK addresses only).