The perfect California trip, pt 1: San Francisco
Can there be any holiday as easy and as fun as a good old California road trip? Probably not. In this 5-part series, taken from Lonely Planet Magazine's July 2010 issue, Lonely Planet author John Vlahides shows you how to take a couple of weeks soaking up the best of the west. First up, San Francisco.
Begin your trip by flying into San Francisco. Spend a couple of days soaking it up before hiring a car and setting off.
The San Francisco newspaper columnist Herb Caen once wrote, 'Take anything from us – our cable cars, our bridges, even our bay – but leave us our hills.' If one feature defines this city, it's the 50-plus hills ranging from 30m to 283m. They delineate neighbourhoods, create microclimates and provide drop-dead vistas.
San Francisco is just seven square miles at the tip of a peninsula surrounded by the Pacific and San Francisco Bay, which meet at the Golden Gate. To see the city means viewing it from a height. Rising 281m near the city's geographic centre, Twin Peaks is the loftiest point: the 360-degree panoramic view is the city's best, which is why many tour buses converge here. Local performing artist Monique Jenkinson chooses a different spot. 'On a clear day, you can see the entire Mission District and the bay from Bernal Hill – a view tourists rarely get.'
The city has a long history of being at the leading edge of performance art and courts the unusual: Isadora Duncan danced in the courtyard outside the Legion of Honor Museum and Tony Kushner's Pulitzer Prize-winning work, Angels in America, debuted not in New York, but here, and gender impressionism is one of the city's contemporary forms.
Underground artists like Monique step into daylight at Dolores Park, colonising the grassy slopes near 20th and Church Streets, spreading out blankets and nursing hangovers on any sunny weekend. The park presents a mini cross section of San Francisco's population, from club kids and gay sunbathers to Mexican grandmothers and teen footballers. The downtown skyline provides the backdrop. For a glimpse of the local scene, no place else provides an easier foray.
Just across the Golden Gate, it's hard to conceive this is America's sixth-largest metropolitan area when you're standing atop the cliffs of the Marin Headlands, a grassland preserve that rises 213m, with hawks and eagles soaring overhead and waves crashing against rocks below. But there, right at eye level, stand the tops of the 80-storey bridge towers, with skyscrapers reflecting sunlight in the distance.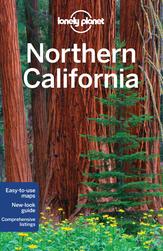 For more inspiring trip ideas, advice and insider travel news, subscribe to Lonely Planet Magazine (available for delivery to UK addresses only)