New York City Lower Manhattan Walking Tour and Statue of Liberty in One Day
Day Trips & Excursions in USA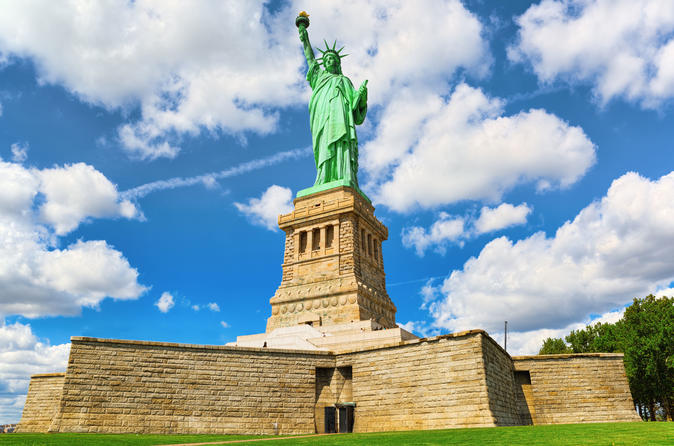 Image by Viator
Information from Viator
Tour description
No trip to New York would be complete without visiting and learning about one of the most important monuments in the world: the Statue of Liberty, along with the Immigration Museum at Ellis Island. You will also get to know the main spots of South of Manhattan including Wall Street. A complete tour in one day!
We will start our morning with a a panoramic view of the key sites of in Lower Manhattan. This area includes the part of the city built after the Dutch purchased the island all the way to Ground Zero, a vital place of pilgrimage for any tourist. We will get a complete account of the September 11 attacks. You will be able to take photos of the two fountains that occupy the former space of the Twin Towers and are today part of the 9/11 Memorial. We'll also get to know the historic heart of Manhattan's Financial District: Wall Street, home to the New York Stock Exchange. Wall Street's architecture is rooted in the Gilded Age, although there are also some Art Deco influences in the neighborhood. The most important buildings in the area are the New York Stock Exchange and Federal Hall, built at the beginning of the 19th century in the Greek Revival style.
Later, we will take a ferry to the Statue of Liberty at Liberty Island where you can get up close to the stat- ue, and then on to Ellis Island, where families and individuals celebrate and honor those members of their family who made the arduous journey to begin a new life in the United States. Your ticket includes visit to the Pedestal.
What's included
• Bilingual guide • Audio guide at the ferry • Tickets • Walking tour by Lower Manhattan and panoramic visit to the 9/11 Memorial
What's not included
• Hotel pickup and drop off• Food and drinks • Souvenirs • Gratuities
---