Euro 2012: Lonely Planet's guide to Ukraine's host cities
Heading to Eastern Europe for the football? Discover the sights beyond the sport with this primer on Ukraine's host cities, taken from Lonely Planet's Ukraine travel guide. And check out our guide to Poland's host cities here.
Ancients were spoilt for choice when they needed a pretty spot to settle down. One can't help thinking this in Kyiv, the birthplace of Eastern Slavic civilization, which spread from here as far as the Pacific coast of Eurasia. History buffs can indulge in unrestrained epoch-hopping, but it's rewarding enough just to stroll along the streets lined by trademark chestnut trees, stopping by an open-air cafe or diving into a basement bar.
See: Maydan Nezalezhnosti
Fountain-filled Maydan Nezalezhnosti is the city's most popular meeting place. This was made plain on worldwide TV at the end of 2004 when the square became ground zero for Ukraine's Orange Revolution and a makeshift tent city. Since 2001, the square has been dominated by kitschy post-Soviet monuments, including the Independence Column and the rebuilt Lyadski Gate, which had turned out to be the weak link in the city's defence against the Mongols in 1240. Nearby, you can peer through the glass at the excavated foundation of the original gate.
Sleep: Gintama Hotel
This friendly family-run hotel has an understated style, with smallish, individually decorated rooms tending towards the traditional, but with cleaner lines and fewer florals than usual.
Eat: Pervak
Kyiv's best Ukrainian restaurant masterfully creates old Kyiv (c. 1900) without falling into the schmaltz trap that dogs many a Ukrainian theme restaurant. The chefs boldly prepare original takes on Ukrainian classics, which are adroitly delivered to tables by waitresses in frilly, cleavage-baring country outfits.
Drink: La Bodeguita del Medio
An outlet of this international Cuban jazz-cafe chain was an instant success in Kyiv, where many Cuban students chose to remain when the USSR called it a day. A mix of Ukrainians and expats gather here to plunge into Buena Vista melancholy induced by outstanding resident and guest performers, while tucking into fajitas and emptying one mojito after another (bodeguita.com.ua).
Mysterious, edgy and architecturally lovely, Lviv boasts that it's Ukraine's least Soviet city. It may have a point. The city's Unesco World Heritage-listed centre was built like a rich layer-cake of neoclassical architecture in rococo, baroque, Renaissance and Gothic styles. There's nary a concrete Soviet apartment block in sight (in the centre, at least), and it has a deep-rooted coffee-house culture that is oh-so-central European. Yet Lviv does retain a whiff of Sovietness that only broadens its appeal.
See: Lychakivske Cemetery
Don't even think of leaving town until you've seen this amazing cemetery only a short tram ride from the centre. This is the Père Lachaise of Eastern Europe, with the same sort of overgrown grounds and Gothic aura as the famous Parisian necropolis.
Sleep: Vintage Hotel
Lviv's first real boutique hotel is this delightfully intimate 12-room place, tucked away up a quiet street in the historical centre. Rooms ooze period style and you'll be looking forward all night to the cooked-to-order breakfast served in the hotel's stylish cafe (www.vintagehotel.com.ua).
Eat: Masonic Restaurant
It's hard to know where to start with this place. You'll be accosted by an unshaven bachelor type, into whose Soviet-era kitchen you appear to have inadvertently wandered. Having barred your way for a few minutes, he eventually opens the door to a fancy beamed restaurant full of Masonic symbols and portraits of bygone masons. The next shock is the menu - advertised as Galicia's most expensive restaurant, prices are 10 times higher than normal…so make sure you pick up a 90% discount card at Dim Lehend or Livy Bereh beforehand. More info here.
Drink: Robert Doms Beer House
This fantastic, utterly unique beer hall is located three storeys underground in a centuries-old beer-storage vault once used by the neighbouring Lvivske brewery. It's named after the brewery's founder and features fresh Lvivske served in litre steins, plus German food and nightly live music in one of the vault's four chambers. Another chamber has a mammoth TV screen for sports viewing.
Kharkhiv
Wars and Soviet development reduced Kharkhiv's historical centre, boasting some pretty fin de siècle buildings, to a narrow triangle between vul Sumska and Pushkinska. The rest is Soviet monumentalism in all its glory. In the 1920s, Kharkiv was the seat of the Ukrainian Soviet government, which orchestrated a short-lived renaissance of Ukrainian culture and language. But Stalin accused its members of nationalism and launched purges that eventually led to Holodomor (Ukrainian famine). Nowadays, it is the city of Russian-speaking intelligentsia - scientists and engineers who turned Kharkiv into the brain centre of the Soviet defence industry in the 1960s. Their children, however, were more into rock and alternative music, setting up one of the liveliest scenes in the ex-USSR.
See: Ploshcha Konstytutsiyi
If you are looking for a meeting point in Kharkiv, nothing beats the spot under the giant thermometer that adorns Istorychny metro exit to pl Konstytutsiyi. Just west of the square, the gleaming domes of the Pokrovsky Monastery (Intercession of the Virgin) are visible from miles away.
Sleep: Hotel Cosmopolit
This sets the standard for contemporary design in Kharkiv, with flat-screen TVs and loads of extras like plush robes and 24-hour room service. The theme is Italian, and breakfast in swanky Da Vinci restaurant is divine (www.cosmopolit-hotel.com).
Eat: IT Café
This is the place to open your laptop and catch up with all that email and Facebook news, while sipping great milkshakes, smoothies and lemonade. But if you need none of that, this is still an excellent breakfast or lunch option (itcafe.ua).
Drink: Stargorod
Rivers of beer cut through mountains of meat to the sound of um-pah-pah music in this Kharkivite version of a German biergarten. There is a microbrewery on the premises pumping out fresh lager and ale, which contributes to the overall happy party atmosphere and triggers wild, table-crushing dances slightly more often than you need it. More info here.
Donetsk
The Ukrainian coal troll has been working hard to become Europe's prince charming in time for Euro 2012. Coal money, coupled with the understandable escapism of the younger generation, results in peculiar clubbing and restaurant cultures. Having been founded by Welshman John Hughes' and originally named 'Yuzovka' after him, the city is obsessed with all things British. In true Full Monty style, it is twinned with Sheffield in the UK.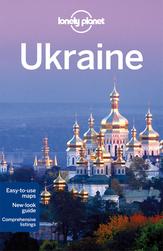 See: Lenin Komsomol Park
Believe it or not, for many years the sci-fi sounding terrikony - slag heaps - were the city's main attraction. 'They change their colour depending on season and time of the day', locals still reflect dreamily. The best place to observe those changes is in Lenin Komsomol Park, where chiselled socialist realist sculptures dot the sprawling Liberators of Donbass memorial. But turn around and you will see what completely outshines terrikony these days - the brand new Donbass Arena. Learn more here.
Sleep: Liverpool Art Hotel
Gilded figures of John, Paul, George and Ringo greeting you in the archway may not be a good sign, but there is much more to Liverpool than belated provincial Beatlemania. In fact this is one of the city's funkiest alternative universes, which, apart from the hotel, includes a great cafeteria and one of the best musical venues in eastern Ukraine (liverpool.com.ua).
Eat: 3 Tolstyaka
The 3 Tolstyaka is enormously popular for a reason: authentic Russian food at awesome prices. Its popularity is also proof that average Donetsk denizens can't afford the gaudy prices at all those top-end restaurants.
Drink: Yuzovskaya Pivovarnya
A tribute to the city founder John Hughes, this place is full of shiny brass - that of the minibrewery pumping fresh brew into the pipes that take it straight to your table (juz.dn.ua). All you need is to open the tap.