On your bike: the ultimate travel toolkit for cyclists
We love bikes: there's a certain sense of freedom to be had from jumping onto a saddle and moving by the sheer strength of your own two feet. There's also a certain romance in settling into the rhythm of pedalling, the drive train propelling you along the road ahead. Aside from the bike, there's a host of other gear worth picking up to make that ride smoother and more efficient. Here are some we like. (Ride safe, now!)
Other 'nice to have' cycling accessories:
Cycle computer and GPS: basic cycle computers only track your ride times and distances. If you want more functionality, get something like the Garmin Edge (buy.garmin.com). These computers have built-in GPS chips to track your route and location, and they also pair with a heart-rate monitor. If you expect some rough terrain, get a handlebar mount such as the K-Edge Garmin Computer Mount (www.acecosportgroup.com).
Use your smartphone: if you already own a smartphone, consider using it in lieu of a cycle computer. There are quite a few apps to use while cycling (ipod.about.com/od/bestiphoneapps). If you're feeling too cheap to splash out for paid cycling-specific apps, try one of the free apps out there, such as Sports Tracker, available for Android (play.google.com) and iPhone (itunes.apple.com)
Helmet or bike mounts: if you'd like to make a video of your ride, splash out for a helmet or bike mount for your GoPro camera (www.gopro.com) or your smartphone. If you're using the latter, be sure to buy a shockproof casing by companies such as Lifeproof (www.lifeproof.com) or Otterbox (www.otterbox.com).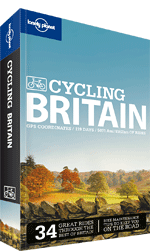 Ready to hit the road? Check out one of Lonely Planet's cycling activity guides.