Ask Lonely Planet: where can I have a high-energy holiday?
Looking for a trip that will get your pulse racing? This week, the experts from Lonely Planet Traveller magazine show reader Stephanie Hafner where to go for an active holiday.
1. Slovenia, recommended by UK travel editor Tom Hall
Slovenia has a reputation as one of Europe's best adventure playgrounds. The towering Julian Alps offer all the adrenalin pursuits you'd expect, as well as some fantastic marked trails to stretch your legs. These mountains are home to rivers that offer plenty of thrills – from hydrospeeding (travelling downriver on a boogie board) to rafting, canyoning and kayaking. Waterskiing is possible at coastal resorts such as Izola and on Lake Ptuj. Slovenia's diminutive size makes getting around the country a breeze: travel from the capital Ljubljana to villages around Lake Bohinj will take an hour by car. This area is a good base for hikes in Triglav National Park and for watersports. Apartments and private rooms are available in the villages across the valley (slovenia.info). Bohinjska Bistrica, the largest of these villages, is the local transport hub, but there are plenty of other options.
2. Hawaii, recommended by US travel editor Robert Reid
Have you thought about Hawaii? Kaua'i is one of the smaller, more rural islands in the state, and many consider it the 'real Hawaii'. The island is spoilt for choice when it comes to outdoor activities, with good diving, kayaking and surfing. The popular hub of Hanalei Bay, backed by mountains, is one of the world's most beautiful jogging spots – and from just outside Hanalei Dolphin Cottages, you can launch kayaks and stand-up paddle boards (hanaleicottages. com). Kaua'i is perhaps most famous for its hiking trails – particularly the four-mile coast-hugging Maha'ulepu Heritage Trail, which connects a string of velvety beaches, or tougher hikes from the Kalalau Trail which skirts canyon rims over the Na Pali Coast. Once you've hung up your boots, save at least one night for a cocktail at Hanalei's famed luau dive bar, Tahiti Nui, dating back to 1964 (thenui.com).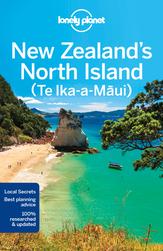 3. New Zealand's North Island, recommended by Asia-Pacific travel editor Shawn Low
While most adventure sports-lovers would make a beeline for South Island, North Island pulls its weight when it comes to outdoor activities. From Auckland, you can dash out to the PGA-rated Gulf Harbour for some stunning ocean-side tee-offs. Then head south to Tongariro National Park, between Auckland and Wellington. The park is home to three volcanoes, including Mount Ruapehu, which stood in for Mount Doom in the Lord of the Rings films. Multi-day hikes take you past thermal lakes, mud pools, waterfalls and volcanic craters. At nearby Lake Taupo, adrenaline junkies can find skydiving, jet boating, quad biking, rafting, kayaking, windsurfing and waterskiing. The Beechtree in Taupo has classy, modern rooms (beechtreemotel.co.nz).
For more expert advice and inspiration, check out the best travel stories and photos in Lonely Planet Traveller.