Destination at a glance: Estonia
You can't help but admire this diminutive country for shaking off the yoke of the Soviet era and embracing change with gusto. And in return, the world is tuning in to Estonia's understated charms, an irresistible mix of Eastern European and Nordic fl avours. Soaking up Tallinn's long white nights and medieval history, or exploring the country's coastline, are joys to be savoured.
National parks provide plenty of elbow room, quaint villages evoke a timeless sense of history, and uplifting song festivals celebrate age-old traditions. You can experience unspoilt seaside or windswept island solitude, while still enjoying the comforts of a thoroughly modern, e-savvy country that's hell-bent on catching up with its Nordic neighbours in the quality-of-life stakes.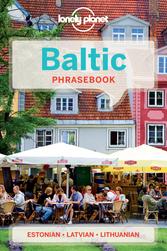 BEST TIME TO VISIT
May to September
TOP THINGS TO SEE
• The chocolate-box confection of Tallinn's medieval Old Town
• How inhabitants of the capital unwind in the bucolic splendour of Lahemaa National Park
• Live music at the hugely popular Viljandi Folk Music Festival
• The futuristic, award-winning KUMU art museum in Tallinn's Kadriorg Park
TOP THINGS TO DO
• Island-hop along the west coast, ensuring a visit to both Saaremaa and Hiiumaa
• Go bog-shoe-walking and canoeing in the wetlands of Soomaa National Park
• Do a spot of cross-country skiing in the picturesque countryside around Otepää
• Get sand in your shorts at Pärnu, the country's summertime mecca
• Down a beer among students in the university town of Tartu
GETTING UNDER THE SKIN
Read The Czar's Madman by Jaan Kross, Estonia's most internationally acclaimed author; Between Each Breath by Adam Thorpe, in which Tallinn and the Estonian islands provide the setting for an Englishman's midlife crisis
Listen to the austere music of composer Arvo Pärt; rock from Ultima Thule, Genialistid and Smilers, all among the country's longest-running and most loved bands
Watch Sügisball (Autumn Ball), based on a 1979 novel portraying six residents of a drab high-rise apartment in Soviet-era Tallinn
Eat verivorst (blood sausages), if you're feeling bloodthirsty; pork and potatoes (it's on every menu); smoked fish; fresh summer berries
Drink Vana Tallinnn – no one knows what this syrupy liqueur is made from, but it's sweet and strong and best served in coffee, or over ice with milk
IN A WORD
Terviseks! (Cheers!)
TRADEMARKS
An e-savvy populace; Finnish day-trippers; folk tales; the sport of kiiking; software development and Skype (it was invented here); saunas; song festivals; Vana Tallinn
RANDOM FACT
Estonians invented the weird and wonderful sport of kiiking, whereby competitors stand on a swing and attempt to complete a 360-degree loop around the top bar
Celebrate the whole world with The Travel Book